Welcome to the enchanting city of Athens, Greece, where history and luxury intertwine seamlessly. Nestled amidst ancient ruins and modern marvels, Athens boasts a collection of exquisite 5-star accommodations that are sure to leave you in awe. With opulent hotels dotting the skyline, this captivating destination beckons discerning travelers seeking a perfect blend of comfort, sophistication, and impeccable service.
Immerse yourself in the allure of Athens as you step foot into these luxurious havens. Prepare to be captivated by the grandeur that awaits at each turn; from lavishly adorned lobbies adorned with classical art pieces to rooms that exude elegance and style. Indulge yourself in sumptuous amenities designed to cater to your every desire: from rejuvenating spa treatments that transport you into a realm of pure bliss to rooftop pools offering breathtaking panoramic vistas over the sprawling cityscape.
As day transitions into nightfall, embark on culinary journeys showcasing gastronomic delights prepared by world-renowned chefs. Savor delectable Mediterranean cuisine accompanied by fine wines carefully curated from local vineyards. Whether it's indulging in an intimate candlelit dinner or socializing at vibrant rooftop bars with captivating views of historical landmarks like the Acropolis; Athen's luxurious 5-star hotels offer an unforgettable experience for those seeking refinement and sophistication.
So make Athens your next destination and allow yourself to be enchanted by its rich history while immersing yourself in luxury at one of its distinguished 5-star hotels. Whether you're strolling through ancient ruins or unwinding in opulent surroundings, Athens promises an unparalleled experience that will leave you longing for more.
Best Five Star Hotels in Athens
Cape Sounio Grecotel Boutique Resort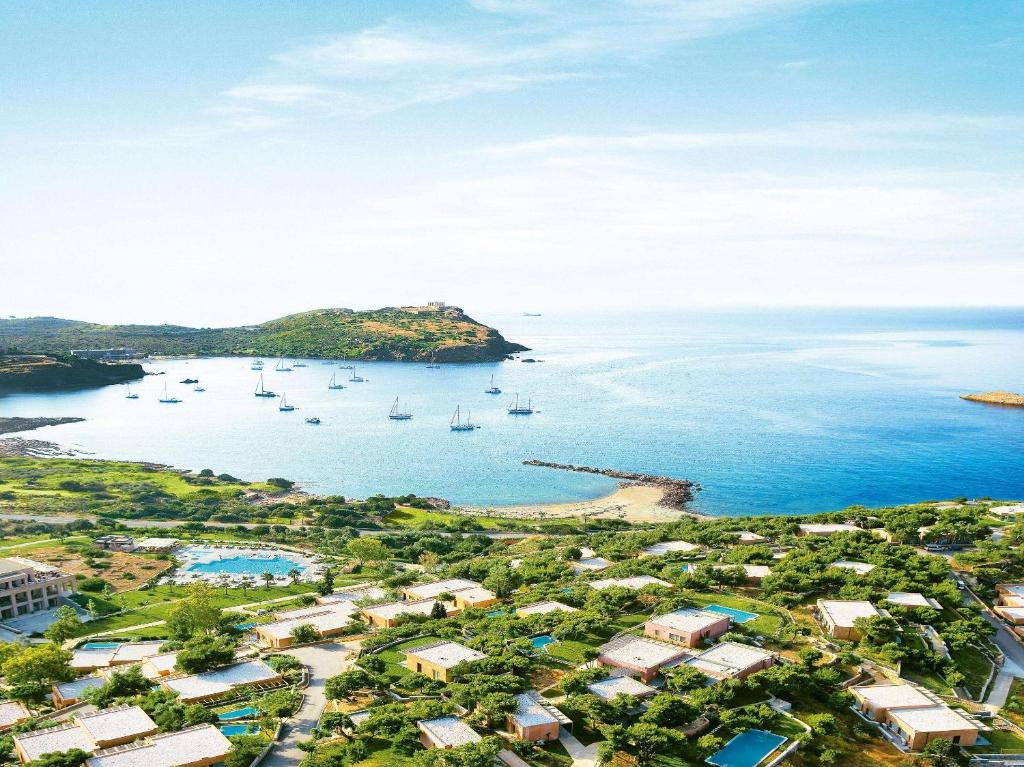 Overlooking Sounio bay and nestled within a pine forest, Cape Sounio Grecotel Boutique Resort is a luxurious haven offering a range of impressive amenities. The resort boasts indoor and outdoor pools, as well as private sandy beaches for guests to enjoy. Guests can pamper themselves at the state-of-the-art Elixir Spa, which offers breathtaking views of the sea from its cliffside location. The resort features charming terracotta-colored bungalows and private villas surrounded by stone-paved paths and olive trees. Most accommodations offer stunning views of the sea and pool. For dining options, Cape Sounio offers an array of restaurants with picturesque views of the famed Temple of Poseidon. Guests can savor Greek and international cuisine, delectable Cretan dishes made with organic ingredients, creative Asian delicacies, and exquisite seafood selections. Special diet menus are also available upon request. Additionally, the resort provides easy access to Athens International Airport (40 km) and is just 10 km away from the coastal town of Lavrio. For added luxury, guests can embark on private yacht cruises to explore neighboring islets.
Pros:
– Indoor and outdoor pools
– Private sandy beaches
– State-of-the-art Elixir Spa with breathtaking sea views
– Variety of restaurants offering stunning Temple of Poseidon vistas
– Convenient access to Athens International Airport
COCO-MAT Athens Jumelle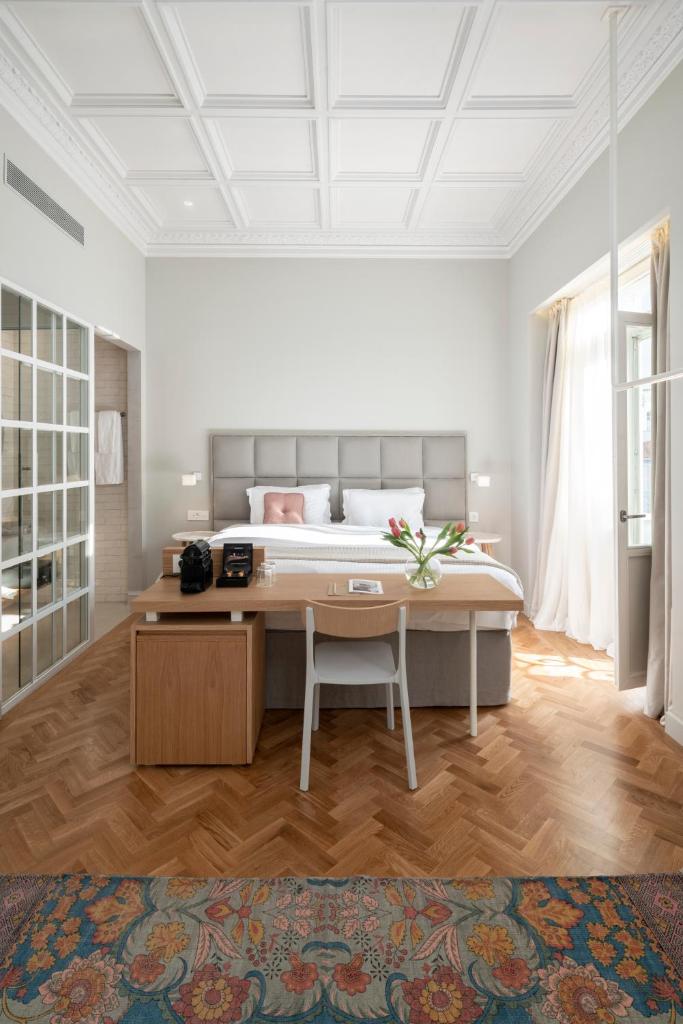 COCO-MAT Athens Jumelle is a charming boutique hotel located in Athens. This 5-star property offers a range of luxurious amenities and services for guests to enjoy during their stay. With an indoor pool, fitness center, and beautiful garden, guests can relax and unwind in style. The hotel also features a restaurant, bar, and 24-hour front desk for added convenience. All rooms are equipped with modern comforts such as air conditioning, flat-screen TVs, and private bathrooms with complimentary toiletries. Guests can start their day with a delicious buffet breakfast before exploring popular attractions nearby including the Benaki Museum, Museum of Cycladic Art, and Syntagma Square. For those traveling by air, Elefthérios Venizélos Airport is just 18 km away.
– Indoor pool for relaxation
– Fitness center to stay active
– Restaurant and bar on-site
– Free WiFi throughout the property
– Convenient location near popular attractions
Perianth Hotel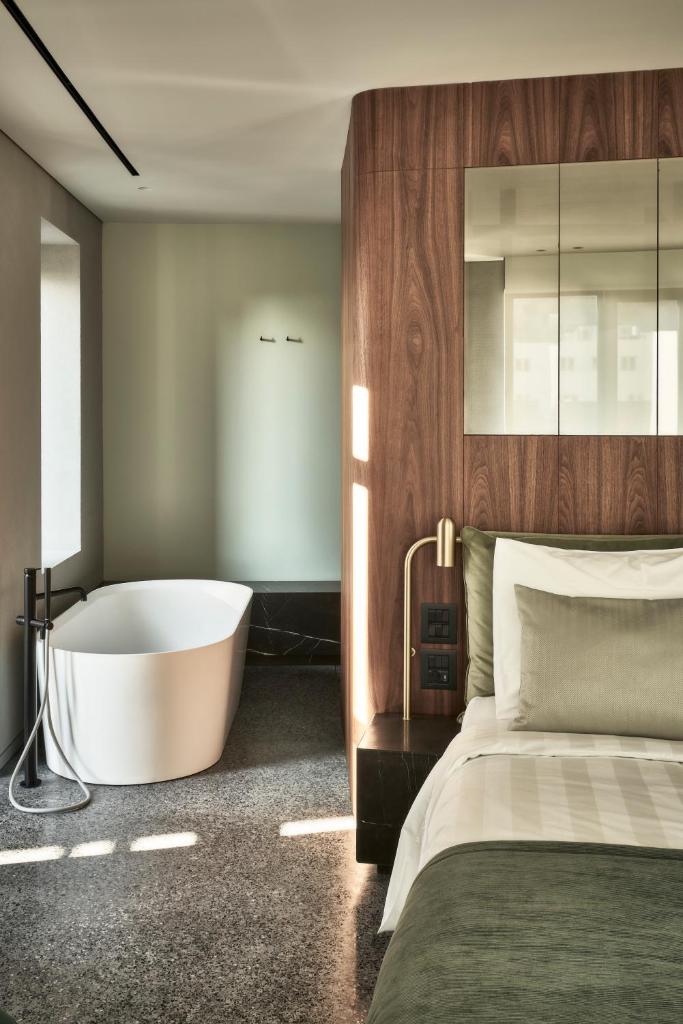 Located in the heart of Athens, just a short 5-minute walk from Monastiraki Square, Perianth Hotel offers luxurious accommodations with free WiFi. The hotel features stylishly decorated rooms and suites that seamlessly blend retro-style decor with modern amenities. Each unit includes a work desk, a flat-screen TV, a coffee machine, and a safe. Some rooms even offer balconies with stunning views of the Acropolis. Guests can enjoy a buffet breakfast every morning or opt for room service. The hotel is conveniently situated near several hip bars, trendy restaurants, and an array of shops. Roman Agora is only 500 meters away while popular attractions like the Acropolis Rock and the Acropolis Museum are within walking distance. Additionally, Ermou Shopping Street is just a 5-minute stroll from the property.
Pros:
– Centrally located in Athens
– Elegant and stylishly decorated rooms and suites
– Free WiFi access
– Buffet breakfast served daily
– Close proximity to popular landmarks and shopping areas
Luxury 5 Star Hotels in Athens
Athens boasts a collection of luxury 5-star hotels, offering impeccable service and world-class accommodations. With elegant interiors, breathtaking views, and top-notch hospitality, these hotels provide the perfect backdrop for an unforgettable stay in the historic capital of Greece.
Divani Caravel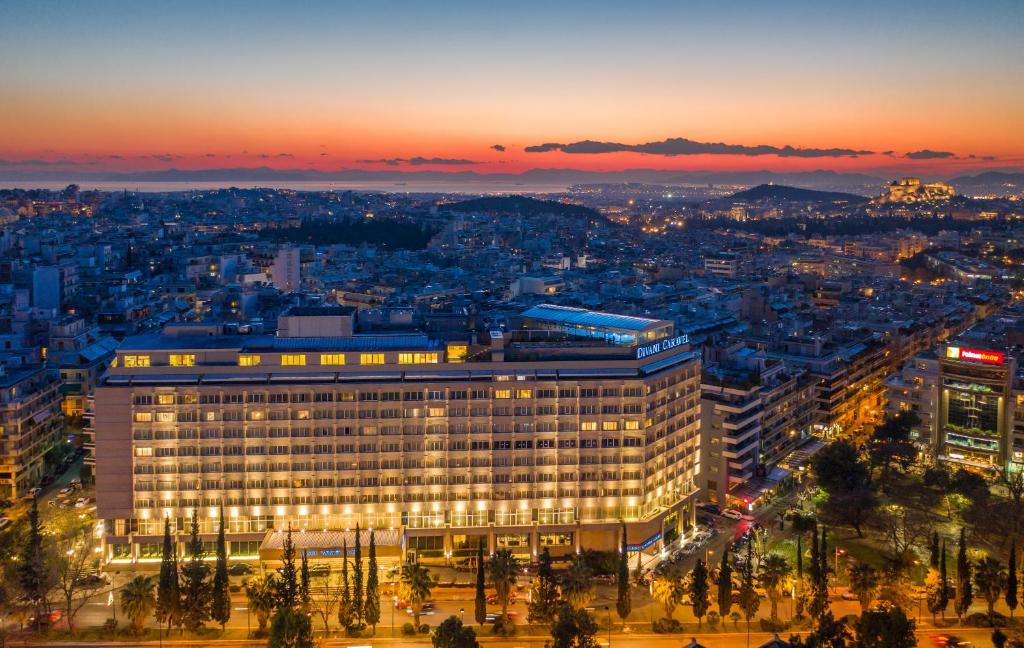 Located in the heart of Athens, the Divani Caravel is a luxurious 5-star hotel that offers an unforgettable experience for its guests. With a rooftop pool boasting stunning views of the Acropolis, exquisite dining options, and beautifully appointed guest rooms overlooking the city, Lycabettus Hill, and the Acropolis, this hotel provides the perfect blend of comfort and elegance. The Peak Health Club & Spa on the rooftop features state-of-the-art facilities including a gym and three treatment rooms offering signature Ligne St. Barth and Thalgo treatments. The award-winning staff are available 24/7 to assist guests with any needs or requests. With three restaurants and two bars to choose from, including the sophisticated JuJu Bar & Restaurant with its art-deco design serving creative cuisine accompanied by signature cocktails until late at night, culinary delights are never far away. For those traveling on business, there are 16 meeting rooms equipped with cutting-edge audiovisual facilities. Additionally, WiFi is provided throughout the entire property for guests' convenience. Just minutes away from the trendy Kolonaki district and within easy reach of attractions like the National Gallery (250 meters away), there is no shortage of things to explore during your stay at Divani Caravel.
– Rooftop pool with panoramic views of Acropolis
– Exquisite dining options
– Luxurious guest rooms with stunning city views
– State-of-the-art health club & spa offering top-notch treatments
– Convenient location near popular attractions such as Kolonaki district and National Gallery
The One 360 Skyline Athens Penthouses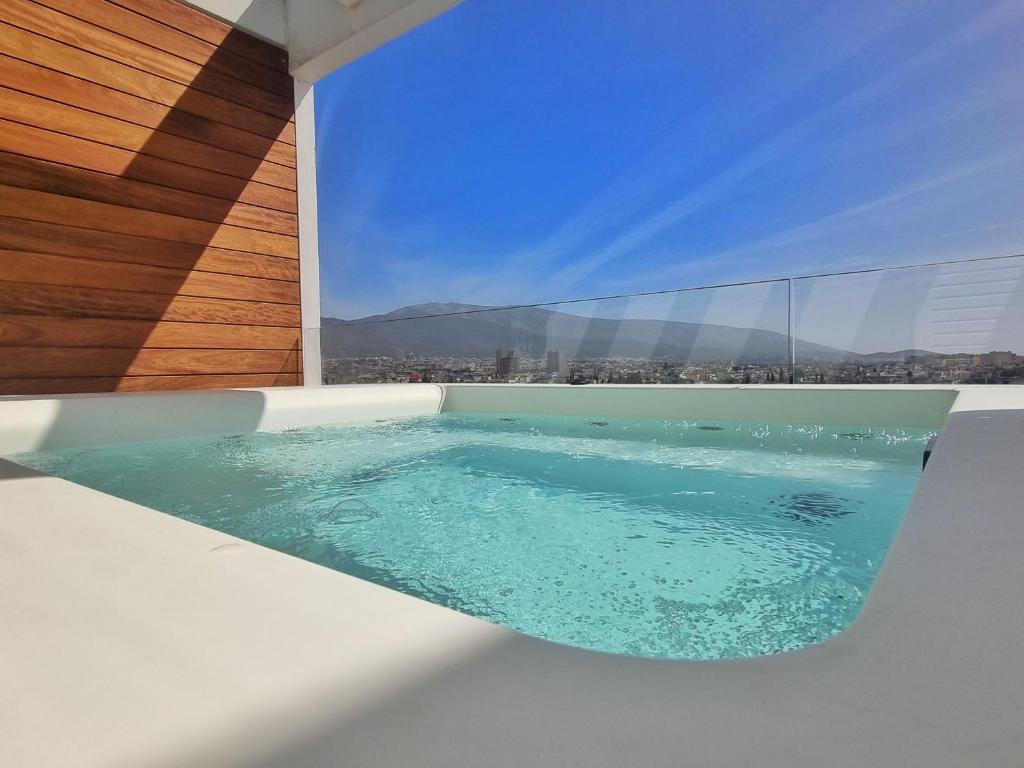 The One 360 Skyline Athens Penthouses offer a new concept of luxury hospitality in Athens. These stunning penthouses provide guests with an infinite view of the city, creating an unforgettable experience. With expansive terraces overlooking the entire city, as well as the beautiful mountains and landmarks surrounding it, guests can enjoy complete privacy and comfort. The penthouse apartments feature multiple sleeping areas, a living room, three flat-screen TVs, a fully equipped kitchen, dining area, and two bathrooms with a bidet. Free Wi-Fi is available throughout the accommodations and private parking is offered on site. Guests can also indulge in the outdoor Jacuzzi that offers breathtaking skyline views of Athens. Located in a privileged embassy area surrounded by cafes, restaurants, gyms, and grocery stores, guests have easy access to various amenities. The One 360 Skyline Athens Penthouses are within walking distance to many multinational firms and embassies such as Japan, Canada Switzerland Croatia and the Russian Consulate. Additionally, popular attractions like Athens Music Hall and Olympic Stadium – O.A.K.A are just a short distance away. Iatropolis Medical Center is conveniently located across the street while Elefthérios Venizélos Airport is 9.9 miles from the accommodations.
– Expansive terraces with 360-degree views
– Complete privacy and comfort
– Fully equipped kitchens
– Outdoor Jacuzzi offering breathtaking skyline views
– Convenient location near multinational firms and embassies
Coco-mat Athens BC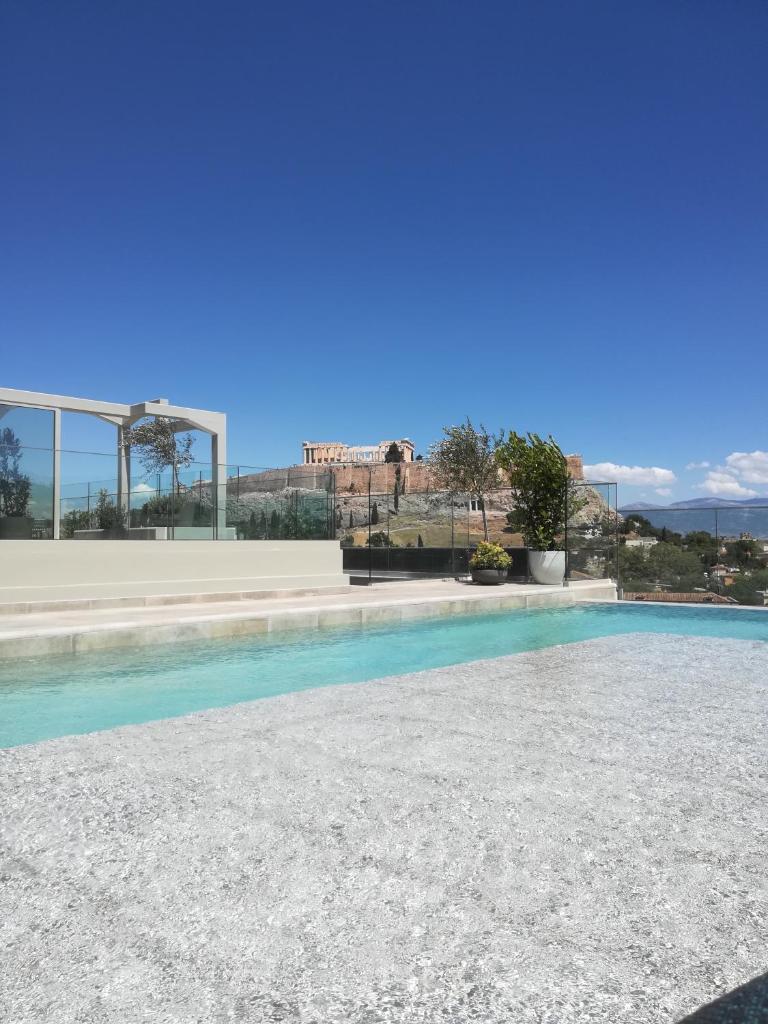 Located in the heart of Athens, just 300 metres from the Acropolis Museum, Coco-mat Athens BC is a luxury hotel that offers an exceptional stay. With a bar, restaurant, free bikes, fitness centre, sauna and 24-hour front desk service, guests will feel pampered and well taken care of during their visit. The air-conditioned rooms are elegantly decorated and feature modern amenities such as a desk, coffee machine, minibar, safety deposit box and flat-screen TV. The private bathrooms come with a shower and complimentary toiletries. Some rooms even offer balconies with city views. Guests can enjoy a buffet breakfast each morning before exploring the city's popular attractions like Akropolis Metro Station and Odeum of Herodes Atticus which are located nearby. For those arriving by plane, Eleftherios Venizelos Airport is only 32 km away. With its excellent location and top-notch facilities, Coco-mat Athens BC is the perfect choice for travelers seeking a luxurious stay in Athens.
– Central location in the heart of Athens
– Elegant and comfortable rooms
– On-site bar and restaurant
– Free bikes for guests to explore the city
– Fitness center and sauna for relaxation
Five Star Hotels in Downtown Athens
In downtown Athens, luxury five-star hotels elevate the travel experience with their impeccable service and opulent accommodations. These upscale establishments provide an ideal retreat for discerning travelers seeking unrivaled comfort and sophistication in the heart of Greece's vibrant capital city.
AthensWas Design Hotel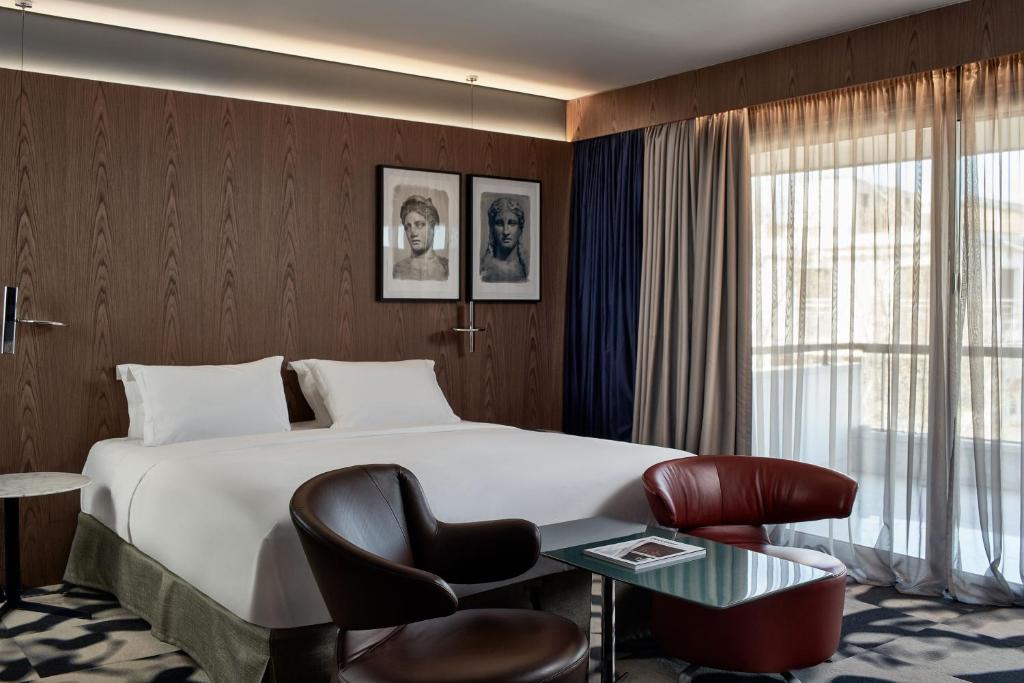 Located in the heart of Athens on Dionysiou Areopagitou, the most scenic pedestrian street in the city, AthensWas Design Hotel offers a luxurious and stylish stay with stunning views of the Acropolis and easy access to major attractions. Situated opposite both the Acropolis and the New Acropolis Museum, guests can immerse themselves in ancient Greek history right from their doorstep. The hotel's design reflects classical Modernism principles with its clean lines and use of natural materials. The 7th-floor Sense Restaurant provides a breathtaking dining experience with its panoramic views and modern Greek cuisine. Each room opens up to a furnished veranda and is equipped with amenities such as a worktable, minibar, flat-screen TV, safety box, hairdryer, bathrobes, slippers, and a Nespresso coffee machine. Additional facilities include laundry services, a business center, fitness room, car rental service, guided city tours, transfer services to/from Athens Airport and Piraeus port. Guests can also enjoy MODERN – an on-site food & beverage outlet offering delicious comfort food paired with Greek wines and refreshing cocktails.
– Prime location on pedestrian street near major attractions
– Spectacular views of the Acropolis
– Stylish design inspired by classical Modernism
– Gourmet dining at Sense Restaurant
– Well-equipped rooms with luxury amenities
Semiramis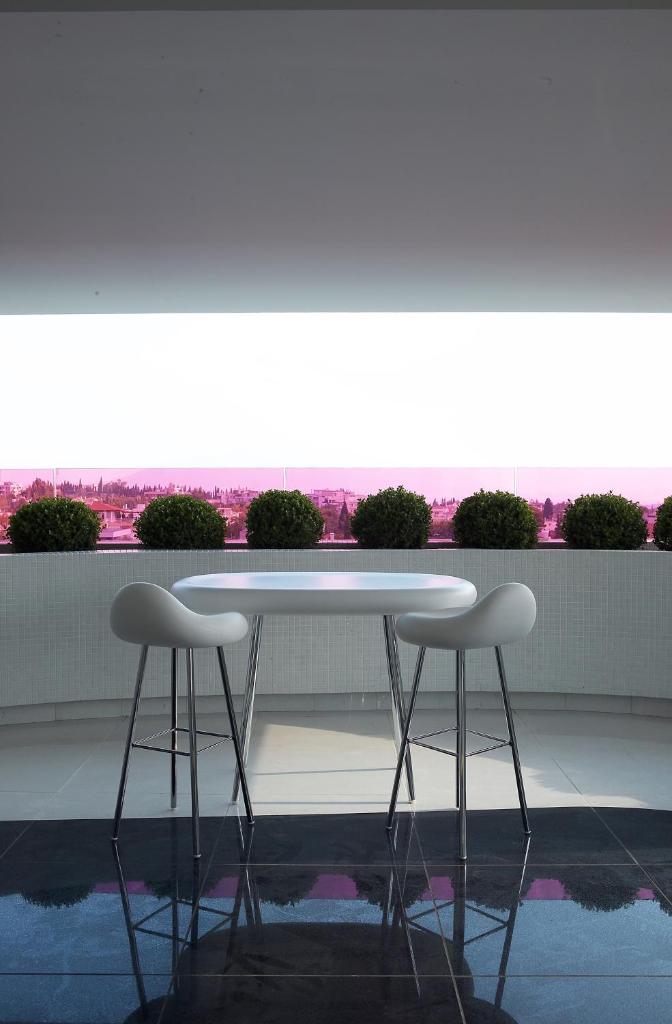 Located in the peaceful Kifissia area of north Athens, the Semiramis hotel is a boutique gem designed by renowned designer Karim Rashid. As a member of Design Hotels worldwide, this hotel seamlessly combines innovative design, comfort, and functionality. Guests can admire works from the owner's extensive art collection, featuring renowned artists such as Jeff Koons and Tim Noble, at the hotel's bi-annual rotating exhibition. Each guestroom and public space is adorned with Rashid's distinctive signature style, with vibrant colors creating an energetic atmosphere. Stay connected with the world using the internet TVs provided in every room. Indulge in delectable Greek and international cuisine at the two-level restaurant and bar. The Semiramis is conveniently located on Kefalari Square, just 5 minutes away from Kifissia and within close proximity to both Marousi business center and downtown Athens.
Pros:
– Unique design by renowned designer Karim Rashid
– Extensive art collection displayed throughout the hotel
– Vibrant color scheme creating an energetic ambiance
– Convenient location near Kifissia and major business centers
– Modern amenities including internet TVs for guests' convenience
Four Seasons Astir Palace Hotel Athens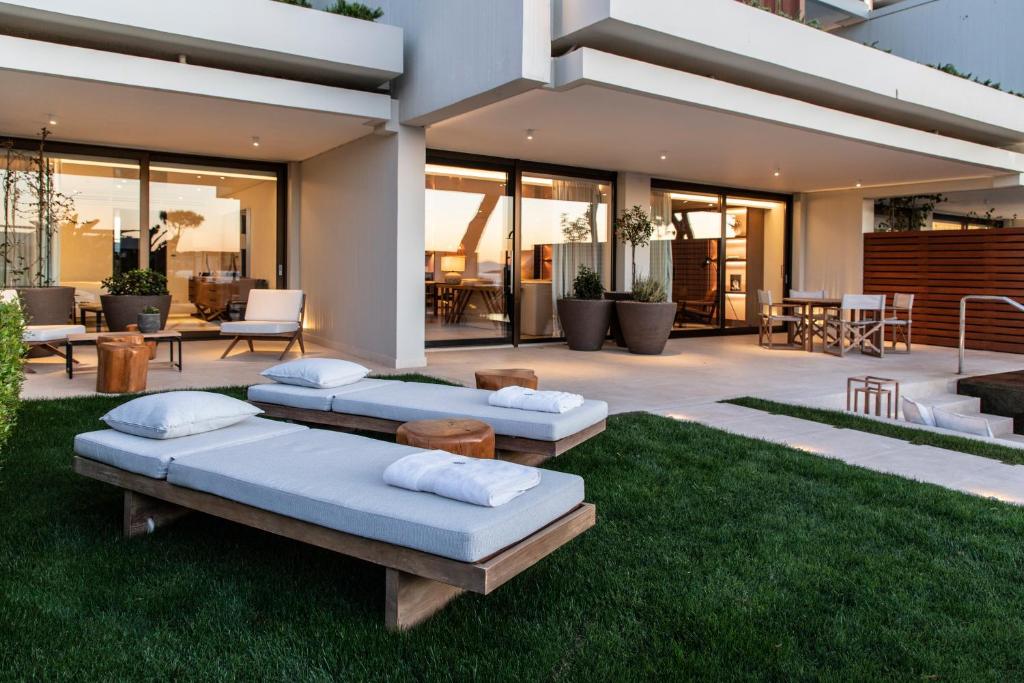 The Four Seasons Astir Palace Hotel Athens is a luxurious 5-star hotel located in the beautiful Athenian Riviera. With its stunning setting surrounded by pine trees, this hotel offers a range of amenities and facilities to ensure a memorable stay. Guests can enjoy the indoor and outdoor pools, as well as access to the private beach area. The hotel also boasts 8 restaurants and bars, serving a variety of cuisines including Greek seafood, Italian dishes, and Latin American grilled specialties. The spa center offers 10 treatment rooms, an indoor lap pool, hammam, vitality pool, and chill showers for ultimate relaxation. The elegantly decorated rooms and suites feature modern furnishings and floor-to-ceiling windows with views over the pine trees or sea. Other activities available at the hotel include yoga classes at the fitness area and water sports such as wind surfing, sea kayaking, and snorkeling at the private beach area. Additionally, guests can explore the nearby attractions with Athens city center just a 30-minute drive away. Free WiFi access and on-site parking are provided for added convenience.
– Indoor and outdoor pools
– Private beach area
– Variety of dining options
– Spa center with extensive treatments
– Close proximity to Athens city center
Athens Cheap 5 Star Hotels
Athens offers a range of affordable 5-star hotels that provide excellent value for money. With stylish accommodations, impeccable service, and convenient locations, these properties ensure a comfortable stay without compromising on luxury.
Grand Hyatt Athens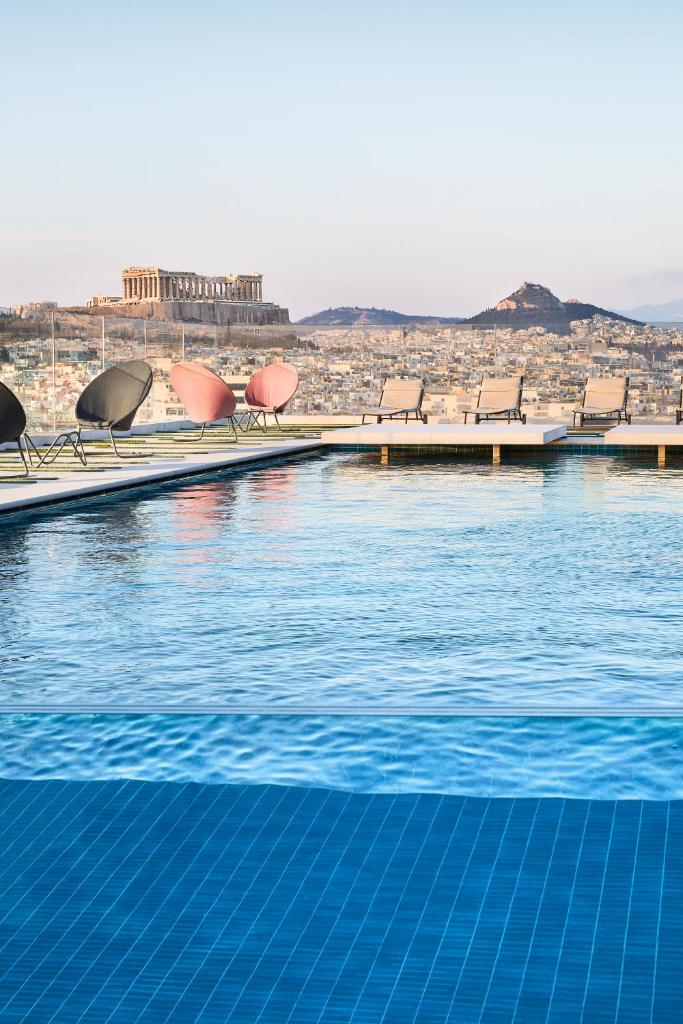 Grand Hyatt Athens, a luxurious 5-star hotel that opened in August 2018, offers guests a truly exceptional experience. With its brand new spa, atrium pool & bar, and rooftop boasting stunning views of the Acropolis, this hotel is a haven of relaxation and sophistication. The accommodation at Grand Hyatt Athens is both elegant and modern, featuring air-conditioning, contemporary art pieces, and state-of-the-art technologies including a 55" flat-screen TV and a work desk. Each room and suite also includes a marble bathroom with premium toiletries, bathrobes, and a hairdryer. Guests can indulge in Mediterranean and Asian cuisine at the on-site restaurants or enjoy signature cocktails at the stylish pool bar or lobby bar. For those looking to stay active during their stay, the fitness center is accessible 24/7. Additionally, Grand Hyatt Athens offers excellent facilities for corporate events with its business center and meeting rooms equipped with state-of-the-art technologies. Porterage and turn-down services are included to ensure guests have an unforgettable stay from start to finish. Conveniently located just a short drive away from Athens city center and Piraeus Port, as well as being only 3 km from the world-renowned Acropolis monument, Grand Hyatt Athens is an ideal choice for luxury travelers seeking both comfort and convenience during their visit to Greece's beautiful capital city.
Divani Apollon Suites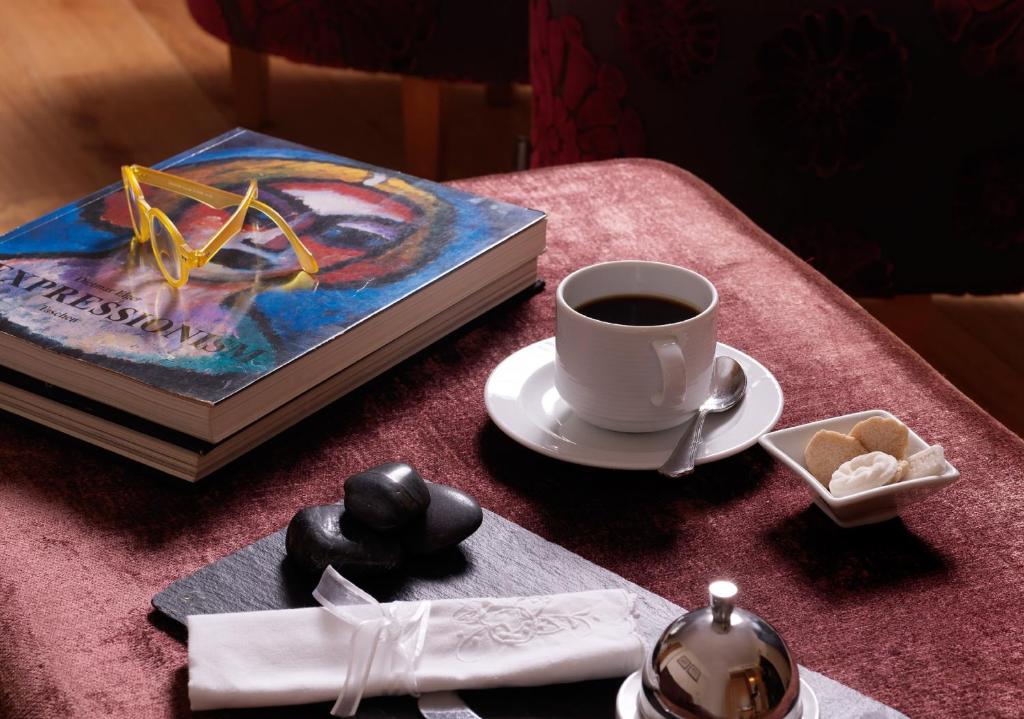 Located in the beautiful area of Vouliagmeni on the Athenian Riviera, Divani Apollon Suites offers elegant and stylish accommodation with garden views and complimentary WiFi. The rooms and suites feature parquet floors, air conditioning, balconies, flat-screen satellite TVs, minibars, and private bathrooms with hairdryers and bathrobes. Some units even have separate living rooms with sofas. Guests can enjoy delicious lunch and dinner dishes at the on-site restaurant or choose from a variety of drinks and cocktails at the bar. Additionally, there are plenty of restaurants and café bars within a short drive for more dining options. The hotel is conveniently located near attractions such as Glyfada Marina (4.7 km away), Glyfada Beach (5.1 km away), Athens City Centre with its famous landmarks like the Acropolis and Syntagma Square (20 km away), as well as Eleftherios Venizelos Airport (25 km away).
– Elegant accommodation with garden views
– Complimentary WiFi throughout the property
– On-site restaurant serving delicious lunch and dinner options
– Convenient location near popular sites in Athens
– Close proximity to marina and beach for leisure activities
Life Gallery Athens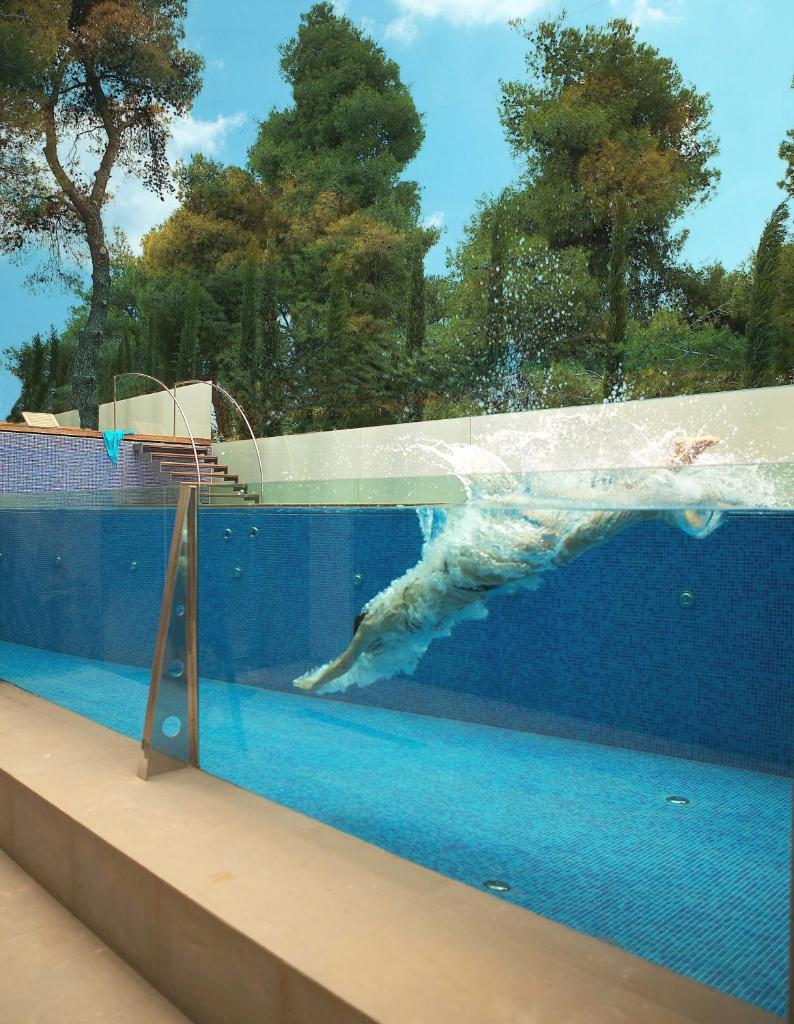 Located in the sophisticated suburb of Ekali, Athens Life Gallery is a luxurious 5-star hotel that offers a truly exquisite experience. The hotel boasts two swimming pools surrounded by beautiful gardens and a fully equipped Orloff Spa that provides a wide range of indulgent services including Indian Leg massages, aromatic scrubs with spices, and special honeymoon packages for couples. The hotel's minimalist design, featuring ethnic elements, seamlessly blends with modern architecture, while contemporary Greek artwork adorns every corner. Each elegantly appointed room showcases original fixtures, furniture, and objects and includes amenities such as a working desk, high-speed internet connection, satellite flat plasma TV, and balconies that offer stunning mountain views. Guests also enjoy complimentary access to the mini gym and can savor Greek and Mediterranean delicacies as well as exotic cocktails at the Kool Life Bar Restaurant.
Pros:
– Sophisticated location in the suburban area of Ekali
– Two swimming pools set amidst beautiful gardens
– Luxurious Orloff Spa offering various indulgent treatments
– Elegant rooms with stunning mountain views from balconies
– Delicious Greek and Mediterranean cuisine served at Kool Life Bar Restaurant
Athens 5 star Hotels Information
| | |
| --- | --- |
| 🛎️ 5 star Hotels in Athens | 12 |
| 💵 Hotels Prices From | $209 |
| 💵 Highest price | $869 |
| 🥇 Average Review Score | 8.8/10 |
| 🛏️ Average number of Rooms | 89 |
Top 5 star hotels in Athens
| | |
| --- | --- |
| The One 360 Skyline Athens Penthouses | 9.7/10 |
| Four Seasons Astir Palace Hotel Athens | 9.4/10 |
| Coco-mat Athens BC | 9.2/10 |
| COCO-MAT Athens Jumelle | 9.1/10 |
| Perianth Hotel | 9/10 |
FAQ
Can you recommend any luxury 5 star hotels in Athens?
Certainly! Athens offers a wide range of luxury 5 star hotels for discerning travelers. Some highly recommended options include the Hotel Grande Bretagne, known for its opulent décor and stunning rooftop views of the Acropolis. Another popular choice is the King George, located right next to Syntagma Square and offering luxurious rooms with modern amenities. For a more contemporary experience, consider staying at the Electra Metropolis Hotel, which boasts stylish interiors and a rooftop pool with panoramic views.
What are some must-visit attractions near luxury 5 star hotels in Athens?
When staying at a luxury 5 star hotel in Athens, you'll have easy access to several iconic attractions. The Acropolis and Parthenon are just a short distance away from most luxury hotels and offer breathtaking ancient ruins to explore. The Plaka neighborhood is another must-visit area with its charming narrow streets filled with shops, taverns, and cafes. Additionally, the National Archaeological Museum is worth visiting to immerse yourself in Greece's rich history through its extensive collection of artifacts.
Are there any gourmet dining options available at luxury 5 star hotels in Athens?
Absolutely! Luxury 5 star hotels in Athens pride themselves on their culinary offerings. Many of these hotels boast gourmet restaurants that serve both international delicacies as well as traditional Greek dishes made from fresh local ingredients. You can indulge in fine dining experiences while enjoying stunning views of the city or even dine al fresco by the poolside.
Do luxury 5 star hotels in Athens provide spa services?
Yes, many luxury 5 star hotels in Athens offer top-notch spa services for guests looking to unwind and relax during their stay. These spas often feature a range of treatments including massages, facials, body scrubs, steam rooms, saunas, and more. They create tranquil environments where you can escape the hustle and bustle of the city and rejuvenate your mind, body, and soul.
What amenities can I expect at luxury 5 star hotels in Athens?
Luxury 5 star hotels in Athens strive to provide their guests with a lavish experience. You can expect amenities such as beautifully furnished rooms with luxurious bedding, spacious bathrooms with premium toiletries, state-of-the-art fitness centers, swimming pools, concierge services to assist you with any request or booking, top-quality restaurants and bars on-site, complimentary Wi-Fi access throughout the hotel premises, and sometimes even exclusive access to private beach areas or rooftop terraces offering panoramic views of Athens.