Welcome to the tropical paradise of Bali, Indonesia – a mesmerizing island that embodies luxury and tranquility. In this enchanting corner of the world, you'll find an exquisite collection of opulent resorts that redefine the concept of five-star hospitality. With their impeccable service, breathtaking surroundings, and an array of lavish amenities, these prestigious accommodations are sure to captivate even the most discerning traveler.
Indulge your senses as you step foot into the lap of extravagance at these high-end establishments. From secluded beachfront villas nestled amidst lush palm trees to cliffside retreats offering panoramic views of the Indian Ocean, Bali offers a myriad of choices for those in search of unparalleled luxury. Immerse yourself in the holistic experience provided by world-class spa centers where ancient healing traditions meet modern wellness practices. Dine like royalty at award-winning restaurants serving up tantalizing dishes crafted by renowned chefs using locally sourced ingredients.
Prepare to be enchanted by Bali's rich cultural heritage woven seamlessly into its five-star offerings. Immerse yourself in traditional Balinese performances showcasing graceful movements and vibrant costumes or partake in immersive workshops where local artisans share their craft with eager learners. Whether you're seeking adventure through thrilling water sports or a serene escape surrounded by serene landscapes, Bali's luxurious hotels provide an oasis for every taste and desire.
So pack your bags and embark on a journey filled with splendor and pampering as we unveil some hidden gems among Bali's finest havens of indulgence. Get ready to surrender yourself to ultimate relaxation and allow these extraordinary 5-star hotels to transport you into a world where comfort knows no bounds
Best Five Star Hotels in Bali
The Kayon Resort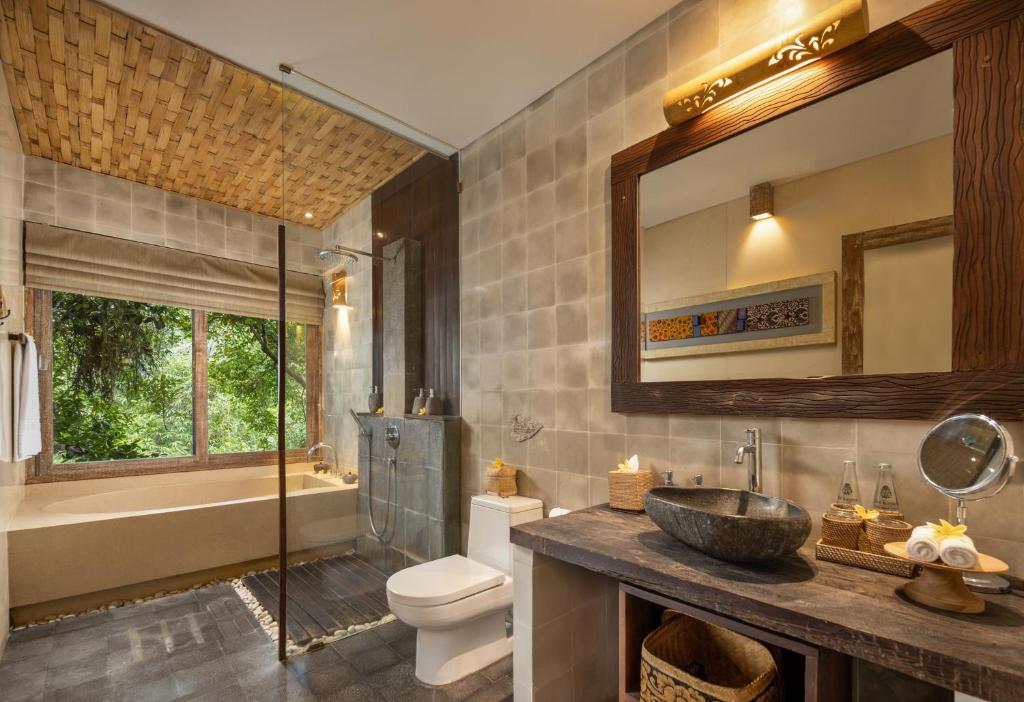 Nestled within a lush garden featuring a picturesque chapel and pool, The Kayon Resort offers a tranquil escape with breathtaking views of the historical Petanu River and surrounding jungle. The resort provides complimentary hourly shuttle services to central Ubud, allowing guests to easily explore the vibrant city. Serayu Spa is available for rejuvenating spa treatments and relaxing massages. The air-conditioned rooms at The Kayon Resort exude luxury, boasting a scenic terrace, private entrance, and cozy seating area. Each room is fitted with modern amenities including a flat-screen satellite TV, CD/DVD player, laptop safe, minibar, and electric kettle. The spacious marble bathroom features both a shower and bathtub as well as a hairdryer. With free WiFi access throughout the property, guests can stay connected during their stay. KE-PI-TU Restaurant offers an exquisite dining experience with its fusion dishes in a Balinese royal setting while the on-site bar serves up delightful alcoholic beverages. For added convenience, room service is available from 07:00 to 22:00. Guests can also indulge in beauty treatments at the on-site salon or seek assistance from the friendly 24-hour front desk staff for laundry services or organizing tours through the hotel's tour desk and ticket service. Additional facilities include concierge service, an inviting garden area for relaxation, and a library where one can curl up with their favorite book. A business center is also available for those traveling on business needs.
Pros:
– Breathtaking views of historical Petanu River and lush jungle
– Complimentary shuttle service to central Ubud
– Serayu Spa offering rejuvenating treatments
– Luxurious rooms with modern amenities
– Exquisite dining experience at KE-PI-TU Restaurant
Kayumanis Jimbaran Private Villas & Spa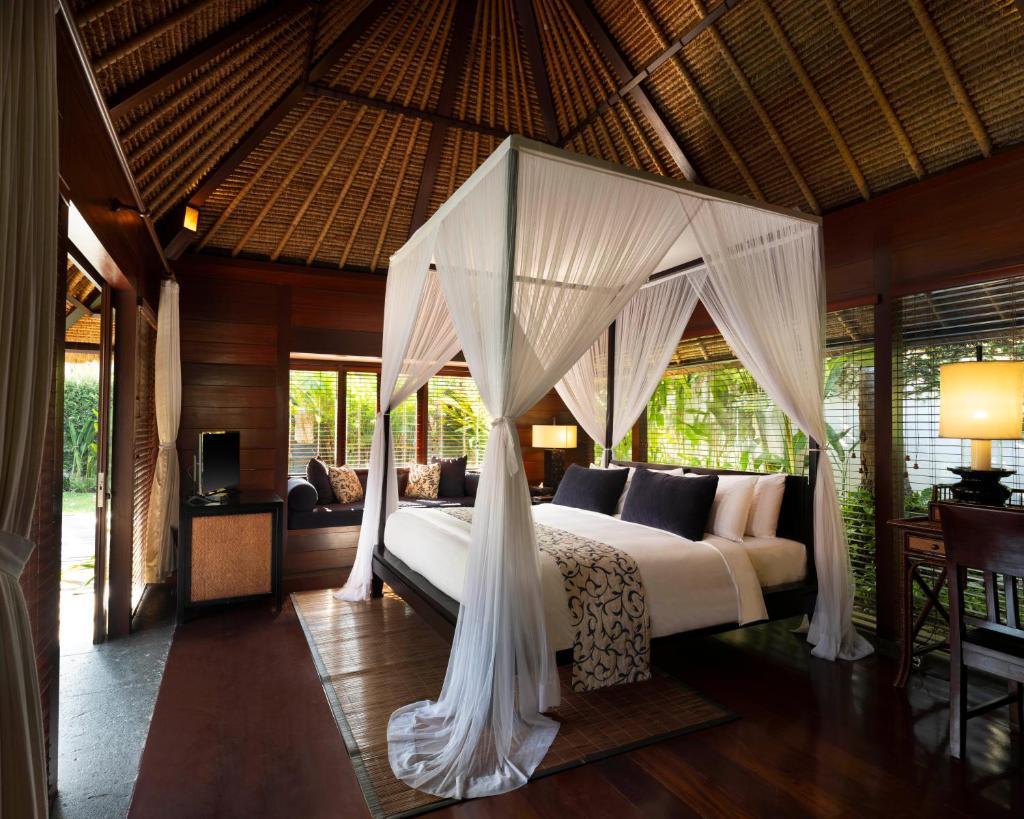 Kayumanis Jimbaran Private Villas & Spa is a luxurious 5-star hotel located in the charming fishing village of Jimbaran, just a short walk from the beautiful Jimbaran Beach. What sets this hotel apart is its stunning villas, each with its own private pool, offering guests ultimate privacy and tranquility. The villas feature semi-open living rooms, kitchenettes, and open-air garden baths for a truly indulgent experience. In addition to the exquisite accommodations, guests can enjoy complimentary services such as airport transfers, daily afternoon tea and homemade cookies, and daily restocked minibars and fruit baskets. The hotel also provides a range of amenities including flat-screen TVs, DVD players, and 24-hour butler services. To further enhance their stay, guests can indulge in rejuvenating spa treatments or relax at the on-site library. Kayumanis Resto Jimbaran offers delectable Indonesian specialties in a traditional Javanese Joglo-style building or guests can choose to have a romantic candlelit dinner in their villa. With its convenient location close to the airport and popular attractions like Kuta and Tanjung Benoa within easy reach by car, Kayumanis Jimbaran Private Villas & Spa is the perfect destination for an unforgettable luxury getaway.
– Luxurious villas with private pools
– Complimentary airport transfers
– Daily afternoon tea and homemade cookies
– Rejuvenating spa treatments
– Romantic dining options
Goya Boutique Resort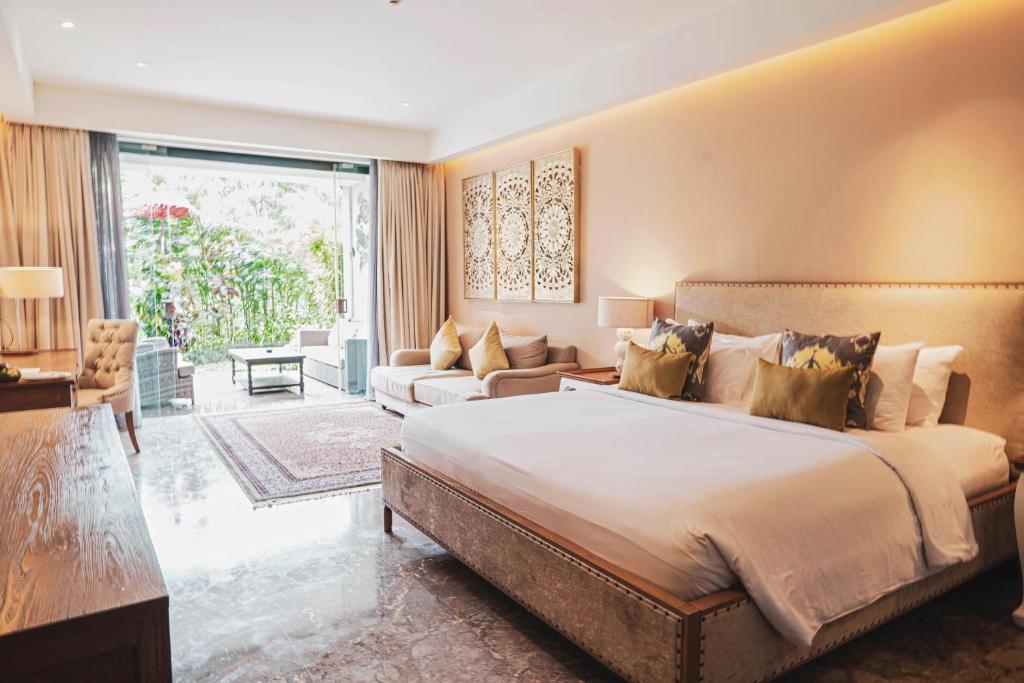 Located just an 8-minute walk from Ubud Monkey Forest, Goya Boutique Resort is a luxurious 5-star resort that offers contemporary design and a range of amenities. The resort features an outdoor pool and spa for guests to relax and unwind. Nearby attractions include Ubud Palace, which is just a 10-minute walk away, and Blanco Renaissance Museum, which can be reached within a 15-minute walk. The resort's 24-hour front desk is available to assist with vehicle rentals and airport shuttle services, while the concierge can help with luggage storage. Guests can enjoy a fine selection of Indonesian and Western dishes at the on-site Senja Restaurant. The rooms at Goya Boutique Resort are beautifully decorated with a blend of traditional and modern elements. Each room comes equipped with a flat-screen cable TV, iPod docking station, air conditioning, personal safe, desk, ironing facilities, electric kettle, minibar, private bathroom with shower and bathtub, hairdryer, as well as luxurious Bvlgari amenities. Pampering massages are available at the spa for ultimate relaxation. Other facilities offered include laundry services as well as private and express check-in/check-out options. Daily housekeeping ensures that guests have a comfortable stay throughout their visit. Additionally, guests have access to barbecue facilities or can order from the room service menu for added convenience. Ngurah Rai Airport is the nearest airport to the property located approximately 28 km away.
– Contemporary design
– Outdoor pool
– Spa services
– On-site restaurant offering Indonesian & Western cuisine
– Convenient location near popular attractions
Other places to stay in Bali
Luxury 5 Star Hotels in Bali
Luxury 5-star hotels in Bali offer a sublime retreat for discerning travelers seeking unparalleled comfort and opulence. With impeccable service, exquisite design, and breathtaking views, these hotels provide an exclusive haven where guests can indulge in ultimate relaxation and create unforgettable memories.
Impiana Private Villas Seminyak – CHSE Certified
Surrounded by boutique shops and restaurants, Impiana Private Villas Seminyak – CHSE Certified is a luxurious villa resort located in the heart of Seminyak. The villas feature traditional Balinese architecture with thatched roofs and each offers a private pool and seating area. The resort's Prana Spa is uniquely themed, featuring a yoga room and an open-air courtyard with hot and cold plunge pools. Guests can also explore the gift shop which sells handicrafts from Bali and other parts of Asia. With Seminyak Beach only 1.5 km away, Legian Beach approximately 2.5 km away, and Kuta Beach around 4.8 km away, guests have easy access to some of Bali's most iconic beaches. Each villa at Impiana Private Villas Seminyak – CHSE Certified comes with tropical gardens, day beds, kitchen area, dining area, flat-screen TV, DVD player, stereo with iPod dock, and en suite bathrooms with showers and complimentary amenities. The on-site Prana Restaurant offers a healthy menu while room service provides Indonesian, Asian, and Western options.
– Prime location in the heart of Seminyak
– Traditional Balinese villas with private pools
– Unique Prana Spa with yoga room and plunge pools
– Gift shop featuring handicrafts from Bali
– Close proximity to popular beaches
COMO Uma Ubud – CHSE Certified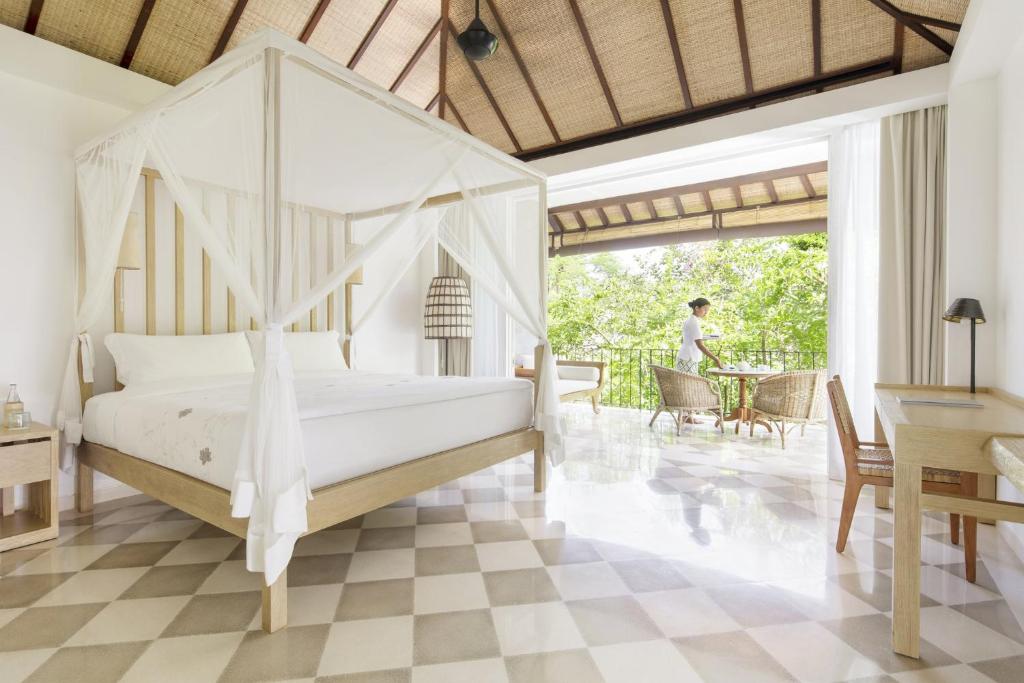 CHSE Certified and nestled in the stunning Tjampuhan Valley, COMO Uma Ubud offers a luxurious retreat for discerning travelers. This 5-star hotel provides an array of complimentary services including scheduled area shuttles, guided morning walks, and yoga classes led by a yoga master. The property boasts excellent amenities such as free Wi-Fi, a sauna, outdoor pool, and gym. For ultimate relaxation, guests can indulge in treatments at the on-site spa or partake in thrilling activities like white water rafting and volcano climbing. The elegant rooms feature marble flooring and four-poster beds, along with modern conveniences like minibars, safes, and satellite TVs. The en suite bathrooms offer both bathtubs and hot showers. Located just a short drive from Bali's town center attractions, COMO Uma Ubud is conveniently situated near popular spots like The Blanco Renaissance Museum. With car and bicycle rental facilities available to explore the surrounding area at leisure, guests are spoiled for choice when it comes to entertainment options. Dining is a delight with Kemiri restaurant serving breakfasts as well as hosting special occasions while Uma Cucina showcases Italian-inspired menus crafted from locally-sourced produce.
– Free scheduled area shuttles
– Guided morning walks included
– Complimentary yoga classes with an expert instructor
– Luxurious spa offering rejuvenating treatments
– Convenient location near top tourist attractions
Grand Hyatt Bali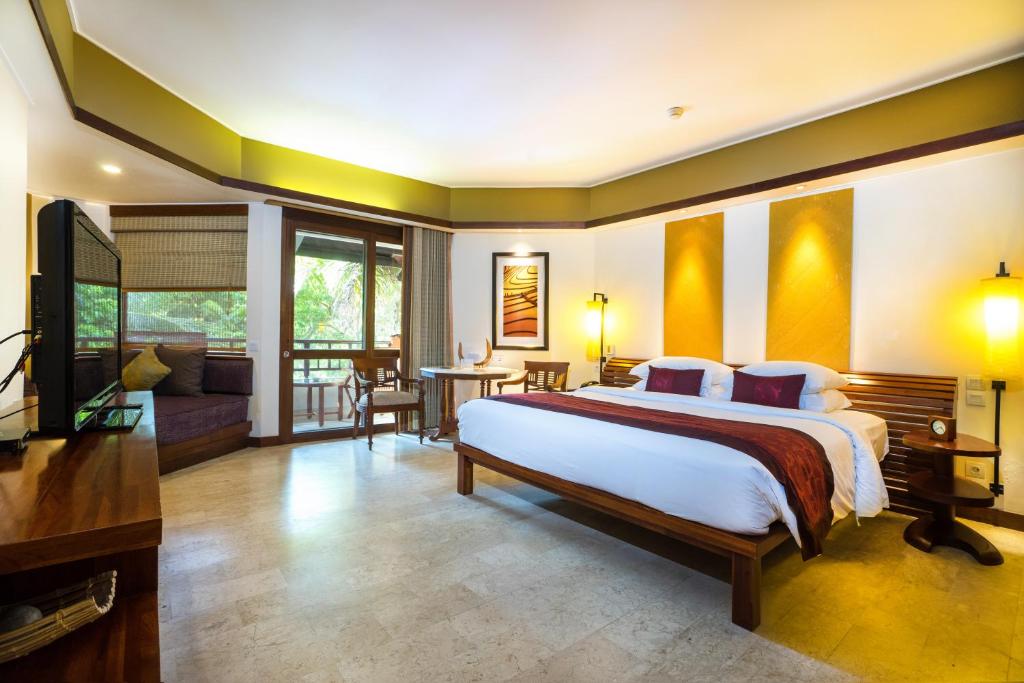 Located in the stunning Nusa Dua area of Bali, the Grand Hyatt Bali is a haven of luxury and tranquility. With spacious rooms featuring private balconies, this 5-star hotel offers a perfect blend of comfort and elegance. The property boasts five outdoor pools, an exquisite spa, and an impressive selection of dining options to satisfy any palate. The well-appointed rooms are tastefully decorated with modern furnishings, allowing for ample natural light to filter through. Guests can enjoy amenities such as cable TV, batik robes and slippers in the en suite bathroom. Sports enthusiasts will appreciate the tennis courts and fitness center on site, while adventure seekers can arrange exciting water sports activities like diving and canoeing. For those seeking relaxation or indulgence, the spa offers a range of rejuvenating treatments. Currency exchange services and bicycle rentals are also available for added convenience. When it comes to dining options at Grand Hyatt Bali, guests are spoiled for choice with Salsa Verde Restaurant offering delectable Italian cuisine, Garden Café serving up Asian and European dishes, as well as Watercourt Restaurant where traditional Balinese fare can be savored. With its ideal location just a 15-minute drive from Ngurah Rai Airport and 30 minutes from Denpasar, Grand Hyatt Bali ensures that guests have easy access to both convenient transportation links and popular attractions.
– Spacious rooms with private balconies
– Five outdoor pools to choose from
– Well-appointed spa offering rejuvenating treatments
– A variety of dining options catering to different tastes
– Convenient location near Ngurah Rai Airport
Five Star Hotels in Downtown Bali
Five-star hotels in downtown Bali offer unparalleled luxury and sophistication, ensuring an unforgettable stay for guests. With impeccable service, exquisite design, and breathtaking views, these hotels are the epitome of opulence in this tropical paradise.
Discovery Kartika Plaza Hotel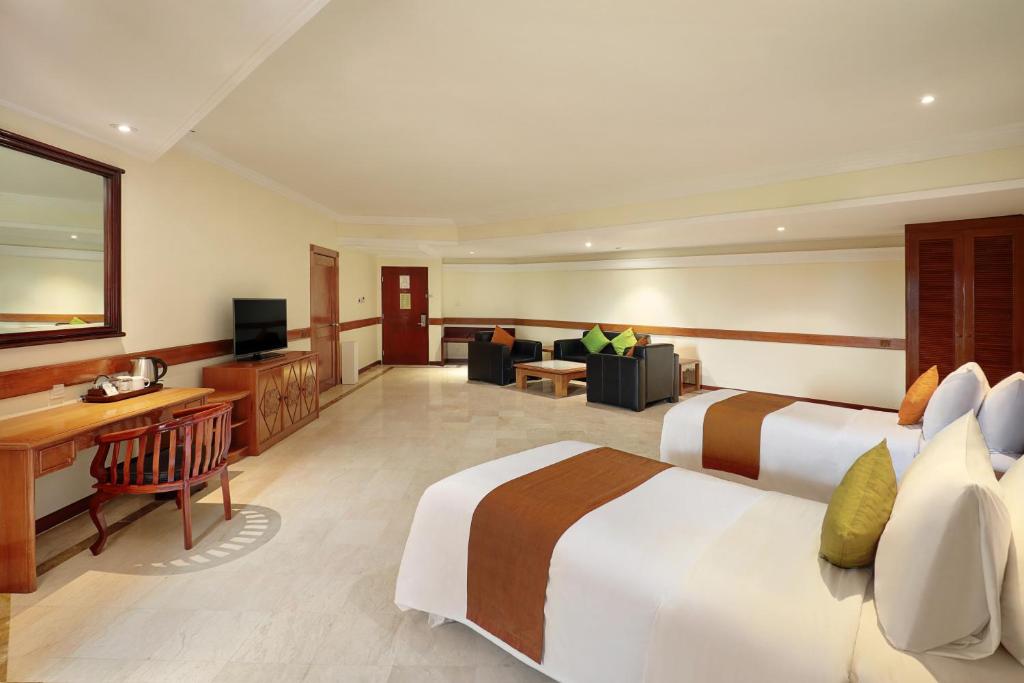 Situated next to the Discovery Shopping Mall in South Kuta, the Discovery Kartika Plaza Hotel is a luxurious resort offering beachfront rooms surrounded by tropical gardens. With its contemporary Balinese architecture and private balconies with stunning views of the garden, pool, or ocean, guests can truly immerse themselves in the beauty of Bali. The hotel boasts a range of amenities including an outdoor pool, kids pool and club for families traveling with children, three restaurants serving delicious cuisine, and free internet access. In addition to these comforts, guests can indulge in spa treatments or work out at the fitness center. The hotel's Activity Centre also assists guests with booking exciting tours and activities such as low-altitude helicopter rides over the island. Conveniently located just a 10-minute walk from Kuta center and a short drive away from Ngurah Rai International Airport, this hotel offers both convenience and luxury for all travelers.
Pros:
– Beachfront location with stunning views
– Range of amenities including pools and kids club
– Contemporary Balinese architecture
– Assistance with booking tours and activities
– Convenient location near shopping mall
Komaneka at Bisma Ubud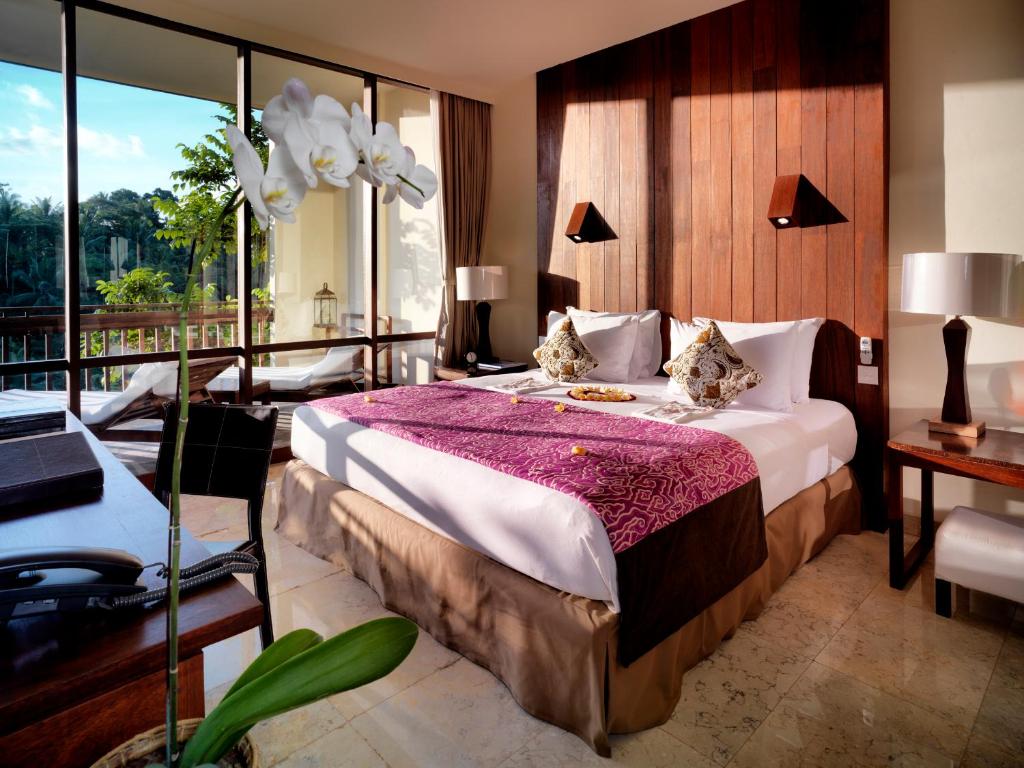 Located on a hillside in Ubud, Komaneka at Bisma offers breathtaking views of the Campuhan River, coconut plantations, and rice fields. With its prime location just 950 meters from Monkey Forest, this luxury resort boasts two outdoor pools, a restaurant serving Indonesian specialties, and a spa for ultimate relaxation. The rooms at Komaneka are luxurious and spacious, complete with private balconies where guests can soak in the natural scenery from the comfort of their sun loungers. Each room also features a large flat-screen TV and an ensuite bathroom with a bathtub and separate glass-enclosed shower. Guests can stay active at the fitness center or enjoy some quiet time in the library area. Free WiFi is available throughout the resort, as well as complimentary private parking. Indulge in a delicious breakfast served daily with American, continental, and gluten-free options at Seneng Kitchen. The hotel is conveniently located around 1.2 km from Ubud Palace and Ubud Market, while Ngurah Rai International Airport is approximately 30 km away.
Pros:
– Stunning hillside location with panoramic views
– Luxurious rooms with private balconies
– Two outdoor pools for refreshing dips
– Relaxing spa facilities for pampering sessions
– Convenient proximity to popular attractions
The Laguna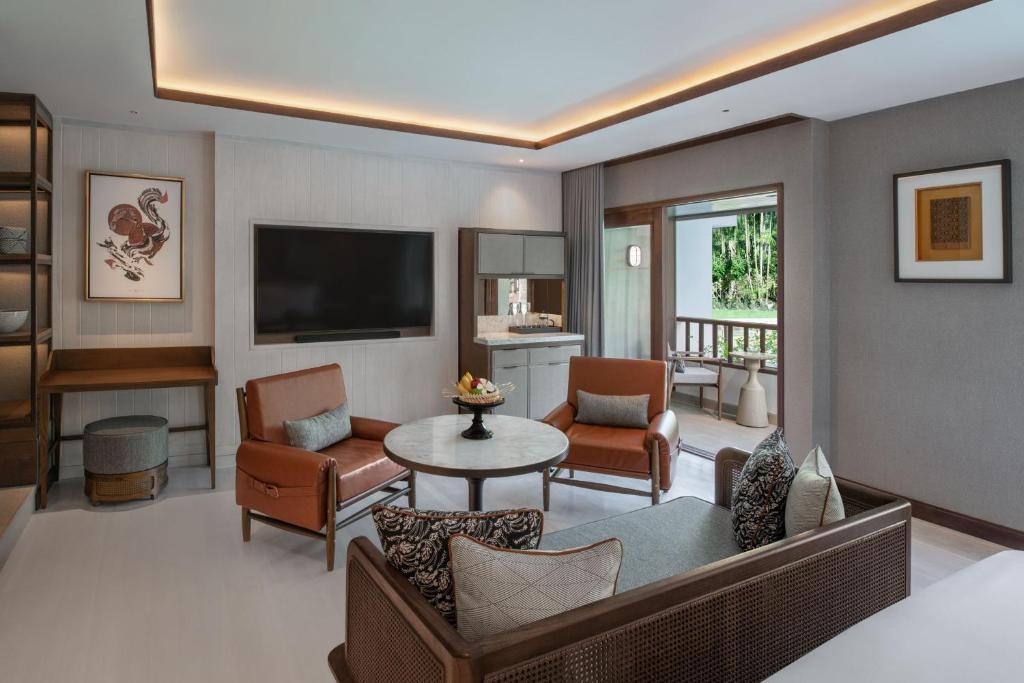 The Laguna is a luxurious resort located on a white sandy beach, offering breathtaking views of the Indian Ocean. The resort boasts 7 large lagoon swimming pools and spacious accommodations with around-the-clock butler service. Guests can enjoy signature cocktails and light refreshments at the poolside bars or indulge in beauty treatments at the Lagoon spa. The hotel offers free Wi-Fi, a fitness center, and direct access to two small islands from the beach. Just minutes away from Bali Collection Shopping Gallery and Uluwatu Temple, The Laguna provides an ideal location for both relaxation and exploration. Guests can savor all-day dining options at Banyubiru or feast on fresh seafood at Arwana.
– Stunning views of the Indian Ocean
– Spacious accommodations with butler service
– Multiple poolside bars for refreshing drinks
– Direct access to two small islands from the beach
– Convenient location near shopping and cultural attractions
Bali Cheap 5 Star Hotels
Bali offers a range of affordable 5-star hotels with luxurious accommodations, ensuring a memorable stay without breaking the bank. Experience world-class service, stunning views, and convenient locations at these budget-friendly options.
Samabe Bali Villas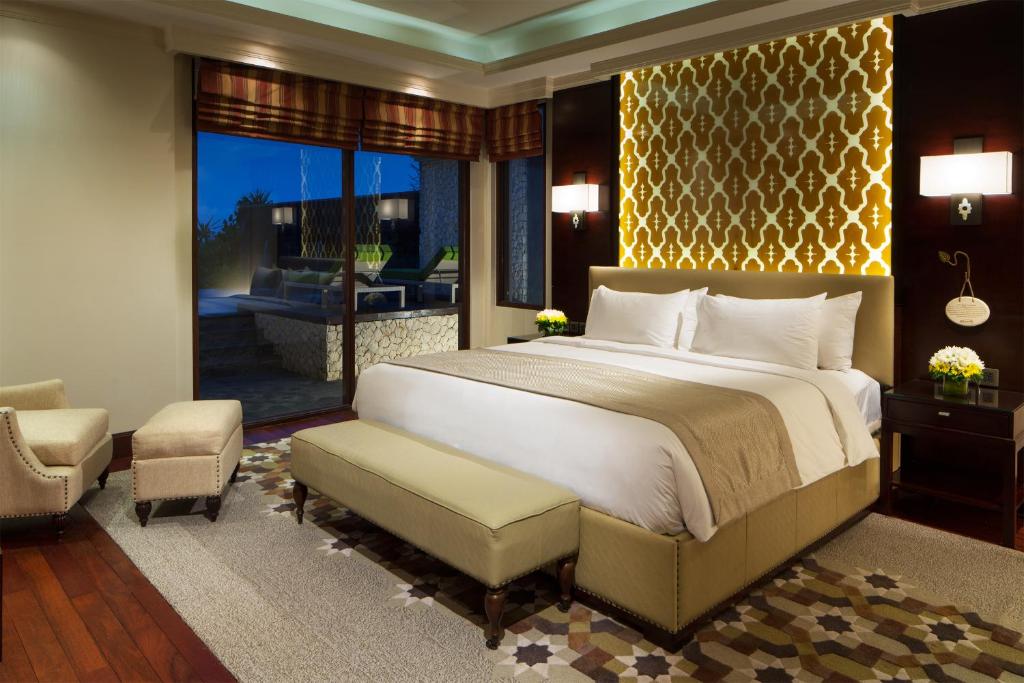 Situated just a 15-minute drive from Nusa Dua, the luxurious Samabe Bali Villas is a beachfront property that offers guests an array of activities and amenities. With a private beach area featuring water sport facilities such as windsurfing, canoeing, and snorkelling, there's no shortage of adventure. The hotel also boasts a golf course within 3 km, a large garden and an outdoor swimming pool. Aside from these enticing features, Samabe Bali Villas provides convenient guest services including free Wi-Fi throughout the property. Guests can indulge in soothing massages or stay active at the fitness centre. The hotel also provides bikes for guests to explore the surroundings. The spacious suites all offer private terraces with stunning views of the sea and pool. Inside each suite you will find a dining area complete with minibar, coffee machine and electric kettle. Other amenities include flat-screen satellite TVs with Blu-ray players, iPod docking stations, safes and ironing facilities. The en suite bathrooms are equipped with both bathtubs and showers for ultimate relaxation. Families travelling with children will appreciate the kids' club and babysitting services on-site. When it comes to dining options, guests are spoiled for choice at Samabe Bali Villas: Rempah Restaurant serves Balinese, Indonesian Asian and Mediterranean cuisine while Chrystal Blue Ocean Grill specialises in seafood dishes and barbecues.
– Private beach area with water sports
– Golf course nearby
– Spacious suites with sea views
– Variety of dining options
– Kids' club provided
The Dusun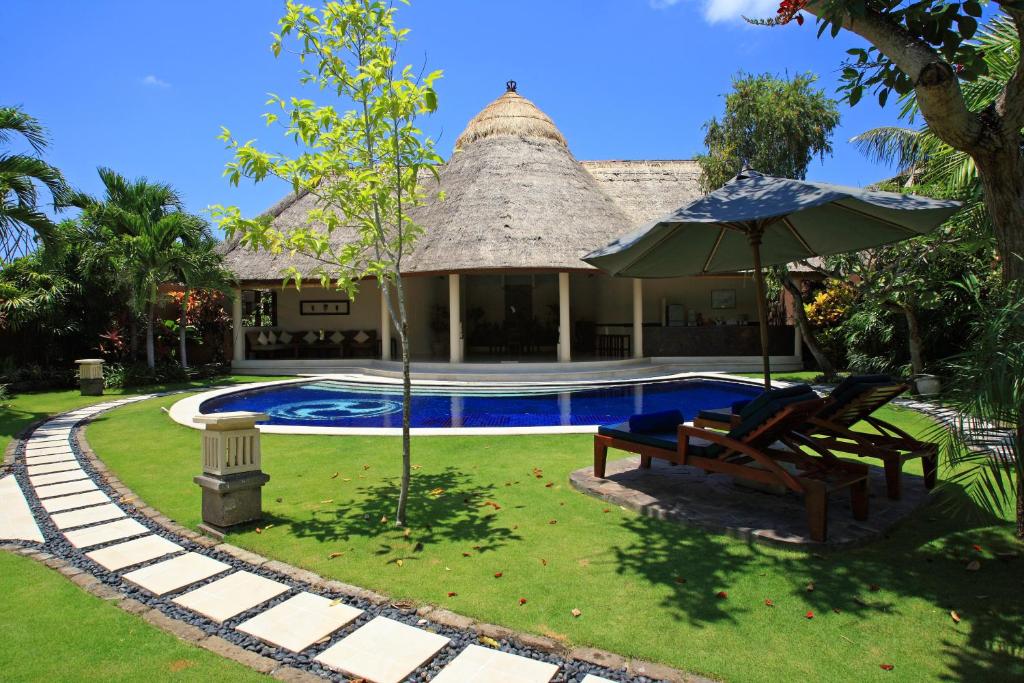 Located in Petitenget Village and just a 5-minute walk from Petitenget and Seminyak Beach, The Dusun provides guests with the ultimate luxury villa experience. Each private villa at The Dusun boasts a spacious pool and is equipped with a fully equipped kitchenette and dining area. Additionally, guests can explore Pura Petitenget temple which is located in the same village as the hotel. With modern amenities such as satellite TV and an attached bathroom complete with shower and bathtub, guests will find everything they need for a comfortable stay. The friendly staff at The Dusun are multilingual, offering guest services in English, Japanese, and French. For those looking to venture out, the vibrant Seminyak area is just a 15-minute drive away where there are numerous restaurants, boutique shops, and nightlife options to choose from. Moreover, Kudeta, La Luciola, and Bambu restaurants are all within a short 5-minute walk from the hotel.
– Private villas with large private pools
– Fully equipped kitchenettes in each villa
– Multilingual staff offering guest services in English, Japanese and French
– Close proximity to Seminyak's vibrant dining scene
– Walking distance to popular local restaurants such as Kudeta
Bisma Eight Villas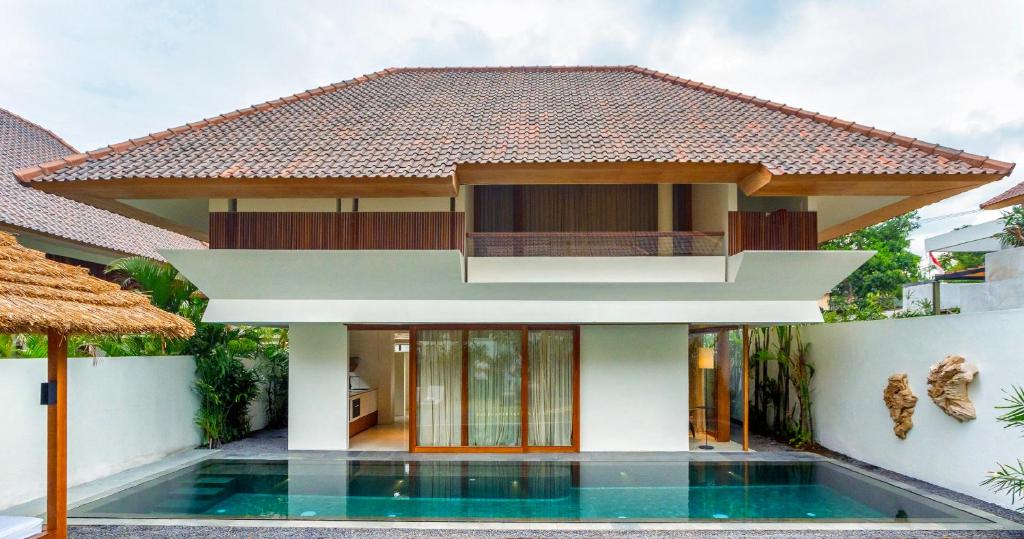 Located in the heart of Ubud, Bisma Eight Villas is a luxurious 5-star resort that offers a range of amenities and services to ensure a memorable stay. With its modern design and serene surroundings, this resort provides the perfect retreat for guests seeking relaxation and tranquility. The resort features an outdoor swimming pool, a fitness center, and a beautiful garden where guests can unwind and enjoy the natural beauty of Ubud. The spacious air-conditioned rooms are equipped with all the necessary amenities including a desk, coffee machine, fridge, dishwasher, safety deposit box, flat-screen TV, terrace, and private bathroom with shower. The resort also offers free WiFi throughout the property and provides 24-hour front desk assistance for guest convenience. Guests can start their day with a delicious breakfast which includes à la carte, continental, and American options. The on-site restaurant at Bisma Eight Villas serves Indonesian, Italian, and Japanese cuisine catering to various dietary preferences including vegetarian, vegan, and dairy-free options upon request. Moreover, this resort is conveniently located near popular attractions such as Saraswati Temple, Blanco Museum,and Monkey Forest Ubud making it an ideal choice for exploring the local culture and heritage. Ngurah Rai International Airport is just 36 km away from Bisma Eight Villas offering easy access for travelers arriving or departing from Bali.
Pros:
– Convenient location near city center
– Range of room amenities including coffee machine
– Variety of dining options catering to different dietary requirements
– Outdoor swimming pool for relaxation
– Complimentary bikes provided for guests' use
Bali 5 star Hotels Information
| | |
| --- | --- |
| 🛎️ 5 star Hotels in Bali | 12 |
| 💵 Hotels Prices From | $67 |
| 💵 Highest price | $1638 |
| 🥇 Average Review Score | 9/10 |
| 🛏️ Average number of Rooms | 128 |
Top 5 star hotels in Bali
| | |
| --- | --- |
| Bisma Eight Villas | 10/10 |
| Komaneka at Bisma Ubud | 9.4/10 |
| Goya Boutique Resort | 9.3/10 |
| The Dusun | 9.3/10 |
| The Kayon Resort | 9.2/10 |
FAQ
What are the top 5 star hotels in Bali?
Bali offers a plethora of luxury 5 star hotels for a memorable stay. Some of the top choices include The Mulia Bali, renowned for its stunning beachfront location and unparalleled service, The St. Regis Bali Resort, known for its opulent suites and world-class dining experiences, and Four Seasons Resort Bali at Jimbaran Bay, popular for its breathtaking views and exceptional hospitality.
What amenities can I expect at a 5 star hotel in Bali?
When staying at a 5 star hotel in Bali, you can expect an array of luxurious amenities. These may include spacious and beautifully designed rooms or villas with private pools, high-end spa facilities offering rejuvenating treatments, multiple fine dining restaurants serving exquisite cuisine, well-equipped fitness centers with personal trainers available upon request, as well as concierge services to assist with any requests or arrangements during your stay.
Which areas in Bali have the best selection of 5 star hotels?
Bali has several areas that offer an excellent selection of luxury 5 star hotels. Seminyak is known for its trendy atmosphere and upscale accommodations such as W Bali – Seminyak and Alila Seminyak. Nusa Dua is home to many renowned resorts including The Ritz-Carlton – Luxurious cliffside property offering impeccable service and beachfront access –
What is the average price range for a night in a 5 star hotel in Bali?
The average price range per night for a stay at a luxury 5 star hotel in Bali varies depending on factors such as location, seasonality, and specific hotel offerings. Generally speaking though, prices can range from around $200 to over $1000 per night. It's worth noting that some high-end resorts may offer exclusive packages and special deals, so it's advisable to keep an eye out for those.
Are 5 star hotels in Bali suitable for families with children?
Yes, many 5 star hotels in Bali are extremely family-friendly and cater to the needs of guests traveling with children. These hotels often provide dedicated kids' clubs offering a range of activities, babysitting services upon request, spacious family suites or interconnected rooms, as well as child-friendly dining options. Some examples of family-friendly luxury resorts include The Westin Resort Nusa Dua – Offering a supervised kids' club and a large lagoon-style pool –
Popular Five Star Hotels destinations