Welcome to the ultimate guide to exquisite boutique accommodations in the vibrant city of Boston, USA. If you are seeking an extraordinary lodging experience that goes beyond the confines of conventional hotels, then look no further. Nestled amidst this historic city's cobblestone streets and iconic landmarks, boutique establishments have carved a niche for themselves with their unique charm and personalized service.
Indulge your senses in these carefully curated havens of luxury where hospitality is elevated to an art form. Each boutique property exudes its own distinctive character, immersing guests in elegance and sophistication from the moment they step foot through the door. From opulent suites adorned with bespoke furnishings to intimate lobbies adorned with local artwork, every detail has been thoughtfully designed to create a memorable stay.
Prepare to be enchanted by not only Boston's rich history but also by these captivating retreats that seamlessly blend modern comforts with old-world allure. Whether you are here for business or pleasure, let us unveil some hidden gems that will redefine your notion of luxury accommodation. Soak up the quintessential New England charm while reveling in unsurpassed comfort at one of these magnificent boutique hotels – a true embodiment of sophistication and style in bustling Boston.
Best Boutique Hotels in Boston
The Lenox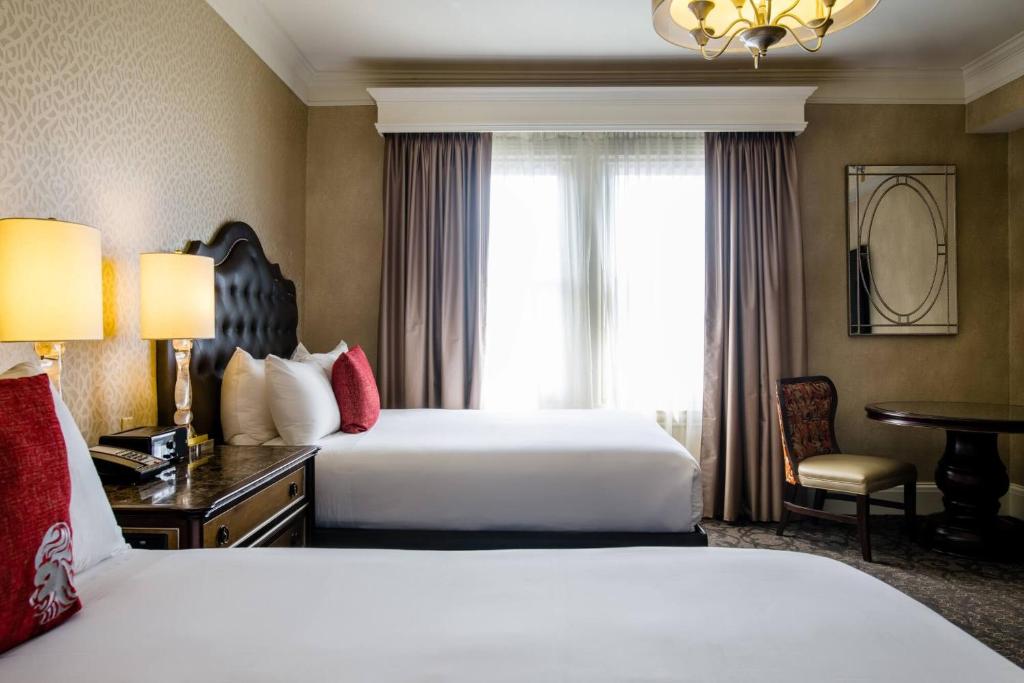 Located in Boston's historic Back Bay area, The Lenox is a luxurious boutique hotel that offers guests an exquisite experience. With its state-of-the-art gym, award-winning dining options, and elegant rooms equipped with free Wi-Fi, this hotel effortlessly combines modern amenities with timeless charm. Situated just a 5-minute walk away from the iconic John Hancock Tower, guests can also explore the vibrant neighborhood filled with renowned restaurants and shops on Newbury Street. Each room at The Lenox provides panoramic views of the picturesque Back Bay neighborhood and features flat-screen TVs, a small fridge, and plush terry bathrobes for ultimate comfort. The luxury rooms boast mahogany furniture and crystal lamps that add an extra touch of sophistication. Additionally, personalized concierge services are available to cater to every guest's needs while the 24-hour business center ensures seamless productivity throughout their stay. For those seeking authentic Irish cuisine, Sólás offers a delightful dining experience within the hotel premises. Furthermore, Fenway Park baseball stadium is conveniently located just 1 mile away from The Lenox while Northeastern University can be reached within a leisurely 15-minute walk.
– Ideal location in Boston's historic Back Bay area
– State-of-the-art gym for fitness enthusiasts
– Award-winning dining options including contemporary American cuisine
– Panoramic views of Back Bay neighborhood from each room
– Personalized concierge services for a truly tailored stay
The Eliot Hotel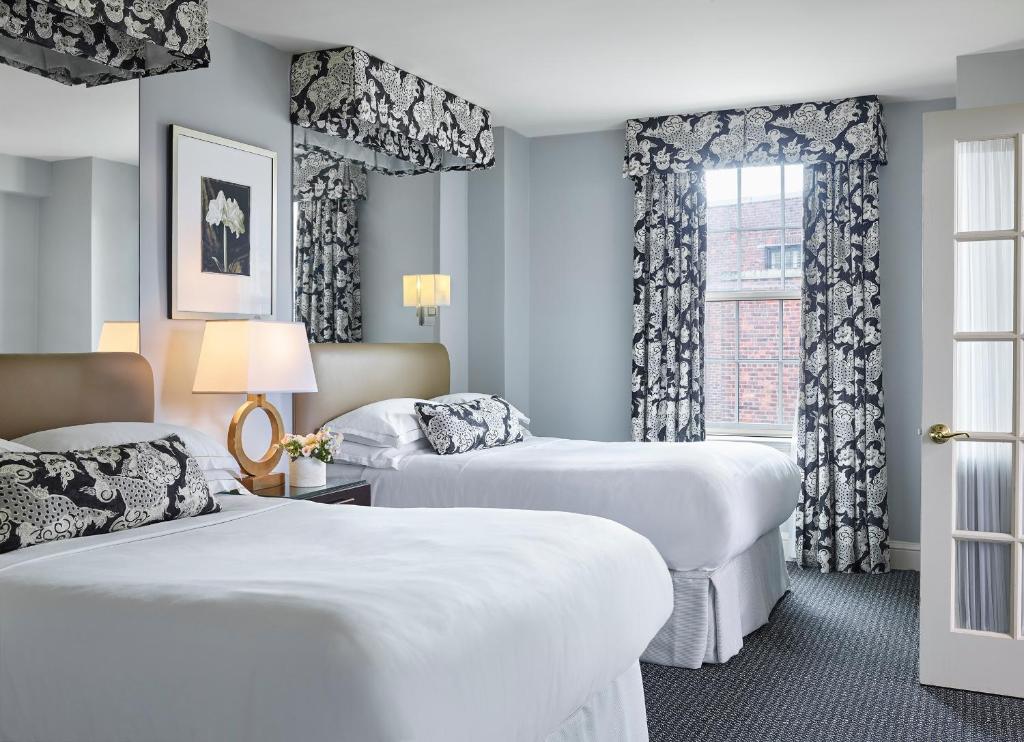 Located in the charming Back Bay neighborhood of Boston, The Eliot Hotel is a historic gem that has been welcoming guests since 1925. This boutique hotel offers a luxurious stay with elegantly decorated rooms featuring down comforters and marble bathrooms. For dining options, guests can indulge in delectable sashimi at the on-site bar or experience Japanese sushi and small plates at the renowned restaurant, Uni. The hotel also features soundproof windows, flat-screen TVs, and WiFi internet in each room for guests' convenience. As an added perk, guests have complimentary access to the Boston Sports Club and an on-site business center. The attentive concierge desk staff are available to arrange dinner reservations or provide nightly turndown service. Additionally, babysitting and petsitting services are offered to ensure a comfortable stay for all visitors. With its prime location just minutes away from Hynes Convention Center and popular shopping destinations like Prudential Shopping Center and Newbury Street shops, The Eliot Hotel is the perfect choice for those seeking luxury accommodation in Boston. Not to mention that Fenway Park, home of the Boston Red Sox, is just a short distance away for sports enthusiasts.
– Historic charm with elegant decor
– On-site sashimi bar
– Access to Boston Sports Club
– Convenient location near shopping and attractions
– Attentive concierge desk staff
The Whitney Hotel Boston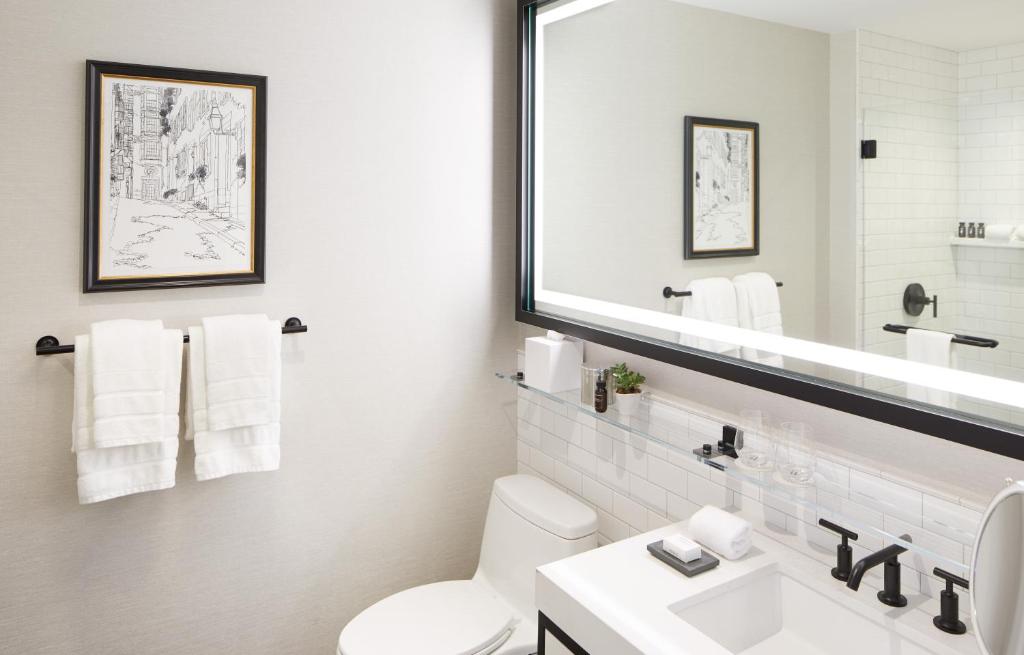 The Whitney Hotel Boston, a luxurious 5-star boutique hotel, is ideally located in the heart of Boston. This elegant hotel offers air-conditioned rooms with modern amenities such as free bikes and complimentary WiFi. Guests can also take advantage of the fitness center and shared lounge. The property features a beautiful garden and an exquisite restaurant serving delectable American and Mediterranean cuisine. Each room at The Whitney Hotel Boston is tastefully decorated and equipped with a wardrobe, flat-screen TV, private bathroom, luxury bed linen, towels, and a safety deposit box. Some rooms even offer stunning city views. The attentive staff at the reception desk are always ready to provide guests with helpful information about the surrounding area. The hotel is conveniently situated near popular attractions like King's Chapel and Burying Ground, Boston North Station, and TD Garden. For travelers flying in or out of the city, Logan Airport is just 6 km away from this exceptional hotel.
– Prime central location in downtown Boston
– Stylishly decorated rooms with modern amenities
– Fitness center for guests to stay active during their stay
– Beautiful garden space to relax in
– Exceptional dining experience with delicious American and Mediterranean cuisine
Other places to stay in Boston
Boutique Hotels in Downtown Boston
Downtown Boston offers a range of boutique hotels that blend historic charm with contemporary style, making them perfect for discerning travelers seeking personalized experiences. These intimate accommodations boast unique designs, impeccable service, and convenient locations near the city's cultural landmarks and vibrant dining scene.
Sonder No 284 Back Bay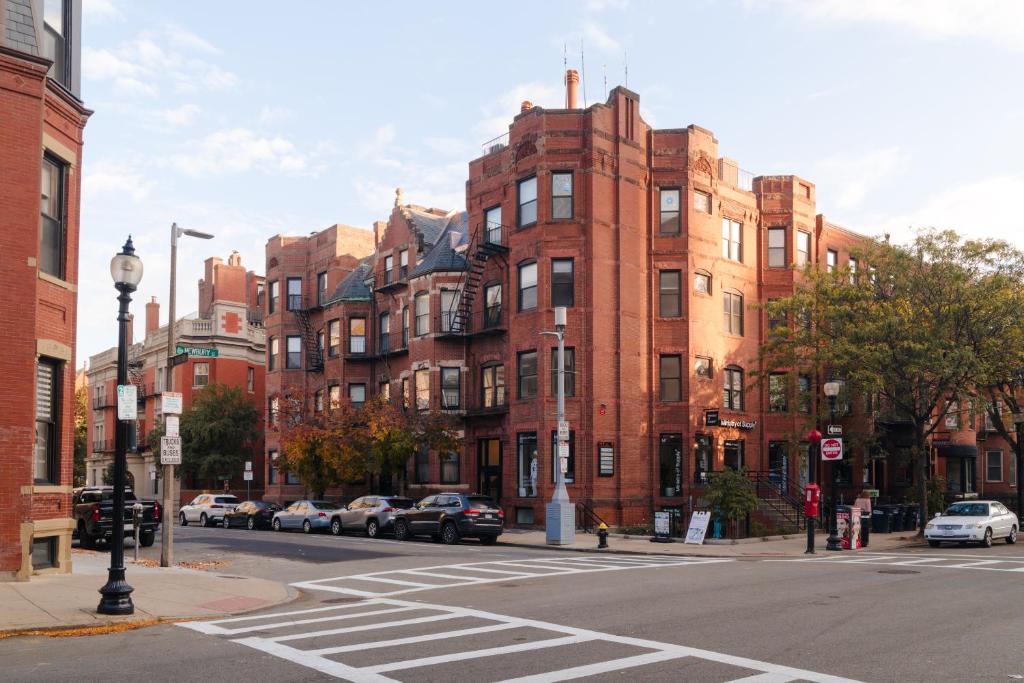 Nestled in the heart of Boston, Sonder No. 284 Back Bay offers guests a luxurious stay in an unbeatable location. With free WiFi throughout the property, this boutique hotel is just steps away from popular attractions such as Hynes Convention Center and Fenway Park, making it the perfect choice for both business and leisure travelers. The stylishly appointed rooms feature modern amenities including flat-screen TVs, private bathrooms with bath or shower, hairdryers, and complimentary toiletries. Each unit also provides guests with cozy bed linen and towels for their comfort. With Boston Public Garden, Boston Museum of Fine Arts, King's Chapel and Burying Ground, and Boston University all within close proximity to the hotel, there is always something exciting to explore nearby. Additionally, guests can easily access other famous landmarks like Boston Common and Beacon Hill within a short distance from the property. For those traveling by air, Logan Airport is conveniently located just 8 km away. Experience impeccable service and a prime location at Sonder No. 284 Back Bay.
– Prime location in the center of Boston
– Free WiFi throughout the property
– Stylishly appointed rooms with modern amenities
– Close proximity to popular attractions
– Convenient access to Logan Airport
Four Seasons Hotel One Dalton Street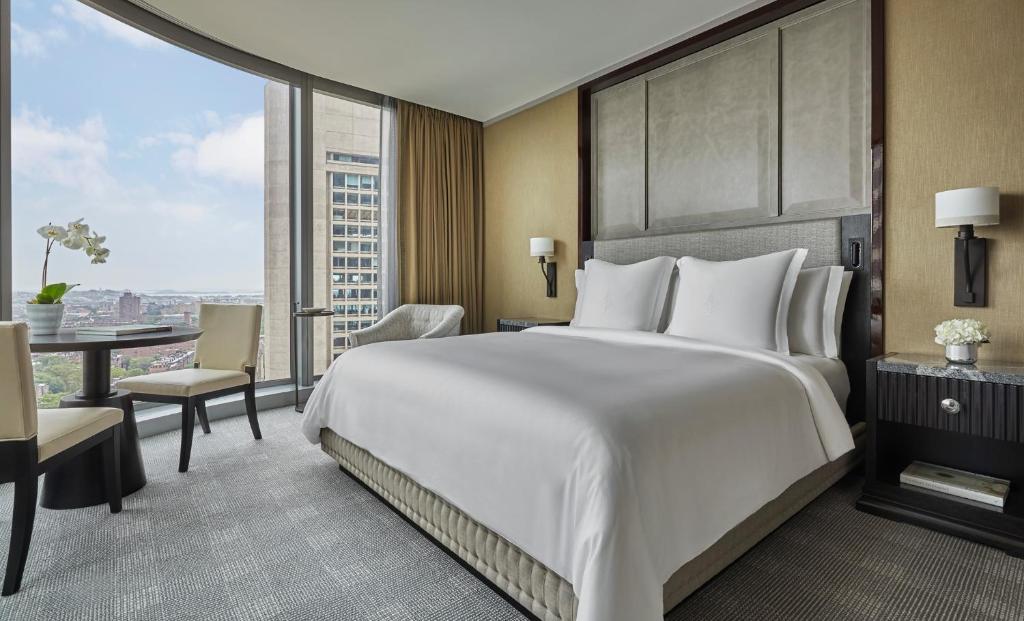 Nestled in the heart of Boston, Four Seasons Hotel One Dalton Street offers an exceptional luxury experience. The hotel features a stylish bar, a restaurant with delectable cuisine, and a range of amenities including free bikes, an indoor pool, and a fitness centre. Its prime location places guests within easy reach of popular attractions such as Hynes Convention Center, Back Bay Station, Boston Museum of Fine Arts, and Fenway Park. The elegantly appointed guest rooms are equipped with modern comforts like air conditioning, flat-screen TVs, safety deposit boxes, and private bathrooms stocked with complimentary toiletries. Some rooms even include terraces for guests to enjoy panoramic views of the city. With multilingual staff available at the reception desk round-the-clock to assist guests in English, Spanish or French languages and convenient access to Logan Airport just 9 km away via private parking or transportation arrangements provided by the hotel; Four Seasons Hotel One Dalton Street is the perfect choice for discerning travelers seeking luxury accommodations in Boston.
– Prime central location
– Stylish bar and restaurant
– Range of amenities including free bikes
– Elegantly appointed guest rooms with modern comforts
– Multilingual staff available at reception
Boston Boutique Hotels Information
| | |
| --- | --- |
| 🛎️ Boutique Hotels in Boston | 5 |
| 💵 Hotels Prices From | $138 |
| 💵 Highest price | $1174 |
| 🥇 Average Review Score | 8.9/10 |
| 🛏️ Average number of Rooms | 84 |
Top Boutique hotels in Boston
| | |
| --- | --- |
| Four Seasons Hotel One Dalton Street | 9.3/10 |
| The Lenox | 9.1/10 |
| The Whitney Hotel Boston | 9.1/10 |
| The Eliot Hotel | 9/10 |
| Sonder No 284 Back Bay | 8.1/10 |
FAQ
Can you recommend any luxury boutique hotels in Boston?
Certainly! One of the top luxury boutique hotels in Boston is The Eliot Hotel. Located in the upscale neighborhood of Back Bay, this historic hotel offers elegant and spacious rooms with classic décor. Another great option is XV Beacon, an intimate and stylish boutique hotel near Beacon Hill. Both hotels provide exceptional service and are known for their attention to detail.
What amenities can I expect at a luxury boutique hotel in Boston?
Luxury boutique hotels in Boston offer a range of amenities to ensure a comfortable stay. These include high-speed internet access, flat-screen TVs, plush bedding, luxurious bath products, fitness centers, and concierge services. Some may also have on-site restaurants or bars where you can enjoy gourmet cuisine or signature cocktails.
Are there any unique features that set luxury boutique hotels in Boston apart from others?
Absolutely! One standout feature is the emphasis on personalized service. Luxury boutique hotels pride themselves on offering tailored experiences to meet guests' individual preferences and needs. Whether it's arranging customized tours or recommending exclusive local attractions or dining options, they go above and beyond to create unforgettable experiences for their guests.
Do luxury boutique hotels in Boston have convenient locations for exploring the city?
Yes! Many luxury boutique hotels are located in prime areas of downtown Boston, providing easy access to popular attractions like Fenway Park, Quincy Market, the Freedom Trail, and Newbury Street's designer boutiques. Their central locations make it convenient for guests to explore the city's rich history, cultural sites, shopping districts, and entertainment venues.
Are there any notable dining options within or near luxury boutique hotels in Boston?
Absolutely! Many luxury boutique hotels feature award-winning restaurants helmed by renowned chefs right on their premises. For example,{"question":"Can you recommend any luxury boutiqu…
Popular Boutique Hotels destinations