Welcome to our latest exploration of opulent and exclusive accommodations in Heidelberg, Germany. As we venture into the enchanting city renowned for its baroque architecture and romantic ambiance, allow us to unveil a trove of intimate and lavish boutique hotels that will undoubtedly captivate even the most discerning traveler. Nestled amidst the cobblestone streets and nestled alongside the picturesque Neckar River, these distinctive establishments embody elegance, charm, and sophistication at every turn.
Heidelberg is an extraordinary destination where time-honored traditions harmoniously merge with contemporary allure. As you embark on your journey through this captivating cityscape, prepare to immerse yourself in unrivaled luxury within these carefully curated havens of serenity. Each boutique hotel exudes an air of exclusivity, combining exquisite design elements with personalized service to create a truly unforgettable experience tailored just for you. From chic designer furnishings to tranquil courtyards adorned with blooming flowers, every detail has been thoughtfully considered to ensure your stay is nothing short of extraordinary.
Intriguingly situated amidst Heidelberg's historic center or perched atop verdant hills that provide breathtaking panoramic views of the city below, these hidden gems offer an intimate sanctuary from which to explore all that this remarkable destination has to offer. Whether you seek a romantic getaway or desire a luxurious retreat after a day filled with cultural excursions, our handpicked selection promises an impeccable blend of indulgence and intimacy that will leave you yearning for more. Join us as we unravel the secrets behind Heidelberg's finest collection of boutique hotels – each one promising an unforgettable stay beyond compare.
Best Boutique Hotels in Heidelberg
House of Hütter – Heidelberg Suites & Spa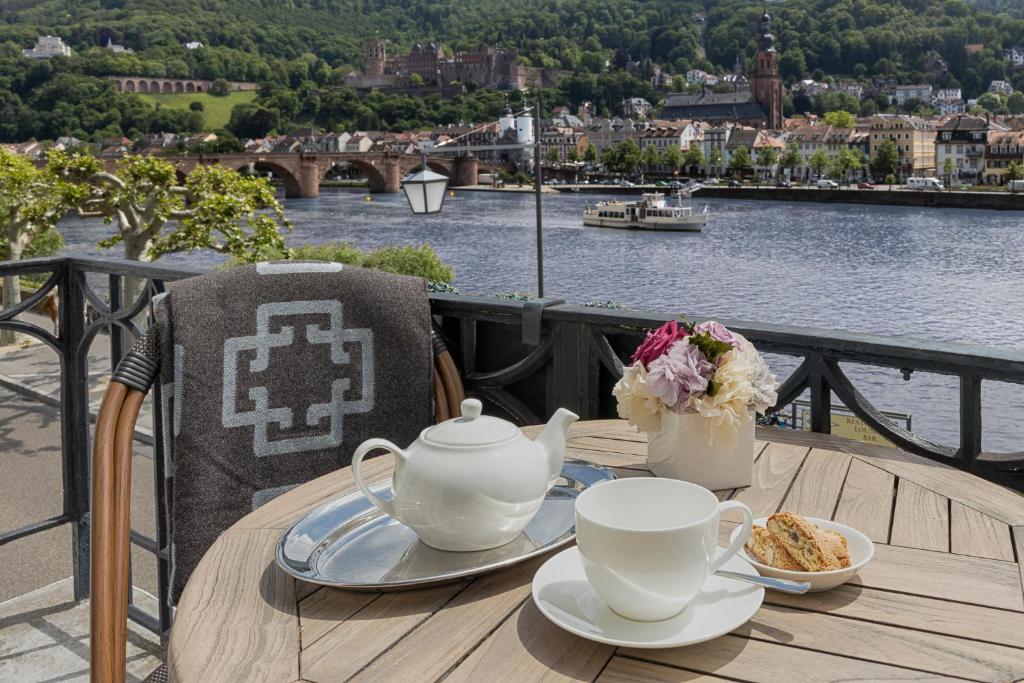 Located on the picturesque River Neckar, just next to the iconic Old Bridge, House of Hütter – Heidelberg Suites & Spa offers a stunning boutique hotel experience in the heart of Heidelberg. This luxurious hotel is housed within a beautifully restored villa from the early 20th century and features meticulously designed suites and apartments by an internationally renowned architect and designer. The rooms boast all modern amenities, with most offering breathtaking views of the Old Bridge and Heidelberg Castle. Guests can also indulge in ultimate relaxation at the private spa on site. With its combination of Italian architecture and German romanticism, House of Hütter – Heidelberg Suites & Spa provides a serene retreat for discerning travelers.
– Prime location near attractions
– Meticulously restored suites and apartments
– Stunning views of Old Bridge and Heidelberg Castle
– Private spa for ultimate relaxation
– Beautiful blend of Italian architecture and German romanticism
Berggasthof Königstuhl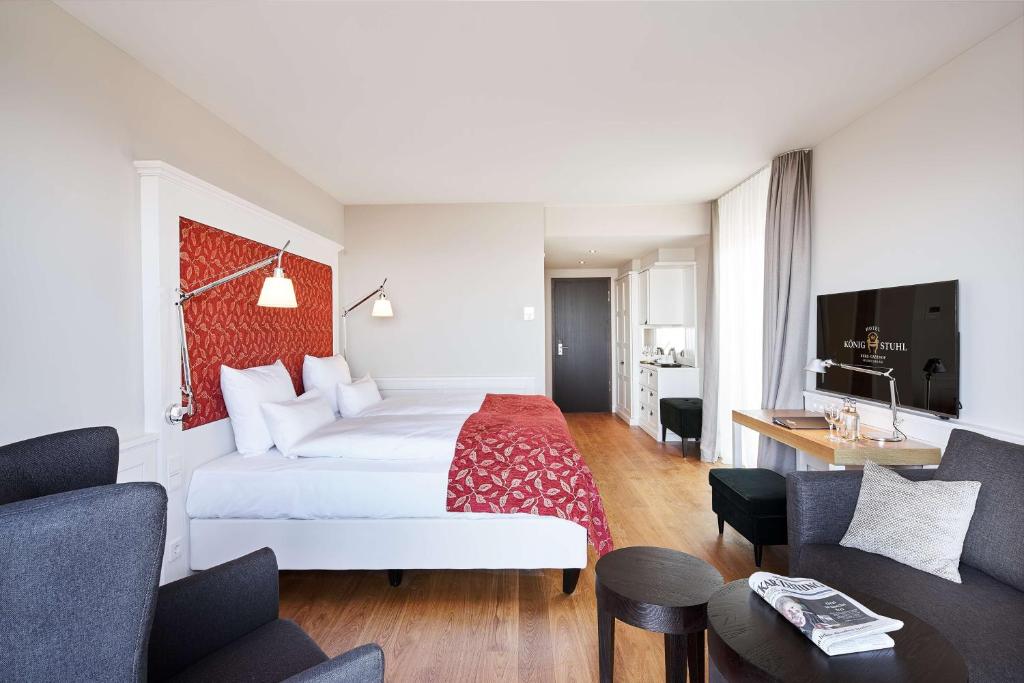 Located in the beautiful city of Heidelberg, Berggasthof Königstuhl is a luxury boutique hotel that opened its doors in May 2021. This stylish and modern hotel offers air-conditioned rooms with free WiFi, private parking, and excellent room service. As guests step into the property, they are greeted by a welcoming ambiance with a 24-hour front desk, a restaurant offering delectable dishes, and a charming terrace to unwind. The hotel also features a bar where guests can enjoy their favorite drinks. Each room is thoughtfully designed with comfort in mind and includes amenities such as a desk and a fridge for added convenience. A sumptuous breakfast is served every morning with options ranging from buffet spreads to vegetarian and vegan choices. Guests can also engage in various activities such as hiking around the picturesque area of Heidelberg. Theatre Heidelberg is just 5.9 km away, while Castle Heidelberg is 1.5 km from the property, making it an ideal location for exploring the city's cultural attractions. For those traveling by air, Mannheim City Airport is conveniently situated approximately 22 km from Berggasthof Königstuhl.
Pros:
– Newly opened luxury boutique hotel
– Conveniently located in Heidelberg
– Air-conditioned rooms with free WiFi
– Excellent room service available
– Restaurant and terrace for dining and relaxation
Arthotel Heidelberg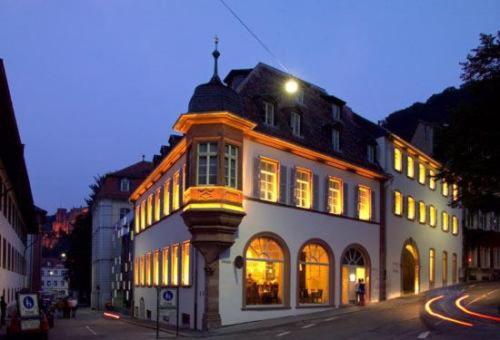 The Arthotel Heidelberg is a stylish boutique hotel located in the heart of Heidelberg's Old Town, just beside the university. Behind its historic façade, guests will find modern and comfortable accommodation. The rooms and suites feature wooden flooring, flat-screen TVs, and luxurious bath tubs. With Schloss Heidelberg castle only 800 meters away, guests can easily explore the city's rich history. Upon arrival, guests are greeted with complimentary sparkling water. Start your day with a delicious breakfast buffet served at the Romer Restaurant and unwind with a cocktail at the Romer Lounge. During the summer months, guests can enjoy meals and drinks on either the roof terrace or courtyard terrace. On-site parking is available for an additional fee.
– Stylish boutique design
– Convenient location in Old Town
– Complimentary sparkling water on arrival
– Delicious breakfast buffet
– Rooftop and courtyard terraces for dining or relaxation
Boutique Hotels in Downtown Heidelberg
Downtown Heidelberg boasts a collection of charming boutique hotels that offer personalized experiences and intimate atmospheres. With their unique designs, attention to detail, and prime locations, these hotels provide an ideal base for exploring the city's historic streets and cultural treasures.
Boutique Suites Heidelberg Alte Zigarrenmanufaktur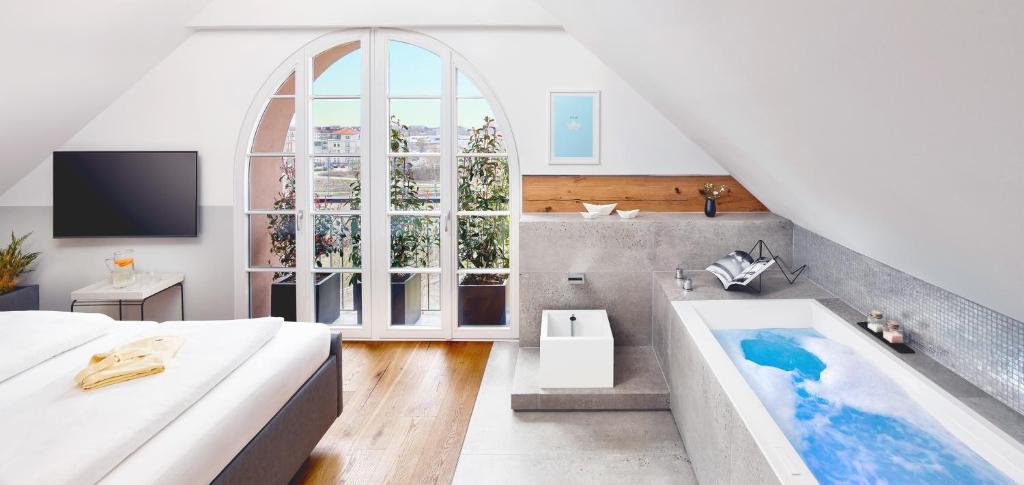 Located just a short stroll from Heidelberg Main Station, Boutique Suites Heidelberg Alte Zigarrenmanufaktur is housed in a former tobacco factory and offers an array of boutique-style suites and design lofts. Originally constructed in the early 20th century, this historic industrial building has been beautifully restored to provide family-friendly suite accommodations with exclusive access to a luxurious SPA and wellness area. With meticulous attention to detail, the suites boast stylish designs that seamlessly blend architectural refinement with modern amenities, including fully equipped kitchens and smart TVs. The property's prime location allows for easy access to Heidelberg University Hospital, popular tourist attractions, and shopping areas. Additional perks include high-speed WiFi throughout the hotel, on-site parking options, and some units accessible by lift.
Pros:
– Conveniently located near Heidelberg Main Station
– Beautifully restored historic industrial building
– Family-friendly accommodations with access to SPA and wellness area
– Stylishly designed suites with modern amenities
– Prime location for exploring popular attractions
BS Boutique Hotel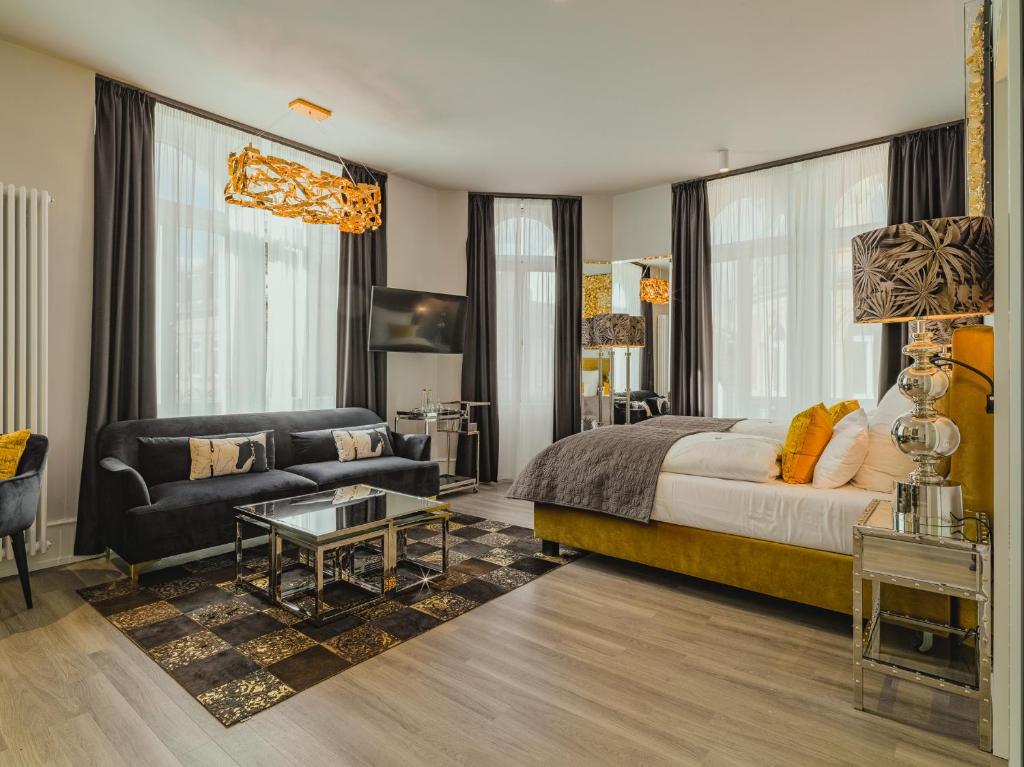 Opened in January 2022, BS Boutique Hotel is a charming 3-star accommodation located in Heidelberg. The hotel is conveniently situated just 1.4 km from Theatre Heidelberg and 2.3 km from Central Station Heidelberg. With its tour desk, guests can easily explore the surrounding area and make the most of their stay. The hotel offers free WiFi throughout and a paid airport shuttle service for added convenience. All rooms at BS Boutique Hotel are beautifully appointed with comfortable beds adorned with crisp bed linen and plush towels provided. Each room features modern amenities including air conditioning, a seating area, a flat-screen TV with satellite channels, a safety deposit box, and a private bathroom complete with a shower, complimentary toiletries, and a hairdryer. Some rooms also come equipped with kitchenettes featuring a fridge, dishwasher, and microwave – perfect for those who prefer to cook their own meals during their stay. In the morning, guests can enjoy a delicious buffet or continental breakfast to start their day off right. For those looking to explore the city's top attractions, Castle Heidelberg is only 2.6 km away while Heidelberg University is just 1.8 km from the property. The nearest airport is Mannheim City Airport which is located approximately 16 km from the hotel.
Pros:
– Convenient location near top attractions
– Comfortable and well-appointed rooms
– Free WiFi available throughout the hotel
– Paid airport shuttle service for easy transportation
– Option for kitchenette in select rooms
Hotel-Pension Berger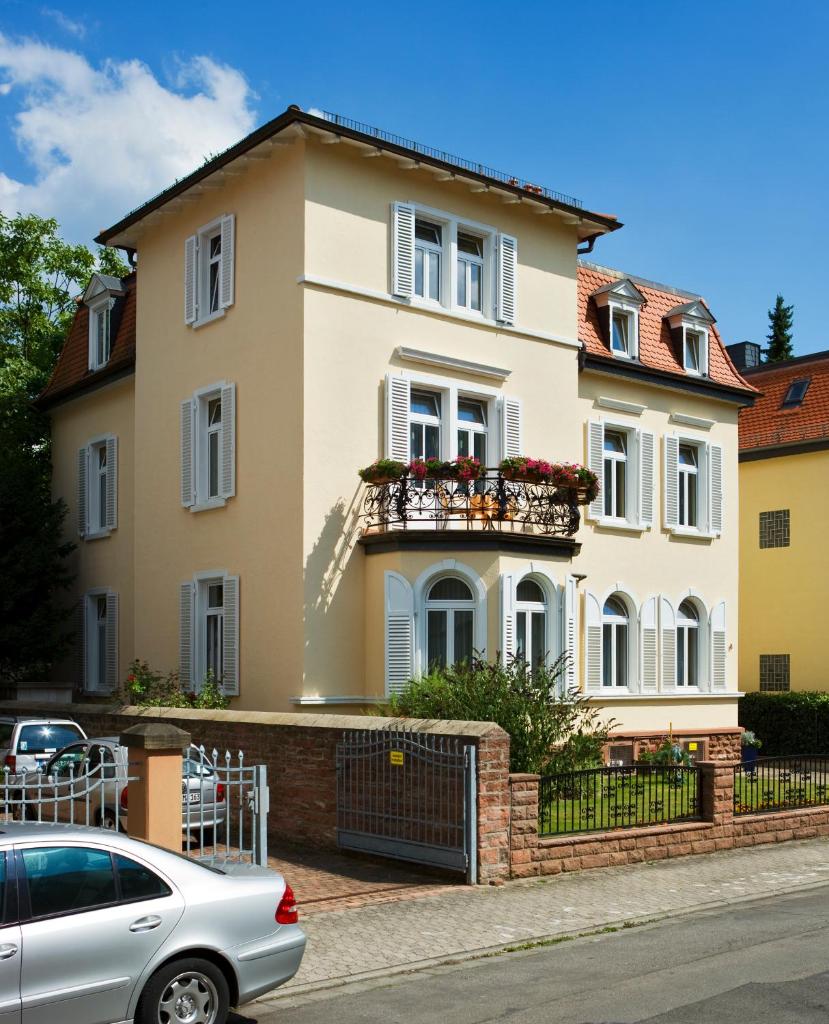 Hotel-Pension Berger is a charming boutique hotel located just a short stroll away from the historic district of Heidelberg. This elegant hotel offers guests a range of amenities including free WiFi, a beautiful garden, and a seasonal outdoor pool. Private parking is also available for guests with daily surcharge. Each room at Hotel-Pension Berger is thoughtfully designed and features modern conveniences such as a desk, wardrobe, kettle, flat-screen TV, and private bathroom. Guests can start their day right with a delicious buffet breakfast served daily. The hotel's convenient location allows guests to easily explore Heidelberg's attractions and enjoy activities like sightseeing and cycling. With Heidelberg University only 1.1 km away and Heidelberg Castle just 3 km away, Hotel-Pension Berger is the perfect base for an unforgettable stay in this picturesque city.
Pros:
– Convenient location near the historic district of Heidelberg
– Free WiFi
– Beautiful garden and seasonal outdoor pool
– Thoughtfully designed rooms with modern amenities
– Delicious buffet breakfast served daily
Heidelberg Boutique Hotels Information
| | |
| --- | --- |
| 🛎️ Boutique Hotels in Heidelberg | 6 |
| 💵 Hotels Prices From | $167 |
| 💵 Highest price | $1092 |
| 🥇 Average Review Score | 9/10 |
| 🛏️ Average number of Rooms | 27 |
Top Boutique hotels in Heidelberg
| | |
| --- | --- |
| Boutique Suites Heidelberg Alte Zigarrenmanufaktur | 9.7/10 |
| House of Hütter – Heidelberg Suites & Spa | 8.9/10 |
| Berggasthof Königstuhl | 8.9/10 |
| Arthotel Heidelberg | 8.9/10 |
| BS Boutique Hotel | 8.8/10 |
FAQ
1. What is a boutique hotel?
A boutique hotel is a small, stylish and intimate establishment that offers personalized service and unique experiences to its guests. Unlike large chain hotels, boutique hotels are often independently owned and designed with a specific theme or concept in mind. They typically have fewer rooms, allowing for more attention to detail and a cozy atmosphere.
2. What makes Heidelberg a great destination for boutique hotels?
Heidelberg's rich history, stunning architecture, and vibrant cultural scene make it an ideal location for boutique hotels. The city's charm lies in its picturesque streets lined with historic buildings, scenic views of the Neckar River, and the iconic Heidelberg Castle perched on the hilltop. Boutique hotels in Heidelberg capture the essence of this romantic city by offering guests unique accommodations that blend modern luxury with traditional elements.
3. Are there any boutique hotels in Heidelberg located near major attractions?
Yes! There are several boutique hotels conveniently situated near major attractions in Heidelberg. Whether you want to stay close to the Old Bridge (Alte Brücke), explore the charming Altstadt (Old Town), or soak up panoramic views from Königstuhl Hill, you can find a boutique hotel within walking distance or just a short drive away from these landmarks.
4. What amenities can I expect at a boutique hotel in Heidelberg?
Boutique hotels in Heidelberg go above and beyond to provide luxurious amenities for their guests' comfort. While each hotel may vary slightly, you can generally expect features such as well-appointed rooms with stylish decor and high-end furnishings, on-site restaurants showcasing local cuisine, spa facilities for relaxation, attentive staff delivering personalized services, complimentary Wi-Fi access throughout the property, and often unique experiences like wine tastings or guided tours.
5. How do I choose the right boutique hotel in Heidelberg for my stay?
To choose the right boutique hotel in Heidelberg, consider your preferences and priorities. Decide whether you prefer a hotel with a modern or traditional design, check the location's proximity to attractions you wish to explore, read reviews from previous guests to gauge their experiences, compare prices and available packages, and assess the amenities that matter most to you. By considering these factors, you can find the perfect boutique hotel in Heidelberg that fits your needs and enhances your travel experience.