Welcome, fellow wanderers, to the enchanting land of Scotland, nestled in the heart of the United Kingdom. Today, we embark on a journey through the stunning world of luxury boutique accommodations that dot this picturesque country. Prepare to be captivated by the charm and elegance that awaits you in Scotland's exclusive lodgings.
Tucked away amidst ancient castles and breathtaking landscapes, these extraordinary havens offer an intimate and personalized experience for discerning travelers seeking a truly memorable stay. Boutique hotels in Scotland embody the perfect blend of contemporary style with a dash of heritage flair – each one radiating its own distinct character.
Indulge your senses in sumptuous surroundings adorned with opulent furnishings and thoughtfully curated artwork. Immerse yourself in Scottish tradition as you savor delectable cuisine prepared using only the finest local produce, complemented by an extensive selection of single malt whiskies. Unwind with indulgent spa treatments inspired by centuries-old wellness rituals or simply bask in the tranquility embraced within these secluded gems.
From Edinburgh's cobblestone streets to the rugged highlands and mystical islands scattered along its coastline, Scotland beckons explorers who seek both refinement and adventure. Join us as we unveil some of Scotland's most exquisite boutique hotels – gateways to unforgettable moments etched into your memories forever.
Best Boutique Hotels in Scotland
Boath House Hotel (Nairn)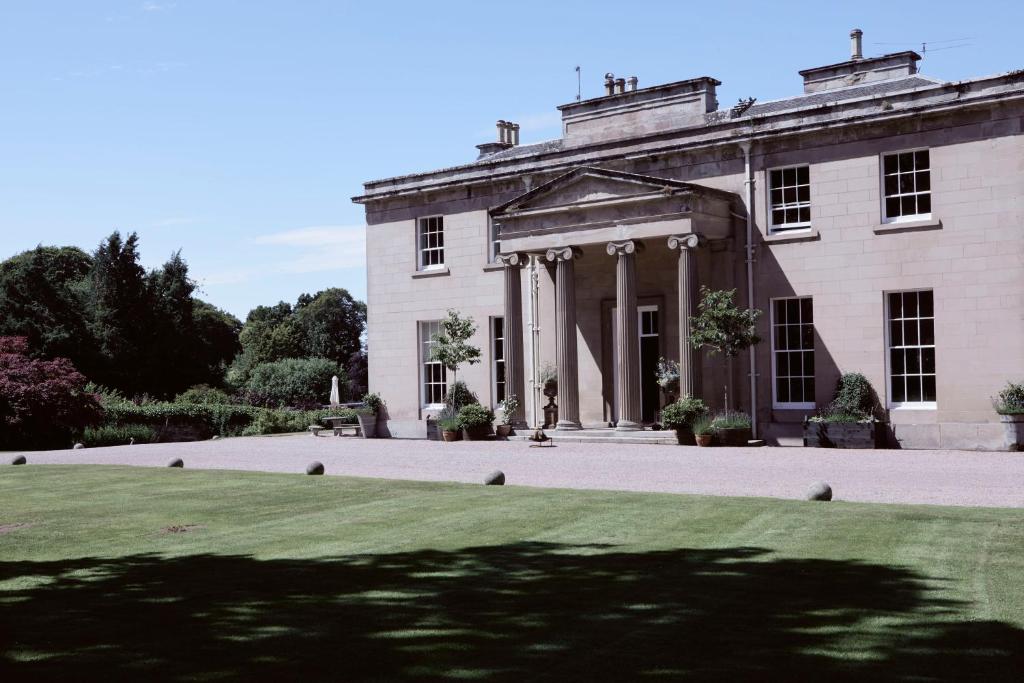 Nestled along Scotland's stunning northern coast in the Highlands near the bay of Findhorn, Boath House offers a truly enchanting retreat. This boutique hotel boasts 10 beautifully designed bedrooms as well as a four-bedroom lodge for those seeking ultimate privacy. The premises are surrounded by a 400-year-old walled garden, which houses a charming cafe, store, and studio. Within the extensive grounds, guests can also discover a hidden cabin and sauna, perfect for relaxation and rejuvenation. Boath House goes beyond traditional hospitality by offering a unique creative residency program that adapts to the changing seasons through its carefully curated collective program.
Pros:
– Serene location on Scotland's northern coast
– Beautifully designed bedrooms and private lodge
– Charming cafe, store & studio within the walled garden
– Relaxing amenities including cabin and sauna
– Innovative creative residency program reflecting seasonal changes
Abercorn Guest House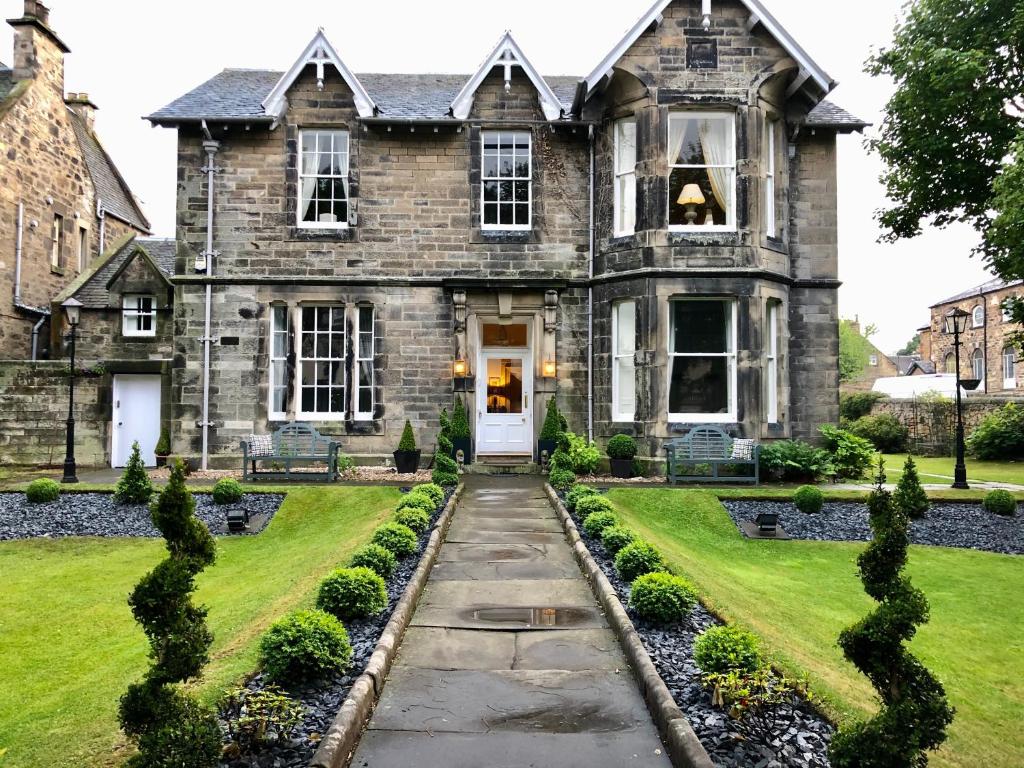 Abercorn Guest House is a charming 4-star guest house located just a 5-minute walk from the beach and a short 10-minute drive from Edinburgh city centre. This historic building, dating back to 1870, has retained many of its original features such as high ceilings, Victorian cornices, and fireplaces. The individually decorated rooms offer elegant accommodations with modern amenities including free Wi-Fi, TV, hair dryer, and radio. Guests can enjoy a delicious breakfast featuring options like porridge, kippers, and a full cooked breakfast in the conservatory or the beautiful walled garden. The Abercorn Guest House also offers free parking for guests' convenience. With regular bus services running every 10 minutes to the castle and operating 24 hours a day from right outside the guest house's doorstep, exploring popular attractions like Holyrood Palace and the Royal Mile is made easy. Brunstane Railway Station is also within walking distance while major road networks are easily accessible with the A1 just minutes away.
– Convenient location close to both the beach and Edinburgh city centre
– Elegant rooms with period features
– Free Wi-Fi and parking
– Delicious breakfast options catering to special diets available
– Regular bus services right outside for easy access to popular attractions
24 Royal Terrace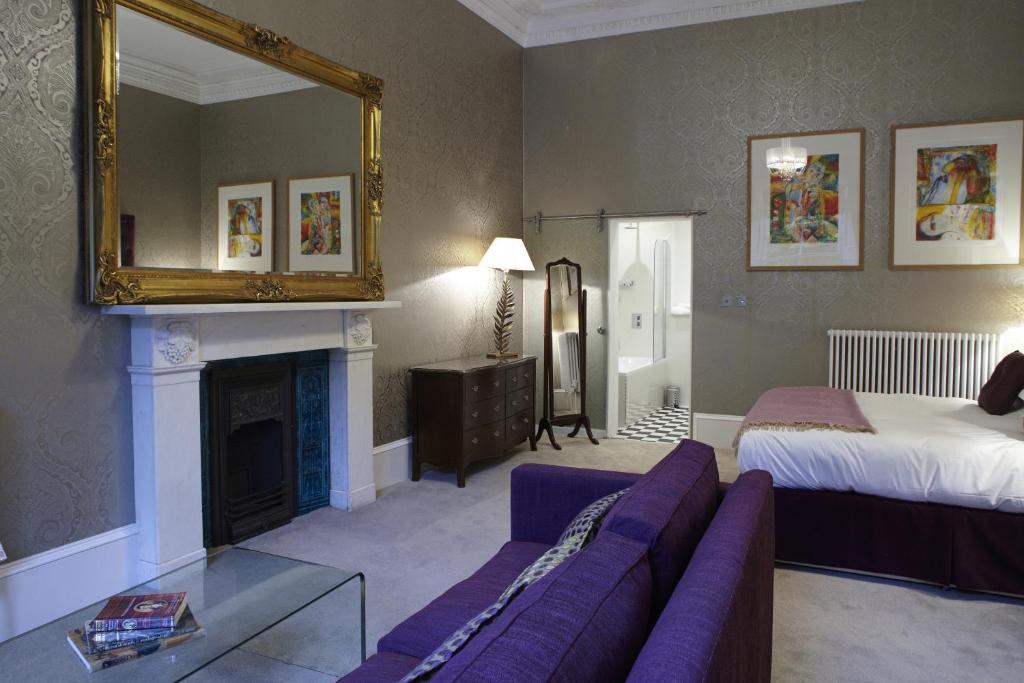 24 Royal Terrace is a charming boutique hotel located in central Edinburgh, just minutes away from the bustling city center. Situated on the picturesque Royal Terrace, this elegant Georgian townhouse offers a tranquil escape for luxury travelers. The hotel boasts a unique feature – the owner's ever-changing art collection, adding an extra touch of sophistication to the ambiance. Each of the 15 rooms is tastefully furnished with premium Egyptian cotton linen, cozy lambswool throws, and plush bathrobes. Modern amenities include Smart-TVs with on-demand streaming, an HD soundbar, Apple Airplay, and free high-speed WiFi throughout the property. Guests can unwind at "Dinna Tell," the hotel's Bar and Garden offering delectable signature cocktails, fine wines, whiskies, and snacks. With popular attractions like Edinburgh Playhouse and Omni Centre nearby and excellent transport links including Edinburgh Waverley Train Station and convenient access to Edinburgh Airport via Tram or taxi/car ride; 24 Royal Terrace is an ideal choice for discerning travelers seeking both comfort and convenience.
– Prime location in central Edinburgh
– Owner's art collection adds a unique touch
– Stylish rooms with luxurious amenities
– Cosy bar offering delicious cocktails
– Easy access to popular attractions and transportation options
Other places to stay in Scotland
Boutique Hotels in Downtown Scotland
Boutique hotels in downtown Scotland offer a unique and intimate experience, blending contemporary design with the charm of traditional Scottish architecture. With their personalized service and attention to detail, these boutique hotels provide a stylish and cozy retreat for travelers seeking a memorable stay in the heart of Scotland's vibrant cities.
The Redgarth (Oldmeldrum)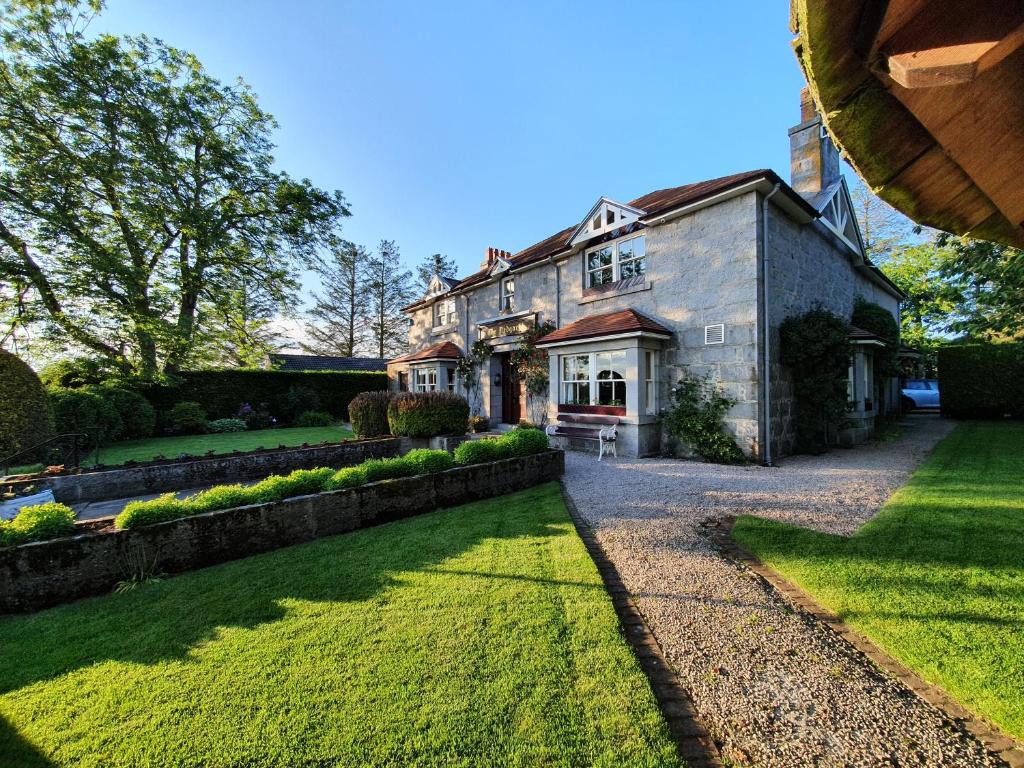 The Redgarth is a luxurious boutique hotel located in Oldmeldrum, just 29 km away from Beach Ballroom. This newly opened 4-star hotel offers guests a delightful stay with its beautiful garden, convenient free private parking, and a restaurant and bar for dining and relaxation. The hotel features free WiFi and luggage storage space for the comfort of its guests. Each room at The Redgarth is elegantly furnished with a desk, flat-screen TV, private bathroom, bed linen, and towels. Some rooms even offer stunning mountain views or a balcony to enhance the experience. A continental breakfast is available each morning for guests to enjoy before exploring nearby attractions such as Hilton Community Centre or Aberdeen Harbour. The property is smoke-free and conveniently located 23 km from Newburgh on Ythan Golf Club. For those looking for a comfortable stay in Oldmeldrum with easy access to Aberdeen Airport (20 km), The Redgarth is an excellent choice.
– Newly opened boutique hotel
– Beautiful garden
– Free private parking
– On-site restaurant and bar
– Free WiFi throughout the property
Loch Rannoch Hotel and Estate (Kinloch Rannoch)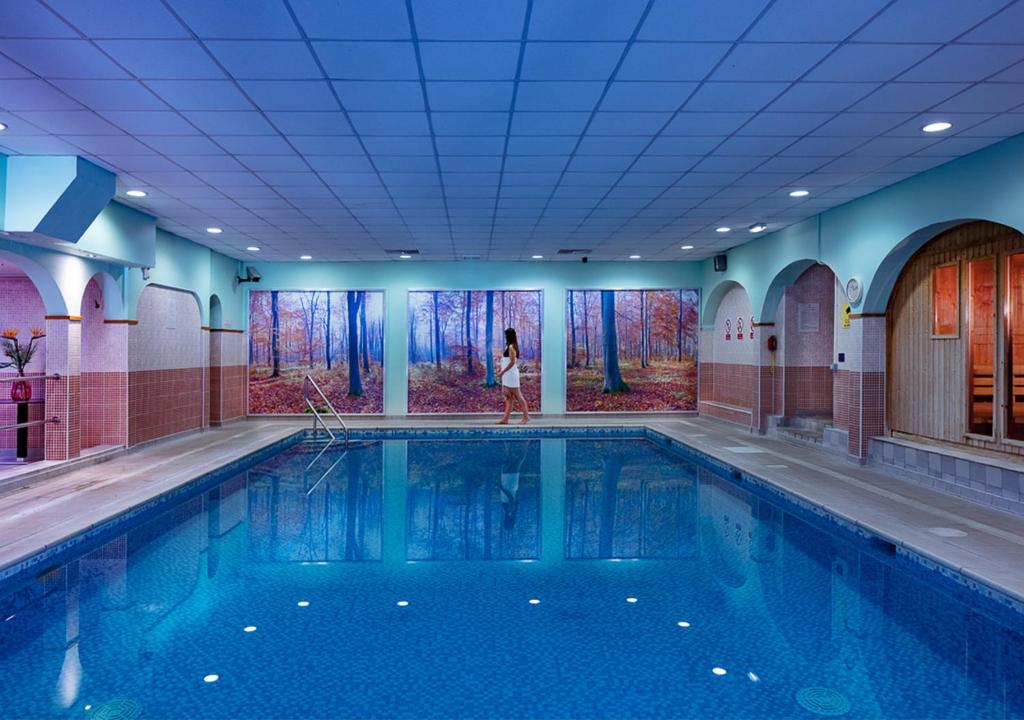 Located in the charming village of Kinloch Rannoch, Loch Rannoch Hotel and Estate is a luxury boutique hotel that opened its doors in January 2021. Situated just 28 km from Castle Menzies, this 4-star hotel offers guests a truly unforgettable experience. The hotel features a fitness centre, free private parking, a shared lounge, and a terrace. With free WiFi throughout the property, guests can easily stay connected during their stay. The on-site restaurant serves delectable British and local cuisine, while the bar offers a wide selection of beverages to enjoy. For relaxation and rejuvenation, guests can make use of the spa and wellness centre which includes an indoor pool and sauna. Each beautifully appointed room at Loch Rannoch Hotel and Estate comes with modern amenities such as a desk, flat-screen TV, private bathroom with complimentary toiletries, bed linen, and towels. Guests can start their day with a delicious breakfast that includes à la carte options as well as Full English/Irish choices. Vegetarian, vegan, and dairy-free alternatives are also available upon request. Outdoor enthusiasts will be delighted to know that hiking and cycling are popular activities in the area. The hotel even offers bike hire for those who want to explore the picturesque surroundings further. Blair Castle is located just 29 km away while The Scottish Crannog Centre is only 27 km from the hotel's doorstep.
Pros:
– Newly opened luxury boutique hotel
– Convenient location near Castle Menzies
– Fitness centre for active travelers
– Spa and wellness centre with indoor pool for ultimate relaxation
– Delicious dining options including vegetarian and vegan choices
Prestonfield House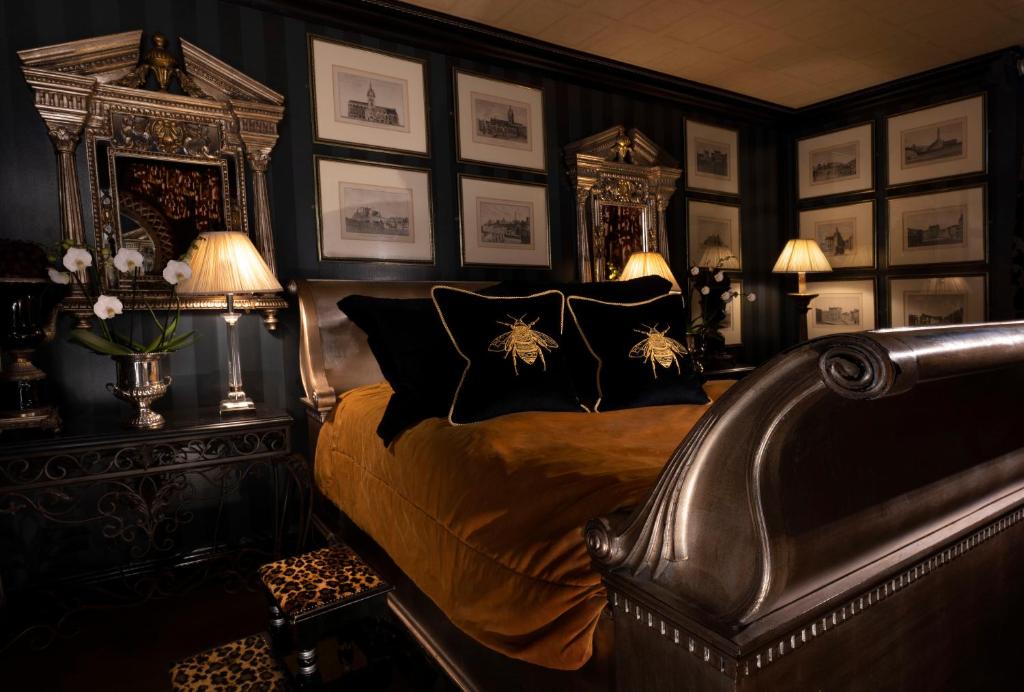 Prestonfield House is a luxurious 5-star retreat located about 3 km from the Royal Mile in Edinburgh. This stunning boutique hotel boasts romantic bedrooms and is surrounded by beautiful gardens and a golf course, offering guests a peaceful and idyllic setting. The highlight of Prestonfield House is undoubtedly its fine-dining restaurant, Rhubarb, which serves up excellent Scottish cuisine and traditional afternoon teas. Guests can also enjoy free Wi-Fi, plasma TVs, stocked minibars, and breathtaking views of the gardens and parkland from their stylish rooms. The terraces, drawing room, and gardens provide the perfect backdrop for relaxation. With convenient access to buses that can take you to the city centre within minutes, as well as free parking available on site, Prestonfield House ensures both convenience and luxury for its guests.
Pros:
– Fine-dining restaurant with excellent Scottish cuisine
– Romantic bedrooms in a peaceful garden setting
– Free Wi-Fi and plasma TVs in every room
– Convenient access to buses for easy transportation to the city centre
– Beautiful terraces, drawing room, and gardens for relaxation
Scotland 5 Star Boutique Hotels
Scotland is home to a collection of exquisite 5-star boutique hotels, offering guests an unforgettable experience in breathtaking surroundings. With their unique charm and attention to detail, these luxury establishments provide the perfect base for exploring Scotland's rich history and natural beauty.
Kinloch Lodge Hotel and Restaurant (Kinloch)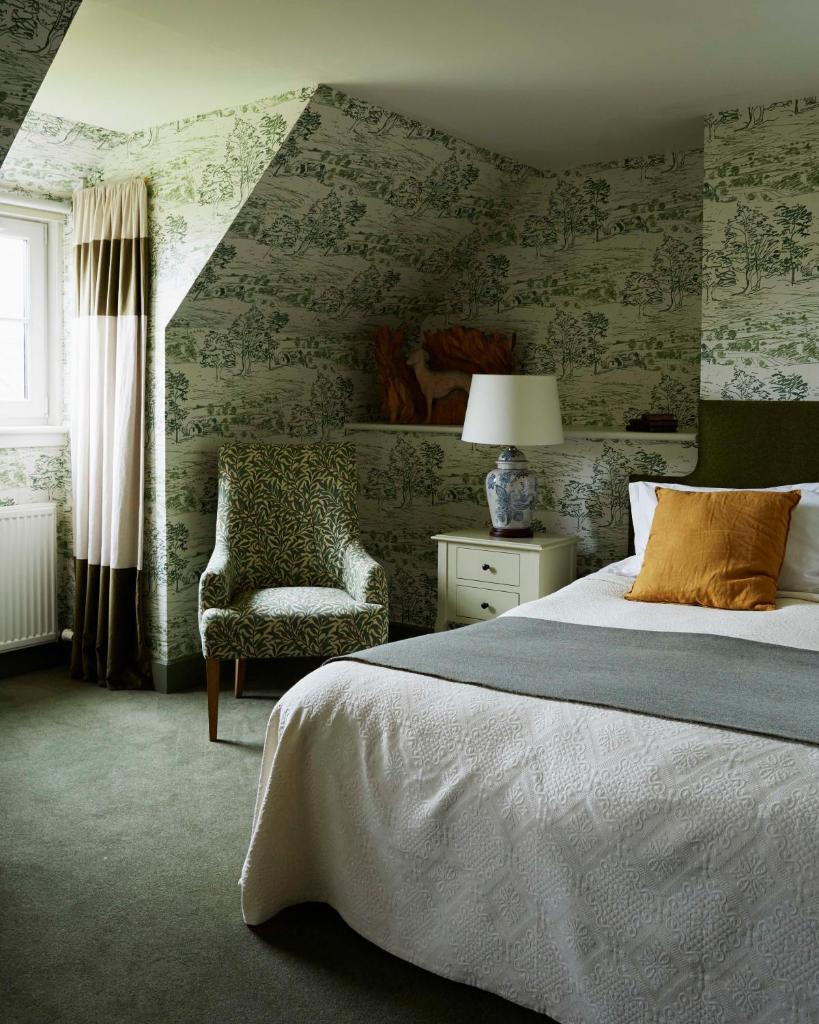 Nestled in the tranquil surroundings of the South of Skye, Kinloch Lodge Hotel and Restaurant is a charming family-run former 17th-century hunting lodge. Located on the shoreline of Loch Na Dal, this boutique hotel offers guests a peaceful retreat amidst breathtaking natural beauty. The elegant dining room showcases award-winning dishes made from seasonal and local produce, providing a culinary experience not to be missed. Each of the well-appointed rooms features an en suite bathroom with luxurious L'Occitane toiletries and a flat-screen TV with DVD player. For ultimate relaxation, guests can indulge in massages, facials, salt scrubs, and reflexology treatments within Kinloch's inviting treatment room. With its own guide, the hotel also offers thrilling wilderness adventures such as fishing expeditions, foraging excursions, stalking trips, and wild walks. Additionally, staff are more than happy to provide detailed maps for scenic hikes in the surrounding area. For those interested in whisky tasting experiences, tours of the famous Talisker distillery can be arranged within less than an hour's drive from the hotel.
– Family-run former hunting lodge
– Spectacular location on Loch Na Dal
– Award-winning cuisine made with local produce
– Luxurious rooms with L'Occitane toiletries
– Wide range of wilderness adventures offered
Maryculter House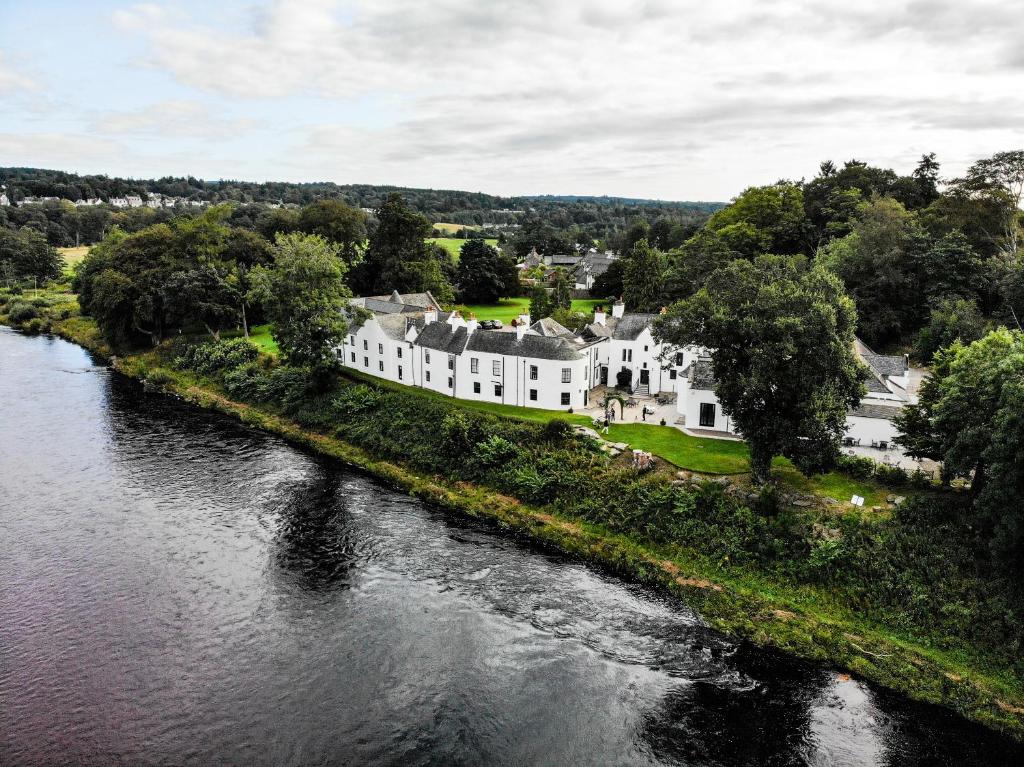 Located on the banks of the River Dee, Maryculter House is a captivating Scottish mansion steeped in history, dating back to 1225 AD and once inhabited by the Knights Templar. This enchanting hotel provides an idyllic retreat for travelers looking to explore Scotland's renowned tourist trails. The interior boasts a delightful fusion of contemporary luxury and period features, including natural stone accents, elegant wood paneling, grand fireplaces, and lofty beamed ceilings. Nature enthusiasts will find themselves spoiled for choice with a range of outdoor activities available nearby; from skiing and cycling to canoing, shooting, off-road driving, gliding, diving and rafting.
– Stunning riverside location
– Blend of modern luxury and historic charm
– Proximity to Scotland's tourist trails
– Array of thrilling outdoor activities
– Fascinating history dating back to Knights Templar
Hapimag Resort Edinburgh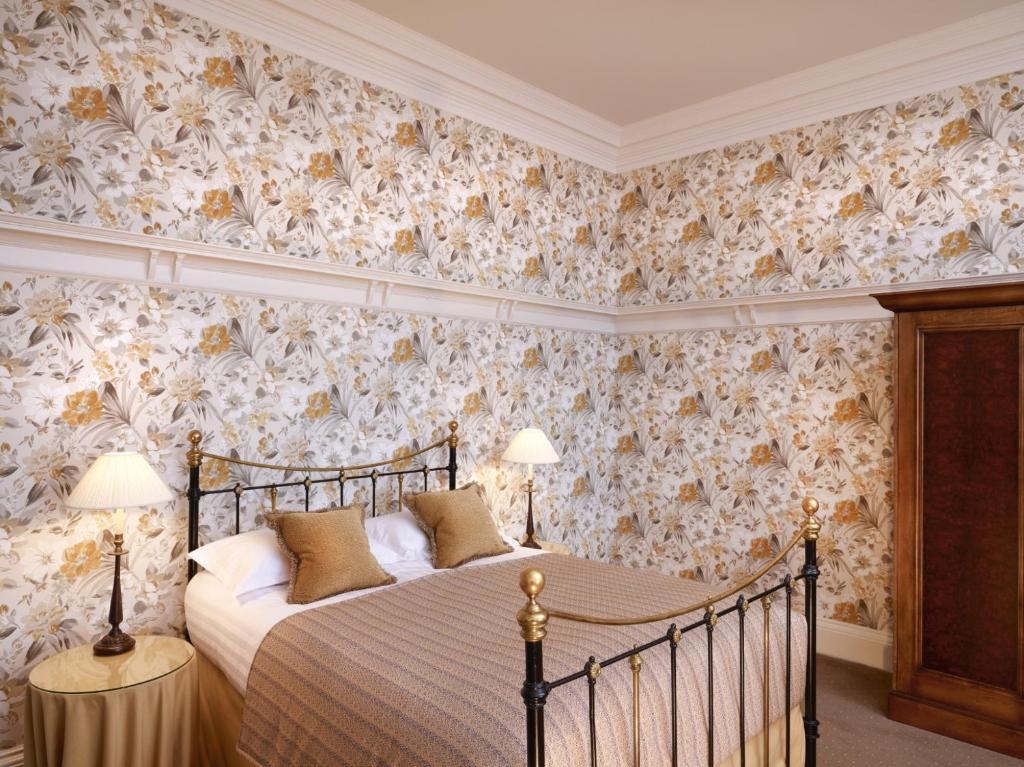 Hapimag Resort Edinburgh is a refreshing and distinguished collection of 29 comfortable townhouse suites, offering an unparalleled level of space and comfort for both business and leisure travelers visiting the vibrant city of Edinburgh. Each spacious suite features a large bathroom and in-room dining facilities, including a microwave, small fridge, crockery, and cutlery. The hotel provides a quiet and elegant retreat for guests seeking an alternative to traditional accommodations. Additionally, the Honesty shop offers snacks and beverages for added convenience.
Pros:
– Spacious townhouse suites providing ample space for comfort
– In-room dining facilities make it convenient for guests to enjoy meals at their own pace
– Quiet ambiance ideal for relaxation after exploring the bustling city
– Honesty shop available on-site offering quick access to snacks and beverages
Scotland Boutique Hotels Information
| | |
| --- | --- |
| 🛎️ Boutique Hotels in Scotland | 9 |
| 💵 Hotels Prices From | $232 |
| 💵 Highest price | $1161 |
| 🥇 Average Review Score | 9.1/10 |
| 🛏️ Average number of Rooms | 18 |
Top Boutique hotels in Scotland
| | |
| --- | --- |
| Abercorn Guest House | 9.8/10 |
| The Redgarth (Oldmeldrum) | 9.5/10 |
| 24 Royal Terrace | 9.2/10 |
| Prestonfield House | 9.2/10 |
| Hapimag Resort Edinburgh | 9.2/10 |
FAQ
What is a boutique hotel?
A boutique hotel is a small, stylish, and often luxurious hotel that offers personalized service and unique design. Unlike larger chain hotels, boutique hotels focus on creating an intimate and one-of-a-kind experience for their guests. In Scotland, you can find boutique hotels in various cities like Edinburgh, Glasgow, and Inverness.
Which are the best boutique hotels in Scotland?
Scotland boasts several exceptional boutique hotels that are worth considering for your stay. Some of the best options include The Witchery by the Castle in Edinburgh, which combines Gothic elegance with modern luxury
What amenities can I expect at a boutique hotel in Scotland?
While each boutique hotel offers a unique experience, most of them provide top-notch amenities to ensure your comfort during your stay. You can generally expect features such as stylishly designed rooms with upscale furnishings, high-quality linens and toiletries, complimentary Wi-Fi access, gourmet restaurants or bars serving locally sourced cuisine or craft cocktails, spa facilities for relaxation or pampering treatments, concierge services to assist with any travel arrangements or recommendations you may need.
Are boutique hotels more expensive than regular hotels?
Boutique hotels often cater to travelers seeking a higher level of luxury and individualized attention than regular chain hotels offer. As a result of this exclusivity and enhanced service standards they provide along with their unique ambiance and facilities typically found at such properties – they tend to be priced accordingly higher than regular accommodations. However, it's important to note that prices vary depending on location within Scotland as well as factors like seasonality or special events taking place nearby.
How do I choose the right boutique hotel for my stay in Scotland?
When choosing a boutique hotel in Scotland, consider several factors such as the location you're interested in exploring, your preferred style of design and ambiance, available amenities that are important to you (such as spa facilities or gourmet dining options), and your budget. Reading reviews from previous guests can also be helpful in getting an idea of the overall experience and level of service provided by each hotel. Additionally, checking if the hotel is part of any prestigious travel associations or has received notable awards can give you further assurance of its quality.
Popular Boutique Hotels destinations