Welcome to the enchanting city of Seville, where history, culture, and relaxation seamlessly intertwine. Nestled in the heart of Spain's Andalusia region, this captivating destination has long been revered for its vibrant flamenco rhythms, stunning architecture, and mouthwatering cuisine. But Seville is not just a feast for the senses; it also boasts a plethora of luxurious wellness retreats known as spa hotels.
Prepare to embark on a rejuvenating journey as we dive into the opulent world of Seville's spa havens. These tranquil sanctuaries offer an exquisite blend of ancient traditions and modern indulgence. Pamper your body and soul with soothing massages infused with locally sourced oils or unwind in thermal baths adorned with intricate mosaics. Whether you're seeking a peaceful oasis within the bustling city or a secluded haven nestled amidst lush gardens, Seville's spa hotels have something to entice every discerning traveler.
Indulge yourself in lavish treatments that will transport you to a state of pure bliss while immersing you in Andalusian charm. From traditional Hammams that embody centuries-old rituals to cutting-edge facials using innovative techniques – these spas are dedicated to providing an unparalleled level of relaxation and rejuvenation. Soothe tired muscles after exploring the city's historic landmarks or simply surrender yourself to ultimate tranquility during your stay in one of Seville's esteemed spa hotels.
Seville Most Relaxing Spa Resorts and Hotels
EME Catedral Hotel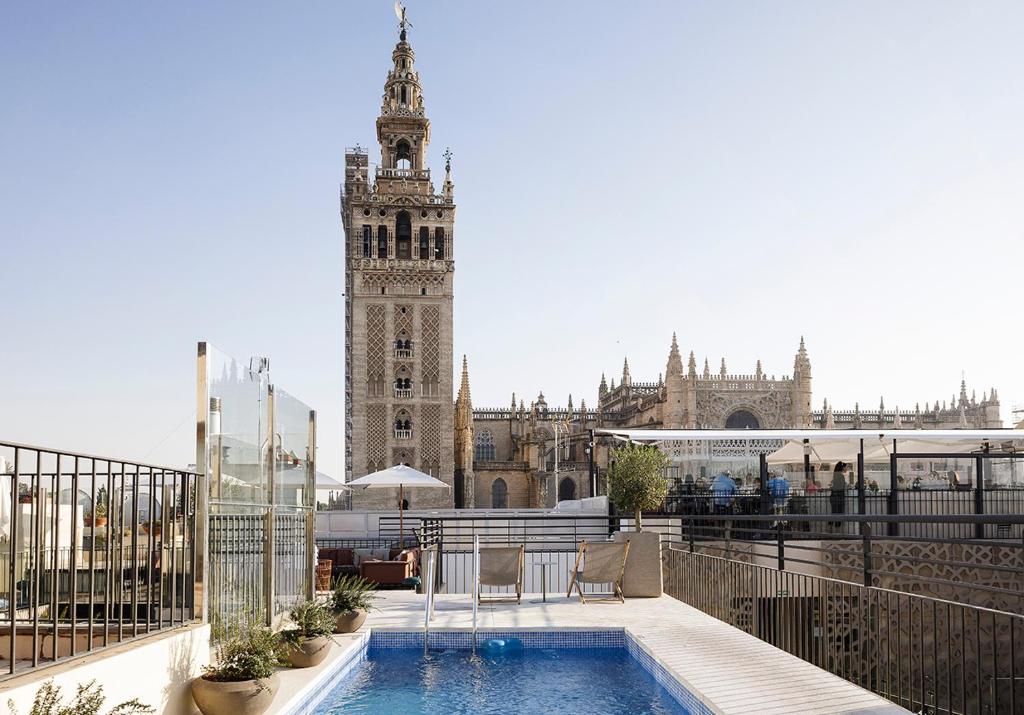 The EME Catedral Hotel is a stylish boutique hotel located next to Seville Cathedral and just 60 meters from La Giralda. Its prime location offers breathtaking views of the city from its rooftop swimming pool and bar. Guests can enjoy free WiFi throughout the hotel, as well as access to the spa for relaxation and rejuvenation. The rooms at EME Catedral Hotel are beautifully designed with modern touches, featuring flat-screen TVs and private bathrooms with hairdryers. The hotel boasts an impressive food scene with a restaurant serving Mediterranean cuisine for lunch and dinner daily, alongside a tapas bar, La Esquina del Bacalao, offering alfresco dining on selected days. Additionally, guests can indulge in delectable Mediterranean dishes at The Corner located in the lobby area. For a truly unforgettable experience, head to the hotel's panoramic terrace, La Terraza EME, which offers stunning views of Seville Cathedral and La Giralda all year round. During spring to autumn seasons, this terrace transforms into a remarkable restaurant.
Pros:
– Prime location next to Seville Cathedral
– Breathtaking views of the city from the rooftop swimming pool and bar
– Free WiFi throughout the hotel
– Spa facilities for relaxation
– Impressive culinary options including Mediterranean cuisine served at various restaurants
Hotel Colón Gran Meliá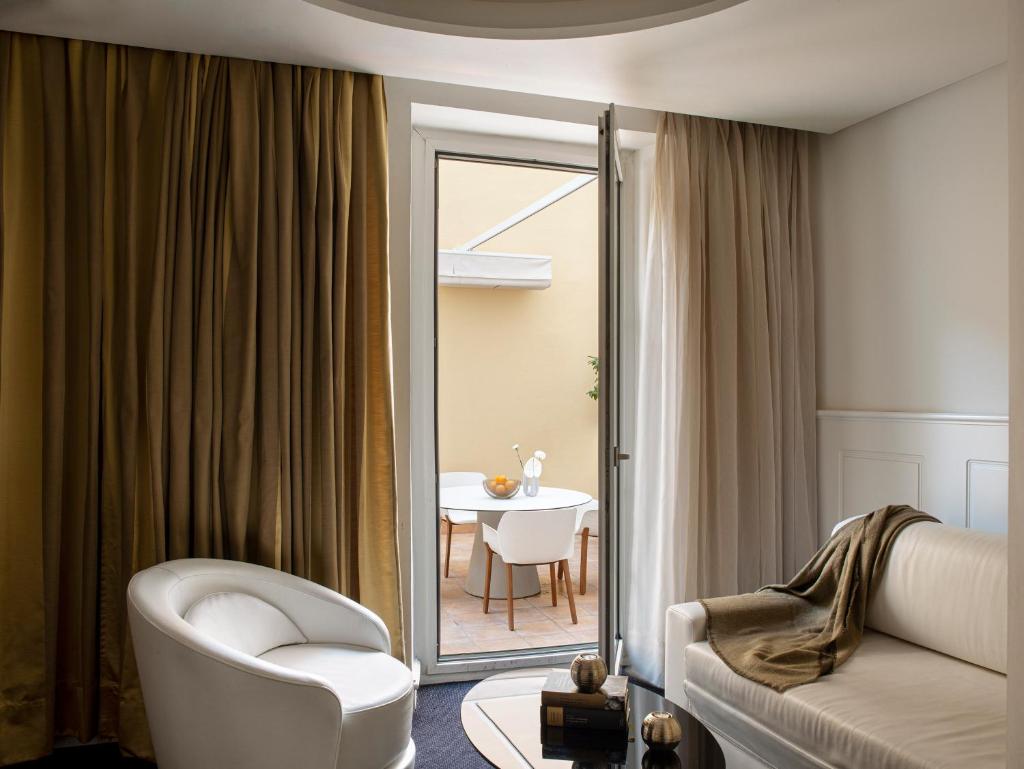 Hotel Colón Gran Meliá is an iconic hotel that perfectly captures the unique culture and essence of Seville. It is ideally situated in the heart of Seville, just a 10-minute stroll from popular landmarks such as the Giralda Tower and Seville Cathedral. The hotel offers a range of exceptional amenities including a gourmet restaurant, a stunning terrace with a boutique rooftop pool, and the luxurious Wellness Area SpaBy Clarins, featuring a sauna, hammam, and bitermic shower. The rooms at Hotel Colón Gran Meliá are beautifully appointed with modern comforts including free WiFi, automatic lighting, and a flat-screen satellite TV. The bathrooms are elegant and spacious with a bathtub, separated toilet and bidet, along with complimentary toiletries. Guests can indulge in delicious traditional dishes at El Burladero Restaurant or unwind in the Library or Bar del Colón. Additionally, guests can explore nearby attractions such as the Alcazar Palace or conveniently access transportation at Plaza de Armas Bus Station which is only 200 meters away. Private airport transportation is available upon request for an additional cost.
CoolRooms Palacio Villapanés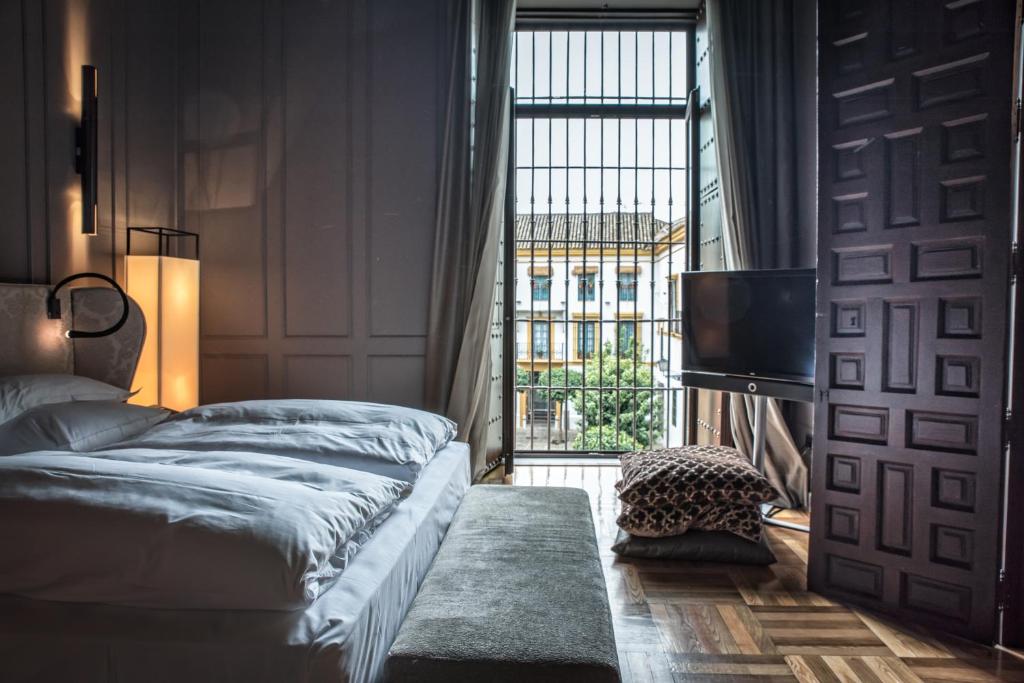 Located just outside Seville's historic Santa Cruz district, CoolRooms Palacio Villapanés is a converted 18th-century palace that offers a luxurious and elegant stay. The hotel features a rooftop sun terrace with a small plunge pool, perfect for relaxing while enjoying breathtaking views of the city. Free WiFi is available throughout the property. Guests can indulge in delicious traditional Andalusian cuisine at the on-site restaurant or savor tapas on the garden terrace. The spacious rooms at CoolRooms Palacio Villapanés combine original architectural elements with modern decor, featuring wooden floors and stylish furniture. Each room comes equipped with satellite TV, air conditioning, and a desk to cater to every guest's needs. The bathrooms are equally impressive, complete with bathrobes, slippers, and complimentary toiletries for added comfort. Guests will also appreciate the elegant lounges and stunning central courtyard adorned with marble columns and tiles—a true reflection of Andalusian charm. For an additional cost, guests can enjoy a delectable breakfast spread at the hotel's restaurant each morning before setting out to explore Seville's many attractions. CoolRooms Palacio Villapanés boasts an excellent location within walking distance of Casa de Pilatos (350 meters) and Seville Cathedral (900 meters), making it an ideal base for sightseeing adventures in this vibrant city. Travelers can also easily reach Real Alcazar within a 10-minute walk from the property—an absolute must-visit landmark in Seville. For added convenience, the hotel offers shuttle services to and from Seville Airport upon request (extra cost applies).
Other places to stay in Seville
Seville Luxury Spa Hotels
Seville boasts a wide array of luxury spa hotels that offer ultimate relaxation and rejuvenation. From exquisite treatments to serene atmospheres, these hotels provide an oasis of tranquility for those seeking a pampering escape in the heart of the city.
Catalonia Santa Justa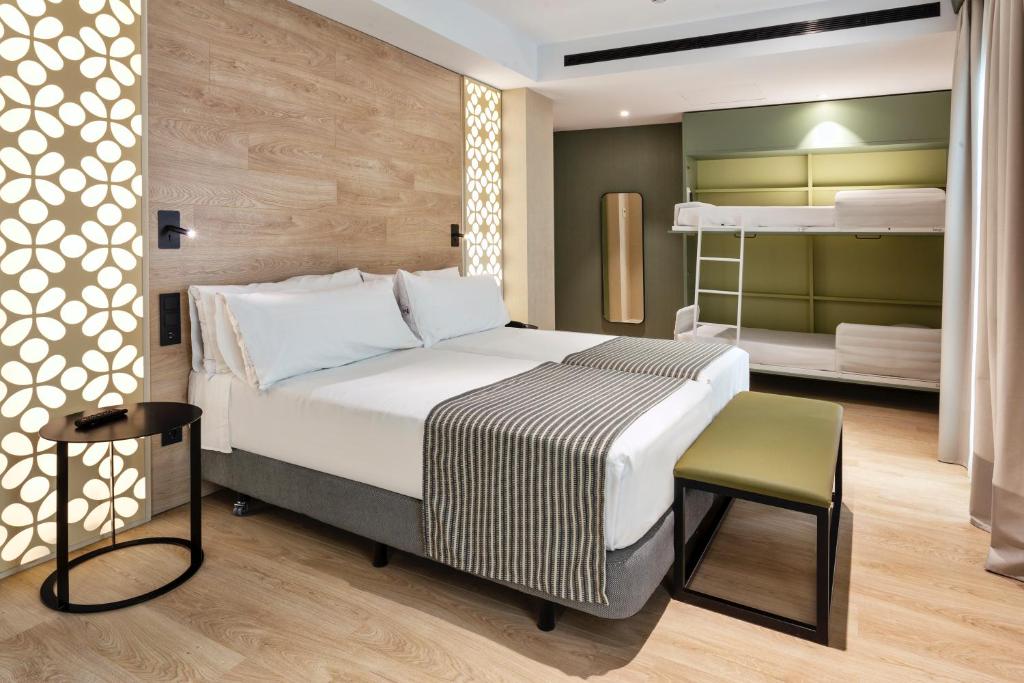 Located a short walk from Seville's historic centre and just 650 metres from Santa Justa AVE Train Station, Catalonia Santa Justa is a luxury hotel that offers a range of amenities for guests to enjoy. The hotel boasts a sun terrace, rooftop swimming pool, and hot tub, providing the perfect place to relax and unwind after exploring the city. The rooms at Catalonia Santa Justa are stylishly decorated with modern décor and parquet floors. They feature wooden furniture, satellite TV, and free WiFi. Guests can indulge in delicious international cuisine at the hotel's restaurant which has a covered patio or enjoy drinks at the bar. The 24-hour reception offers currency exchange and car rental services for added convenience. With its convenient location, Catalonia Santa Justa is only 1.2 km away from popular attractions such as Giralda and Seville Cathedral. The nearby area of Santa Catalina is known for its museums, shops, and tapas bars.
– Convenient location within walking distance to Seville's historic centre
– Sun terrace with rooftop swimming pool and hot tub
– Stylishly decorated rooms with modern amenities
– International restaurant with covered patio
– Friendly 24-hour reception offering currency exchange and car rental services
Eurostars Torre Sevilla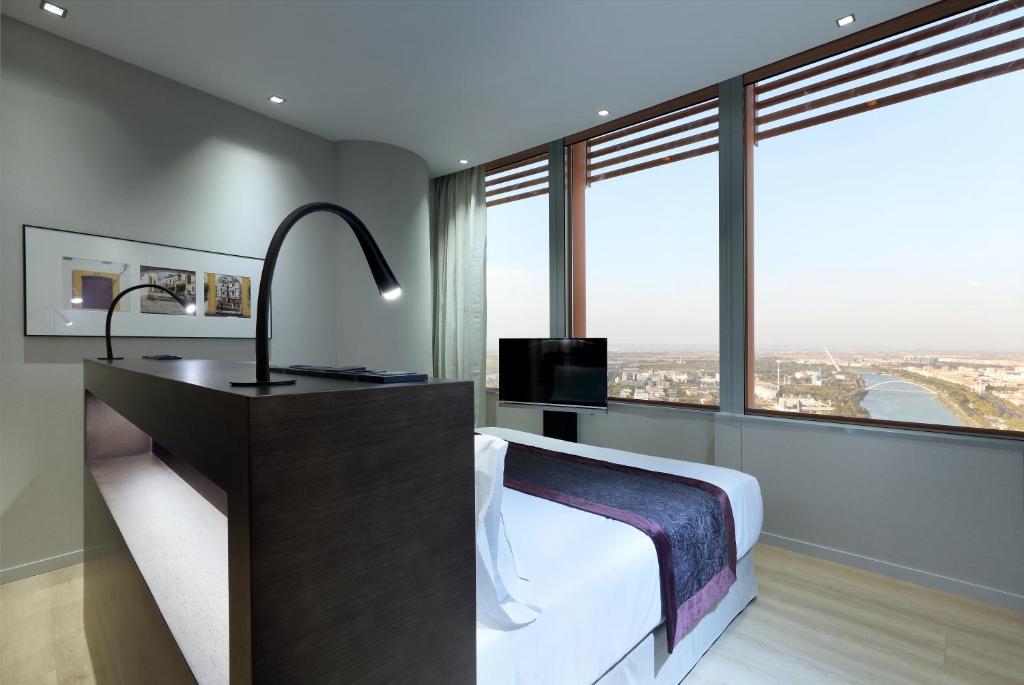 Located 700 meters from Plaza de Armas, Eurostars Torre Sevilla is situated in the last 13 floors of Andalucia's tallest building. With free WiFi and private parking, this hotel offers rooms that provide stunning panoramic views of the city. Guests can also enjoy an on-site restaurant, a gym, and a complete spa center. The hotel boasts a modern and luxurious design with traditional details, while also offering a 24-hour reception. Within a short walk from the hotel, guests can explore the center of Sevilla as well as find various shops and restaurants in the area. Additionally, popular attractions such as La Cartuja Monastery and Puente de Triana – Puente Isabel II are just minutes away by foot. Complete with its convenient location near Sevilla Airport, Eurostars Torre Sevilla provides an exceptional stay for those seeking both luxury and convenience.
– Stunning panoramic views over the city
– On-site restaurant serving delicious meals
– Well-equipped gym for fitness enthusiasts
– Complete spa center for ultimate relaxation
– Convenient location near popular attractions
Hotel Las Casas de la Judería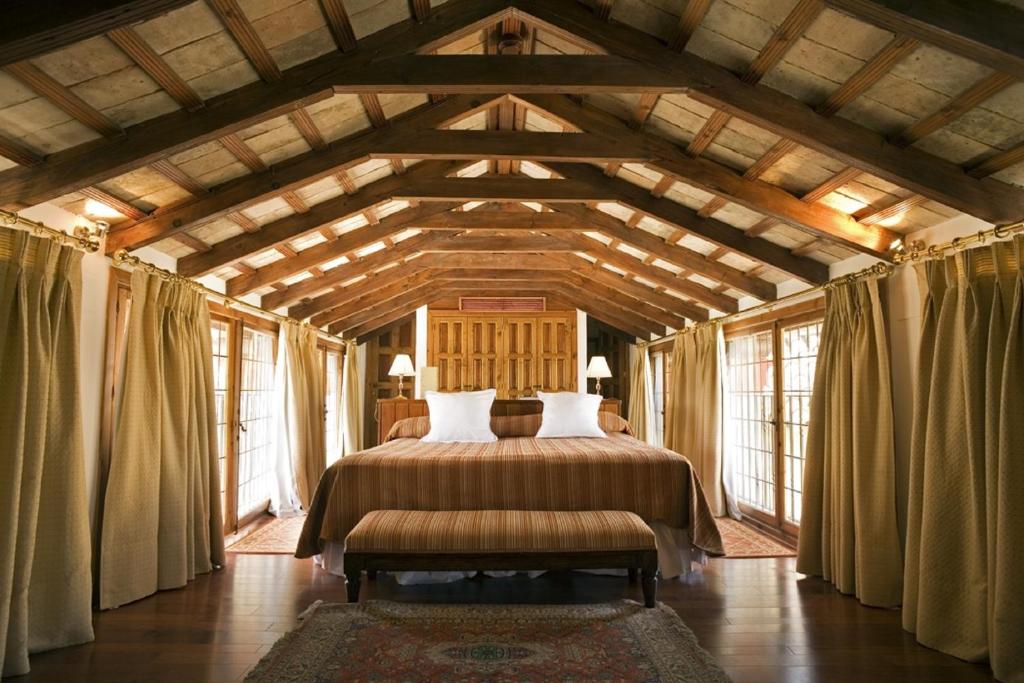 Hotel Las Casas de la Judería is a unique and enchanting luxury spa hotel, nestled within 27 traditional Sevillan houses that are connected by passages and courtyards. It offers an exquisite blend of modern comforts and classic Andalusian charm, making it the perfect destination for those seeking an authentic experience in the old Jewish quarter of Seville. The hotel features a rooftop swimming pool with panoramic city views, a rejuvenating spa, and stunning traditional Andalusian patios. Each room at Las Casas de la Judería is beautifully adorned with traditional décor that maintains the building's original features. Guests can expect to find antique furniture, wooden floors, and French windows adding to the ambiance of their stay. With its prime location in the Santa Cruz neighborhood, just a short 7-minute walk from the Cathedral, this remarkable hotel offers guests easy access to Seville's most iconic landmarks.
Seville Spa Hotels Information
| | |
| --- | --- |
| 🛎️ Spa Hotels in Seville | 6 |
| 💵 Hotels Prices From | $295 |
| 💵 Highest price | $1987 |
| 🥇 Average Review Score | 8.8/10 |
| 🛏️ Average number of Rooms | 118 |
Top SPA hotels in Seville
| | |
| --- | --- |
| Hotel Colón Gran Meliá | 9.1/10 |
| CoolRooms Palacio Villapanés | 9/10 |
| Eurostars Torre Sevilla | 9/10 |
| Catalonia Santa Justa | 8.7/10 |
| Hotel Las Casas de la Judería | 8.6/10 |
FAQ
What are the top luxury spa hotels in Seville?
Seville offers a range of luxurious spa hotels, but some of the top options include Hotel Alfonso XIII, Gran Meliá Colón, and Hospes Las Casas del Rey de Baeza. These hotels not only provide excellent spa facilities with a variety of treatments and therapies, but they also boast elegant accommodations, impeccable service, and convenient locations.
What amenities can I expect at a luxury spa hotel in Seville?
Luxury spa hotels in Seville typically offer an array of amenities to ensure a truly relaxing experience for their guests. Along with well-equipped spas and pools for rejuvenation, these hotels often have on-site restaurants serving gourmet cuisine, fitness centers for workouts, beautifully landscaped gardens for strolling or lounging, and spacious rooms or suites elegantly designed to provide comfort and tranquility.
Do luxury spa hotels in Seville cater to couples looking for a romantic getaway?
Absolutely! Luxury spa hotels in Seville are perfect for couples seeking a romantic escape. Many of these establishments offer special packages tailored specifically towards couples including private massages or treatments for two, candlelit dinners with wine pairings at their renowned restaurants overlooking stunning city views or courtyards adorned with fragrant orange trees.
Can I book day passes to use the facilities at luxury spa hotels in Seville even if I am not staying there?
While policies may vary from hotel to hotel, it is possible to arrange day passes at some luxury spa hotels in Seville. However, it's always recommended to call ahead as availability might be limited during peak seasons. It's important to note that guests staying overnight usually have priority access to the facilities.
Are there any cultural attractions near luxury spa hotels in Seville?
Seville is rich in cultural attractions which are conveniently located near many luxury spa hotels. The city's famous landmarks such as the Royal Alcázar, the Cathedral of Seville, and the Plaza de España are within walking distance or a short drive from most establishments. Additionally, guests can explore charming neighborhoods like Santa Cruz or visit the Flamenco Museum to experience the vibrant local culture.
Popular Wellness Hotels destinations