Welcome to the enchanting world of luxury boutique accommodations in London, the capital city of the United Kingdom. In this guide, we embark on a journey through exquisite establishments that offer an exceptional and unconventional hotel experience. Nestled in the heart of this vibrant metropolis, these unique lodgings provide an intimate escape from the bustling city streets.
London's diverse array of boutique hotels showcases distinctive character infused with contemporary elegance. From trendy townhouses to renovated heritage buildings, each establishment exudes its own charm and allure. These exclusive havens cater to discerning travelers seeking a personalized touch amidst opulence and exclusivity.
Indulge your senses as you step into a realm where attention to detail is paramount. Immerse yourself in stylish interiors adorned with bespoke furnishings and artistic accents that reflect the cultural richness of this cosmopolitan hub. Escape into serene sanctuaries tucked away within London's cosmopolitan neighborhoods, offering respite from the clamor while still being within easy reach of iconic landmarks and attractions.
Join us as we explore London's hidden gems—boutique hotels that epitomize sophistication, individuality, and unparalleled luxury. Whether you seek a romantic getaway or an extravagant urban retreat, our curated selection promises unforgettable experiences that will leave you yearning for more. Let us become your trusted companion on this exclusive journey through London's boutique hotel scene – where comfort meets creativity at every turn.
Best Boutique Hotels in London
The Exhibitionist Hotel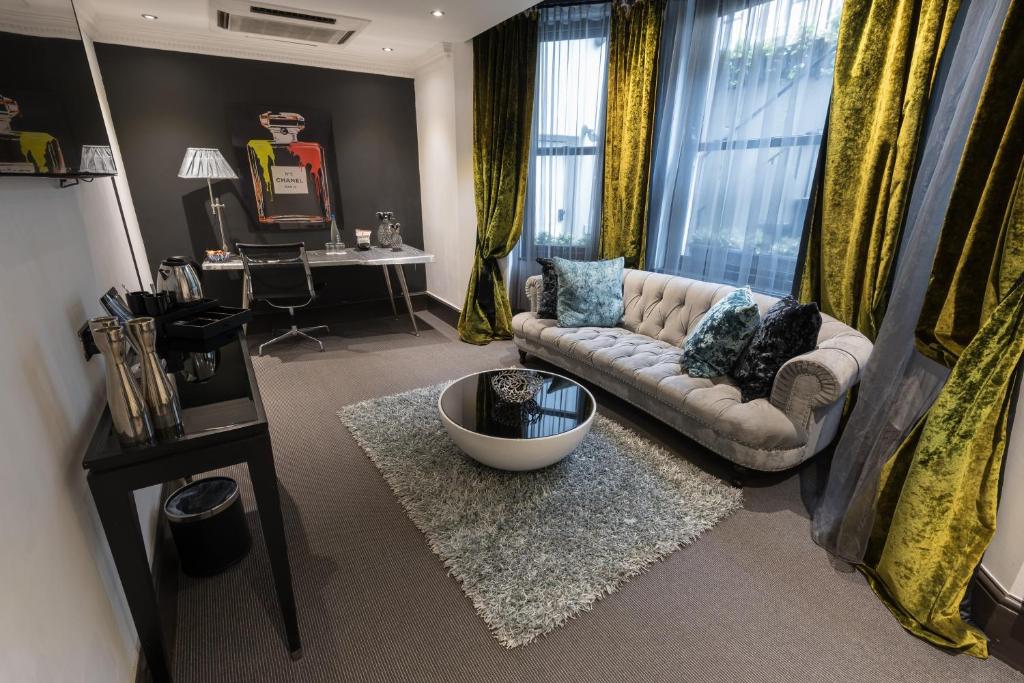 Located in the heart of South Kensington, opposite the Natural History Museum, The Exhibitionist Hotel is a luxury boutique hotel that offers an ideal base for exploring London's cultural attractions. The property is housed in beautifully restored 18th-century townhouses, combining original design with contemporary finishes and bespoke furnishings. With its proximity to popular museums such as the V&A Museum and the Science Museum, as well as upscale shopping destinations like Knightsbridge and Sloane Street, guests have plenty of entertainment options within walking distance. The hotel features eight galleries where guests can admire frequently changing art pieces. All rooms offer a walk-in shower and bathtub, along with Anyah toiletries. For extra indulgence, the Spa Suite boasts its own private indoor hot tub while the penthouse includes a terrace with an outdoor TV. The helpful staff are on hand to assist with any requests or recommendations for exploring London. With famous museums just minutes away and Hyde Park within a 15-minute stroll, guests will find themselves perfectly situated to experience all that this vibrant city has to offer. Start your day off right with our delicious Continental Breakfast featuring both hot and cold options.
– Prime location opposite the Natural History Museum in South Kensington
– Beautifully restored 18th-century townhouses offering a blend of original design and contemporary finishes
– Close proximity to renowned museums such as the V&A Museum and Science Museum
– Upscale shopping destinations like Knightsbridge, Sloane Street, Harvey Nichols, and Harrods nearby
– Eight galleries within the hotel showcasing frequently changing art pieces
Random Hall
Surrounded by the picturesque Sussex countryside, Random Hall is a charming 16th-century farmhouse turned inn, located just a 10-minute drive from central Horsham. Offering free parking and complimentary Wi-Fi, this boutique hotel also boasts a traditional restaurant called Flagstones. With its exposed beams and cozy ambiance, Flagstones serves up a delectable modern British menu and an extensive selection of wines from around the world. The comfortable and inviting rooms at Random Hall Hotel feature satellite TVs, tea/coffee facilities, private bathrooms with all necessary amenities, as well as additional comforts like a trouser press, radio, and telephone. Guests can look forward to enjoying a scrumptious full English breakfast each morning in addition to having access to two comfortable guest lounges throughout their stay. For those looking to explore the surrounding area, historical Arundel can be reached within a 30-minute drive while Crawley is only 20 minutes away. Both Guildford and London Gatwick Airport are also easily accessible within just half an hour.
– Convenient location near central Horsham
– Free parking for guests
– Complimentary Wi-Fi throughout the property
– Charming 16th-century farmhouse setting with exposed beams
– Delicious modern British cuisine at Flagstones Restaurant
Cheval Gloucester Park at Kensington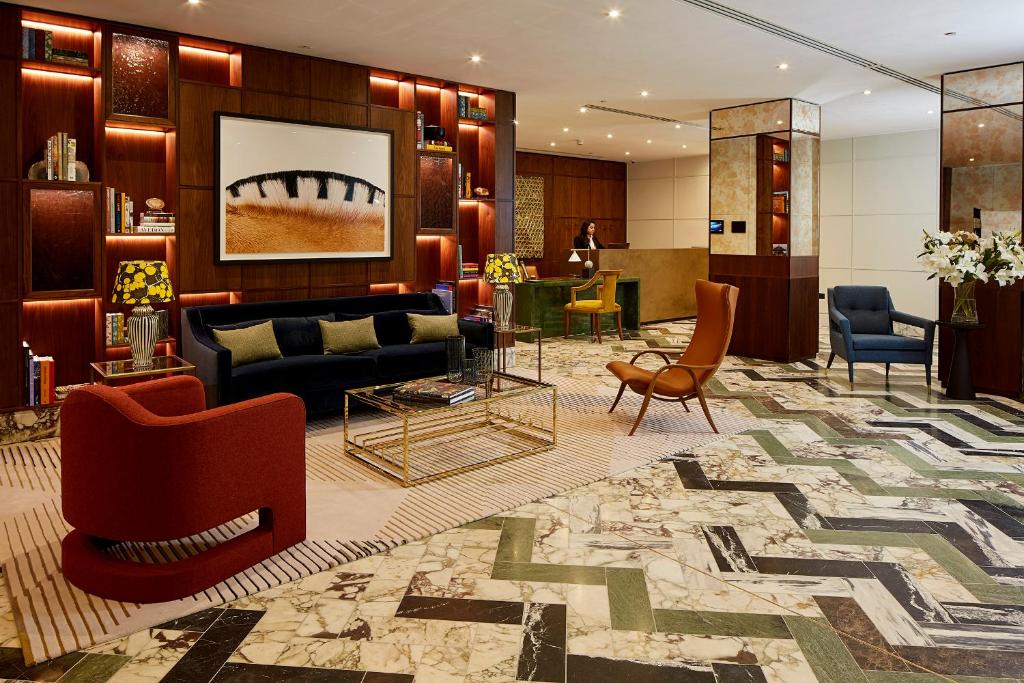 Located in the heart of Kensington and Chelsea, Cheval Gloucester Park is a luxurious apartment hotel offering self-catering accommodation with private parking and free Wi-Fi. With a 24-hour concierge service, the apartments are perfectly situated just over 1 mile from Knightsbridge. Each spacious apartment features a private balcony with stunning views of either the city or the award-winning garden. The living areas include flat-screen TVs, while the stylish kitchens are fully equipped with a dishwasher, oven, and fridge. Guests can easily access Paddington by catching the tube from Gloucester Park in just over 10 minutes. Hyde Park and Kensington Gardens are also conveniently located just 1 mile away.
– Prime location in the heart of Kensington and Chelsea
– Private parking for convenience
– Stunning views from private balconies
– Fully equipped stylish kitchens for self-catering options
– Easy access to public transportation for exploring London
Boutique Hotels in Downtown London
Boutique hotels in downtown London offer a charming and intimate experience, with their unique design and personalized service. These hotels are often located in prime locations, allowing guests to easily explore the city's vibrant culture and attractions.
The Dixon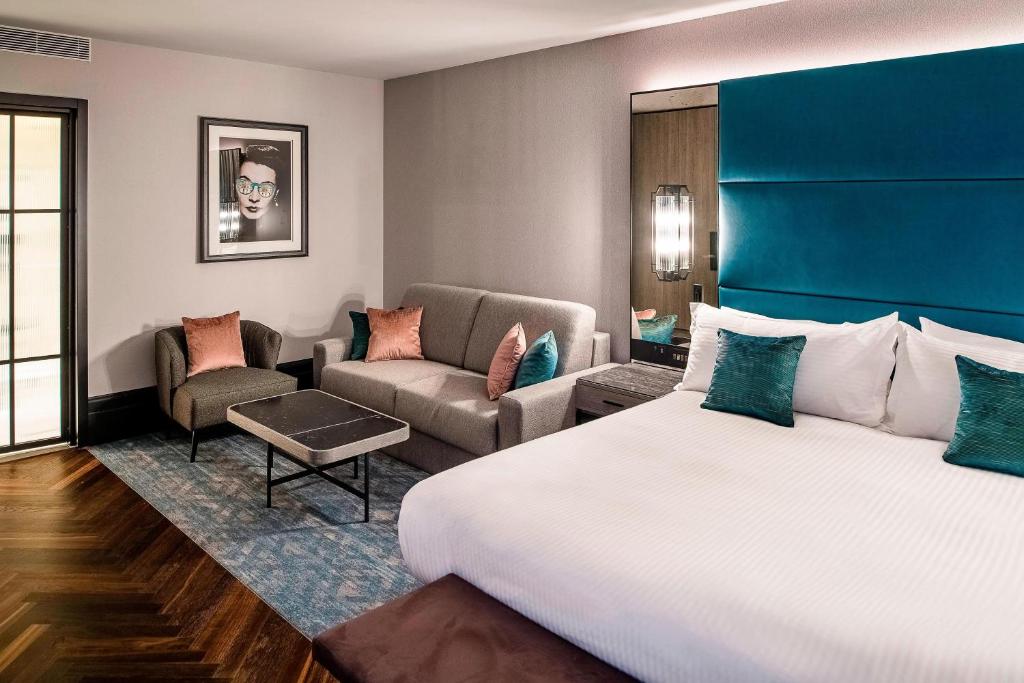 The Dixon, Tower Bridge, Autograph Collection is a luxurious 4-star boutique hotel located in a stunning Grade II-listed building that dates back to 1906. Situated just 300 metres from the iconic Tower Bridge in London, this hotel offers an exceptional experience for every guest. Each room features top-notch amenities including Google Chromecast and a 49-inch Samsung Smart TV, as well as air-conditioning and free WiFi. The hotel also boasts a fantastic European restaurant, offering delicious cuisine, and provides 24-hour room service for ultimate convenience. Guests can stay active at the 24-hour fitness centre or explore nearby attractions such as the Tower of London, Borough Market, and Tate Modern. With its prime location and impeccable service, The Dixon is the perfect choice for discerning travelers looking for luxury and style.
– Prime location near iconic landmarks
– Top-notch amenities including Google Chromecast
– Stylish European restaurant with delicious cuisine
– Convenient 24-hour room service
– Access to state-of-the-art fitness centre
The Portobello Hotel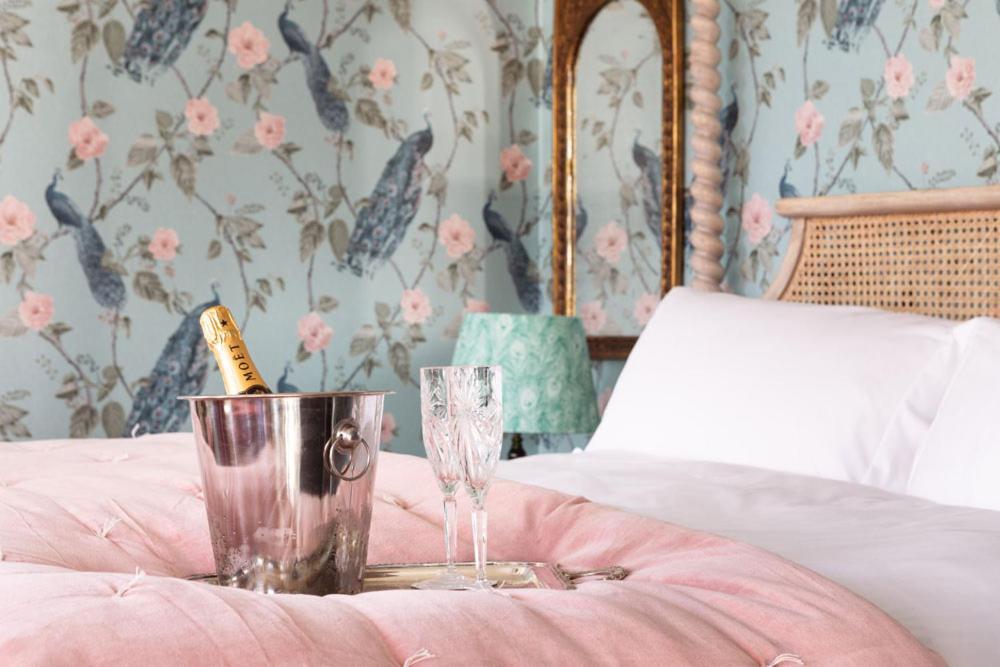 Located in the elegant neighborhood of Notting Hill, The Portobello Hotel offers a tranquil retreat with luxurious amenities. This boutique hotel is just a stone's throw away from the famous Portobello Market and a short 15-minute walk to Hyde Park. The individually decorated bedrooms are beautifully designed, featuring unique character features such as round beds or stand-alone baths. Guests can enjoy a continental breakfast each morning, which includes organic coffee and locally sourced hams, cheeses, and pastries. Situated on a grand Georgian terrace, this hotel is conveniently located just a 5-minute walk from Notting Hill Gate Underground Station. Kensington High Street is within easy reach with a pleasant 20-minute stroll, while Knightsbridge can be reached in just 1.5 miles.
– Quiet location in elegant Notting Hill
– Luxury breakfast included
– Boutique bedrooms with unique decor
– Free Wi-Fi throughout the hotel
– Close proximity to famous Portobello Market and Hyde Park
One Aldwych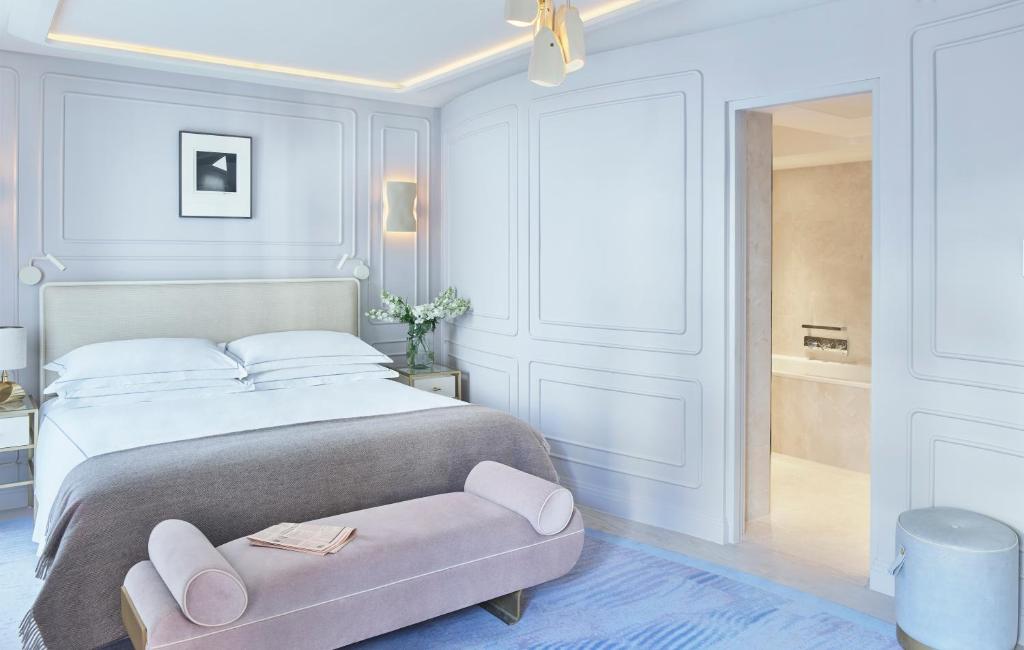 One Aldwych is a luxurious boutique hotel located in the heart of Covent Garden. This 5-star property offers guests a truly exceptional experience with its superb restaurants and state-of-the-art health club. The hotel features ultra-modern facilities such as a swimming pool with underwater music, luxury steam and sauna rooms, and a 24-hour gym. The library, curated by celebrated British designer Paul Smith, offers an all-day menu, daily newspapers, and a collection of books from design publisher Rizzoli. The recently refurbished contemporary bedrooms are stylishly designed and equipped with Bluetooth accessible speakers and fresh flowers delivered daily. The en-suite shower rooms are sleek and come with Mitchell and Peach toiletries. Complimentary WiFi is available throughout the hotel for guests' convenience. One Aldwych also boasts three treatment rooms where guests can indulge in relaxing treatments using products from Natura Bissé and OSKIA. Indigo restaurant serves modern British cuisine in a relaxed setting, offering an entirely dairy- and gluten-free menu. Guests can unwind at the private guest lounge or enjoy inventive cocktails at the Lobby Bar. For those seeking an indulgent treat, the Charlie and the Chocolate Factory afternoon tea is not to be missed.
Pros:
– Central location in Covent Garden
– Luxurious amenities including swimming pool with underwater music
– Recently refurbished contemporary bedrooms with Bluetooth speakers
– Range of relaxing treatments available at the spa
– Unique dining experiences such as Indigo's dairy- and gluten-free menu
London 5 Star Boutique Hotels
London is home to a plethora of luxurious boutique hotels, each offering a unique and personalized experience for discerning travelers. From stylish decor to impeccable service, these 5-star establishments provide an opulent haven in the heart of the bustling city.
Number Sixteen
Located in the cosmopolitan neighborhood of South Kensington, Number Sixteen is a luxurious boutique hotel that offers glamorous accommodations and impeccable service. The Victorian property boasts ultra-chic interiors and features a private garden, providing guests with a tranquil oasis in the heart of bustling London. Each individually styled room reflects the contemporary design of the hotel, with luxurious fabrics, furnishings, and hints of bold color. With amenities such as 24-hour room service, minibars, and iPod docking stations, guests will find everything they need for a comfortable stay. Conveniently located just a 3-minute walk from South Kensington Underground Station, the hotel provides easy access to bars, shops, restaurants, and popular attractions in the city. Guests can indulge in afternoon tea served all day at various locations throughout the hotel including the garden, conservatory, drawing room or library. With its prime location on the Picadilly Line and close proximity to other Underground lines like Circle and District lines, Number Sixteen offers excellent transportation links to explore all parts of London.
– Stylish and glamorous accommodation
– Private garden for relaxation
– Convenient location near South Kensington Underground Station
– Afternoon tea served all day at various locations within the hotel
– Easy access to many parts of London via Underground links
Chateau Denmark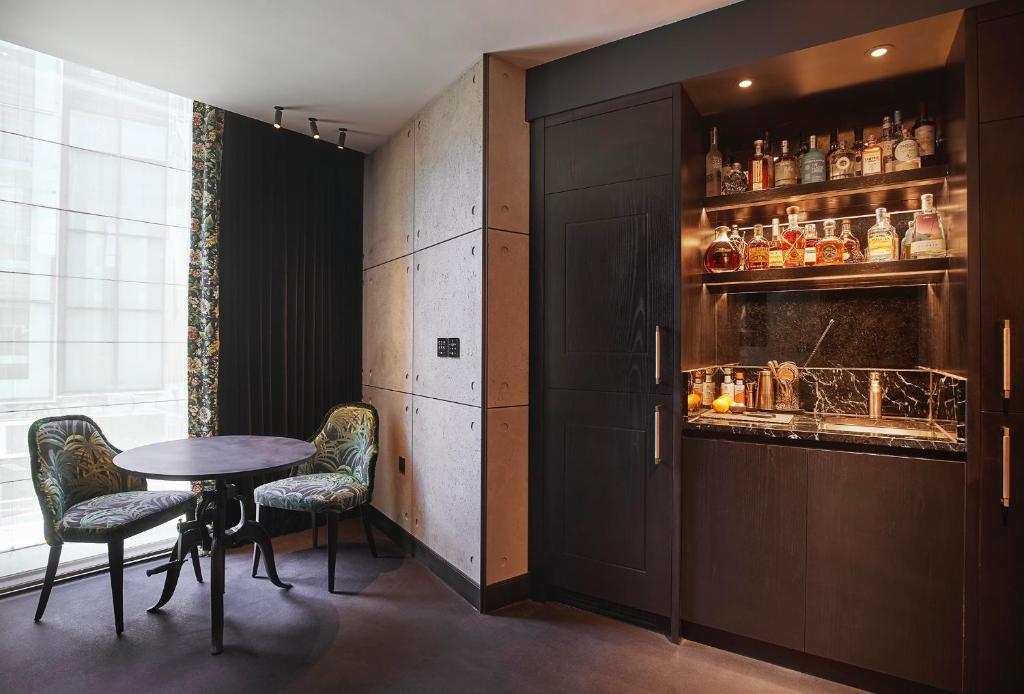 Chateau Denmark, a newly opened boutique hotel in London, is the perfect choice for travelers seeking luxury and style. Located just 200 meters away from both the Dominion Theatre and Prince Edward Theatre, this hotel offers air-conditioned accommodations with stunning views of the city and complimentary WiFi. Situated in a neighborhood rich in cultural heritage, guests can immerse themselves in the vibrant arts scene of London. Each well-appointed room features a flat-screen TV, a private bathroom with bathrobes and slippers, as well as a shower. Popular tourist attractions, including Arts Theatre, Queen's Theatre, and the British Museum are also within close proximity to Chateau Denmark. For added comfort, some units even offer a seating area and patio space. With London City Airport just 12 km away, convenience is at your doorstep when staying at Chateau Denmark.
– Newly opened boutique hotel
– Air-conditioned rooms with panoramic city views
– Close proximity to popular theaters and museums
– Free WiFi throughout the property
– Complimentary amenities such as bathrobes and slippers provided
Tonge Barn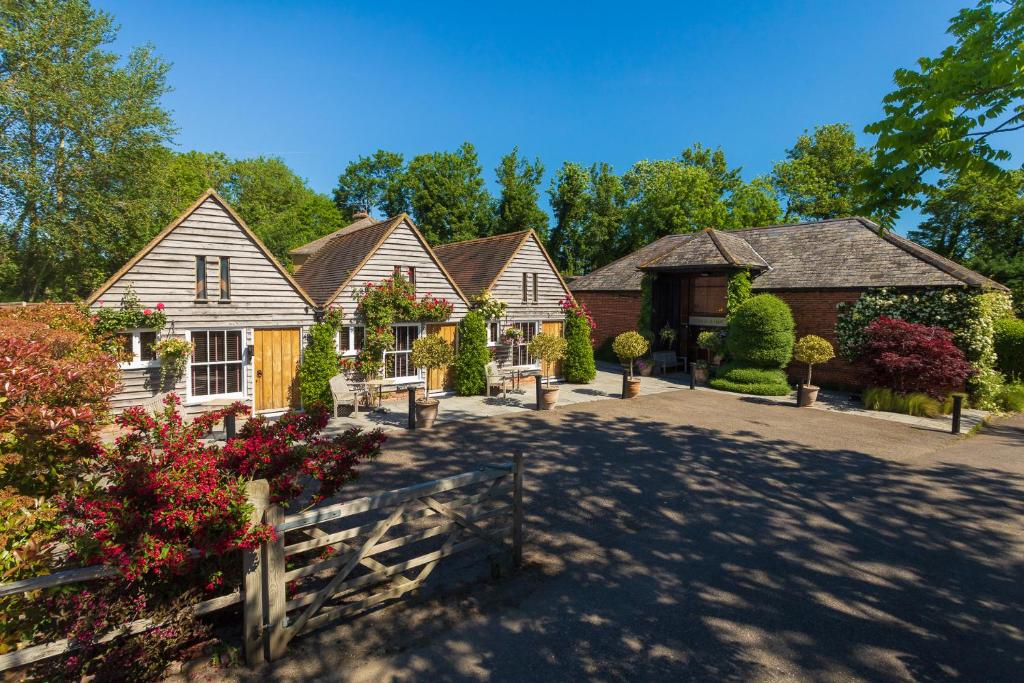 Located in a Grade II listed 17th-century barn, Tonge Barn is a charming country house hotel surrounded by beautifully landscaped gardens. The individually designed rooms feature wooden beams or red brick walls, adding to the hotel's character and charm. Guests can relax in the guest lounge area, which boasts a large curved white leather sofa and a flat-screen TV. The hotel offers free private parking and complimentary Wi-Fi throughout. Each room includes an LCD TV, tea and coffee making facilities, and a private bathroom with a power shower. Tonge Barn is just a short drive away from Sittingbourne town centre and Canterbury's historic city centre.
– Charming country house setting
– Individually designed rooms with unique features
– Relaxing guest lounge area
– Free private parking
– Short drive to nearby towns and attractions
London Luxury Boutique Hotels
London is home to a vibrant array of luxury boutique hotels, each offering its own unique charm and style. From elegant Georgian townhouses to sleek contemporary designs, these hidden gems provide an intimate and exclusive experience for discerning travelers seeking personalized service and attention to detail.
Charlotte Street Hotel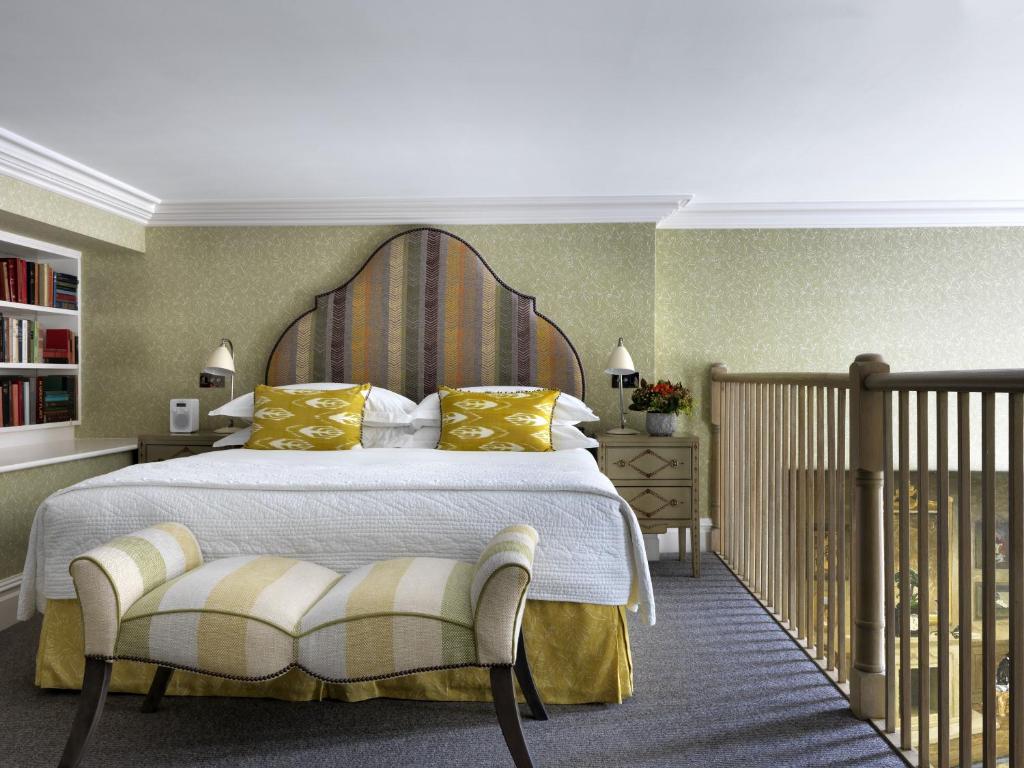 Located in the heart of London, Charlotte Street Hotel combines contemporary design with classic elegance. The hotel features period fireplaces and a wood-panelled library room, while also offering modern amenities such as an on-site brasserie and a cinema room. The stylish bedrooms are adorned with classic prints and wallpapering, showcasing artwork from the early 20th Century. Guests can enjoy 24-hour room service, access to a gym, and unwind in the drawing room or at the Oscar Bar and Restaurant. With its central location, Charlotte Street Hotel is just minutes away from popular attractions like Oxford Street and the British Museum.
– Convenient location near bars, restaurants, and shops
– Elegant rooms with luxurious furnishings
– On-site brasserie for dining options
– Cinema room for entertainment
– Access to a gym for fitness enthusiasts
41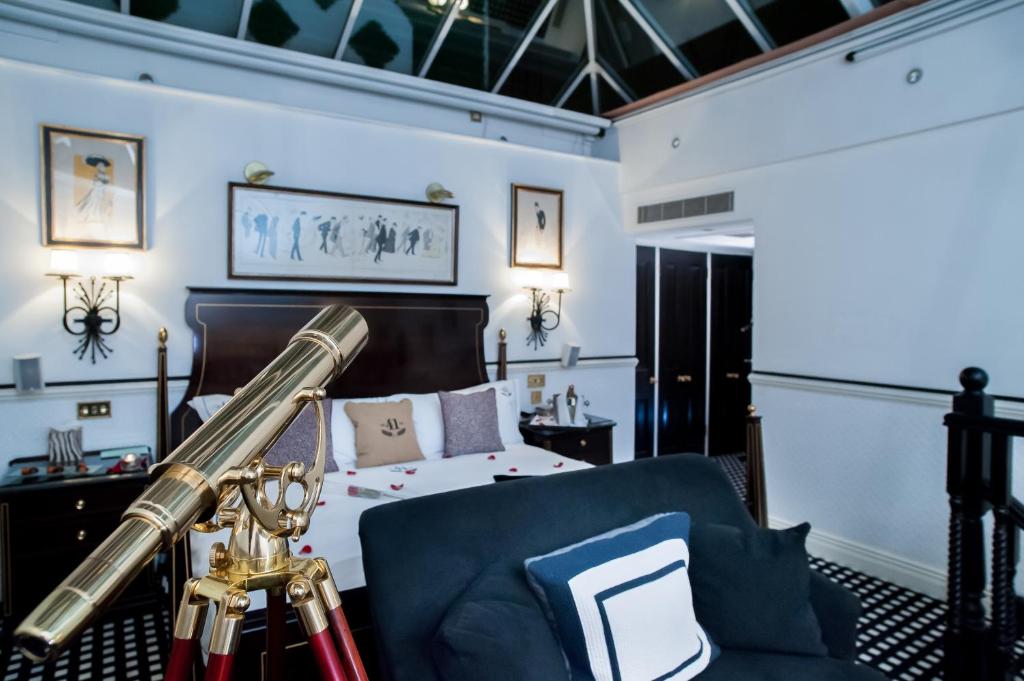 Located in a prime location just behind Buckingham Palace and opposite the Royal Mews, Hotel 41 offers a truly luxurious experience. The hotel prides itself on attentive 5-star service and striking rooms adorned with a stylish black-and-white theme. Each en suite bedroom is equipped with air-conditioning, luxury bedding, a handmade mattress, marble bathrooms with bathrobes and Floris' toiletries. Guests are treated to an array of complimentary snacks throughout their stay, including small tubs of Judes ice cream, freshly baked scones with jam and clotted cream, as well as evening canapés. The wood-panelled Executive Lounge provides the perfect setting to enjoy bright breakfasts under its glass roof or indulge in afternoon teas while sampling the all-day menu. Conveniently located within walking distance from London Victoria Tube and Train Station, Hotel 41 grants easy access to popular landmarks such as Westminster Abbey, the Houses of Parliament, and Piccadilly Circus.
– Prime location near Buckingham Palace
– Striking rooms with black-and-white theme
– Generous supply of complimentary snacks
– Attentive 5-star service
– Wood-panelled Executive Lounge for dining and relaxation
Sonder King Street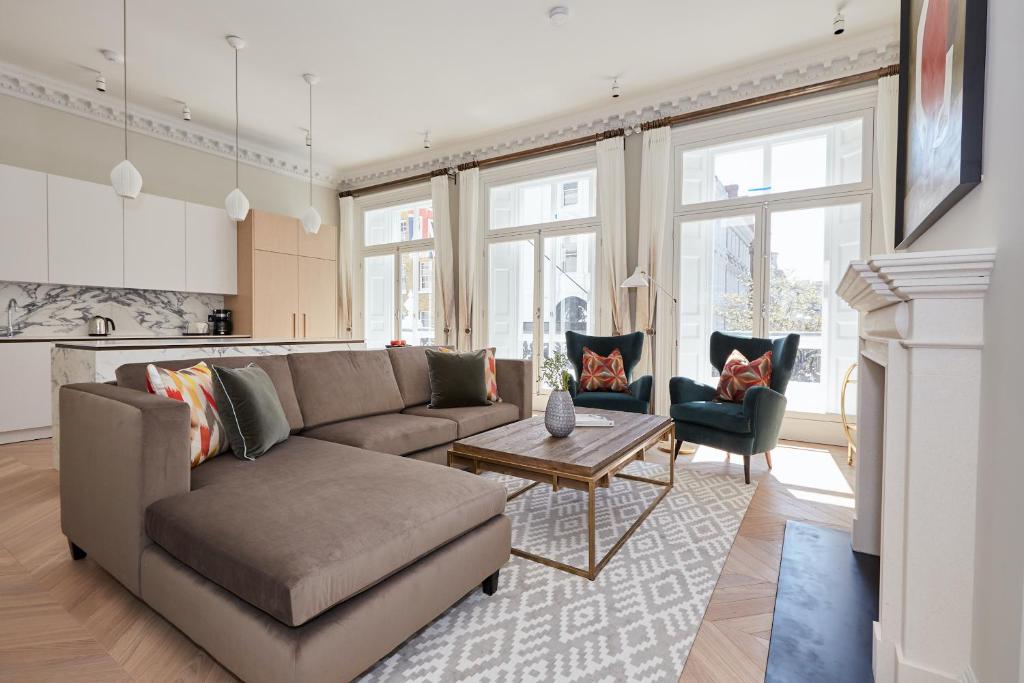 Sonder King Street is a stylish apartment hotel located in the heart of London. It is conveniently situated just 300 meters from Leicester Square Underground Station and 200 meters from Arts Theatre. The hotel offers modern and spacious accommodations with free WiFi, featuring a flat-screen TV, private bathroom with complimentary toiletries, and a fully equipped kitchen with an oven, dishwasher, microwave, stovetop, toaster, coffee machine, and kettle. Guests will appreciate the central location as popular attractions such as Savoy Theatre, Charing Cross, and Lyceum Theatre are within walking distance. For those traveling by air, London City Airport is only 14 km away.
– Central location in the heart of London
– Spacious and modern apartments
– Fully equipped kitchens with high-end appliances
– Free WiFi throughout the property
– Walking distance to major attractions
London Boutique Hotels Information
| | |
| --- | --- |
| 🛎️ Boutique Hotels in London | 12 |
| 💵 Hotels Prices From | $285 |
| 💵 Highest price | $1082 |
| 🥇 Average Review Score | 9/10 |
| 🛏️ Average number of Rooms | 47 |
Top Boutique hotels in London
| | |
| --- | --- |
| 41 | 9.7/10 |
| One Aldwych | 9.4/10 |
| Cheval Gloucester Park at Kensington | 9.3/10 |
| Sonder King Street | 9.3/10 |
| Random Hall | 9.2/10 |
FAQ
What are boutique hotels?
Boutique hotels are small, stylish, and unique establishments that offer personalized services and a distinctive atmosphere. Unlike large chain hotels, boutique hotels focus on providing guests with an intimate and exclusive experience. These hotels typically have fewer rooms but boast luxurious amenities, trendy designs, and attention to detail that make them stand out from traditional accommodations.
Where can I find luxury boutique hotels in London?
London is home to numerous luxury boutique hotels that cater to discerning travelers. Popular areas to find these establishments include Mayfair, Knightsbridge, Covent Garden, Soho, and Kensington. These neighborhoods not only offer convenient locations but also provide easy access to attractions such as shopping districts, theaters, restaurants, and cultural landmarks.
What amenities can I expect in a luxury boutique hotel?
Luxury boutique hotels go above and beyond when it comes to amenities. In addition to spacious and beautifully decorated rooms or suites featuring high-quality furnishings and linens, these establishments often provide personalized concierge services that cater to individual preferences. Other common amenities may include fine dining restaurants showcasing gourmet cuisine prepared by renowned chefs, spa facilities offering rejuvenating treatments, fitness centers equipped with state-of-the-art equipment, elegant lounges or bars serving innovative cocktails or afternoon tea.
Are luxury boutique hotels worth the price?
Absolutely! Luxury boutique hotels offer an unparalleled level of service along with exceptional attention to detail. The intimate ambiance allows for more personal interactions between staff members and guests while ensuring privacy at all times. Additionally, the carefully curated decor creates a sense of exclusivity that is hard to replicate elsewhere. Guests staying at these properties can truly expect a one-of-a-kind experience tailored specifically for their comfort and enjoyment.
How far in advance should I book a stay at a luxury boutique hotel in London?
To secure your desired dates at a luxury boutique hotel in London during peak travel seasons or holidays like Christmas or New Year's Eve, it is advisable to book well in advance, ideally several months ahead. By doing so, you increase your chances of reserving the room type or suite you prefer and potentially enjoy early booking discounts or special offers from the hotel. However, even if you plan a spontaneous trip, it's worth checking for last-minute availability as sometimes unexpected openings can occur due to cancellations or changes in reservations.